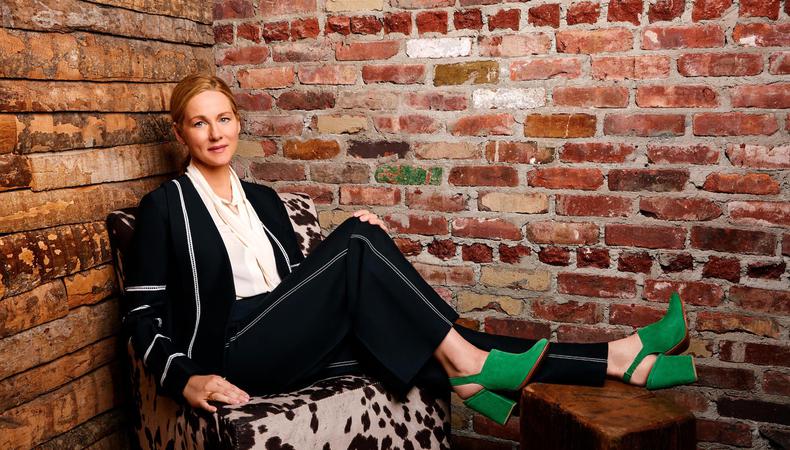 For Laura Linney, turning in a knockout performance is just a matter of flipping a switch—at least, that's what she'd have us believe.
"There's something that I call 'actor brain,' and your actor brain has to be on," she says of her process. It's a simplification that she later builds on: "It takes an entire lifetime to hone a skill."
Even if the skill is a state of mind, to peruse Linney's decades-spanning résumé is to know that her process, whatever it may be, works. Among the most prolific stage and screen actors of her generation, Linney has three Oscar nominations (most recently for "The Savages" in 2008), four Tony Award nominations (most recently for "The Little Foxes" just last year), two Golden Globe wins (and four more nominations), four Emmy wins (and a fifth nomination)—the list goes on. Nearing the end of our hourlong breakfast at an Italian trattoria in Brooklyn, the topic of her favored history with the Television Academy—and how her 2018 Emmy snub for her performance as Wendy on "Ozark" read as a major oversight—arises. She demurs, joking that she's already had her taste of all that awards business, and instead expresses support for recognized colleagues.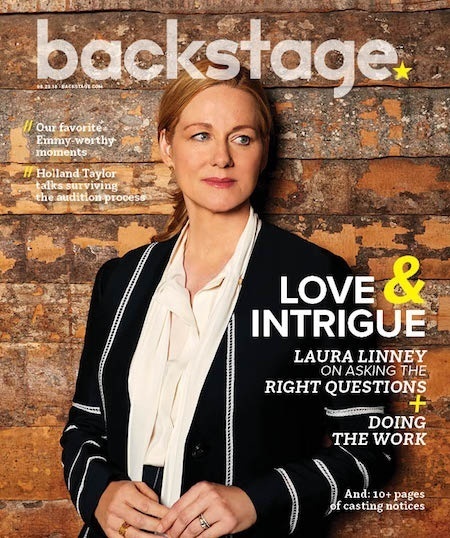 Is this how the healthy "actor brain" functions? What is it and how does one turn it on, especially when it comes to the work? As the daughter of the late playwright Romulus Linney, she concedes that for her, it all comes back to the script or screenplay: "I tend to be story-first," she says. Whether it's Cathy on "The Big C," Clara in "Kinsey," Meryl in "The Truman Show," or Sarah in "Love Actually," when finding her designated character, she sits with the full script and asks herself "a million questions."
Netflix's aforementioned gothic-tinged drug- and money-laundering drama "Ozark," (the second season of which streams in full Aug. 31), had Linney asking herself, "Why did the writers put this by a lake? It's not random. What does the lake do?" She determined "a lake is just inherently mysterious; you don't know what's underneath. So you use that. You use everything." (She admits to even questioning a project's title—"Why is it called 'Ozark'? Why?"—aiming beyond the obvious naming of the series for its location.)
READ: How to Audition for Netflix
"I will read a script [while] trying not to do any work on it," she continues. "I'll read it and read it and read it and read it so that I get to know the story, because ultimately my job is to tell a story and to know where my character fits within it and how I can help the narrative progress." To do so, Linney does her best to plot her way into the writer's mind, asking, "With each scene that I go into, what's the writer's function or agenda?"
"This is just the technical stuff of storytelling," she concludes, "and then you break it down into character development."
Linney knows that not all actors like a stack of homework—"It takes a lot of time. It takes commitment to sit down"—but what she calls "detective work" is just part of the job, and she's learned to have fun with it. "You don't want to overintellectualize," she adds. "You've also got to bring it into your body, and I just find that fun."
While she enjoys approaching her work with such technically precise foundational steps, Linney does advise aspiring actors to avoid the pitfalls of routine. Think of yourself as a master chess player: You'll stop winning the game if you play it the same way each time. What such practice and training (she's a graduate of the Juilliard School) has lent Linney, she says, is the ability to "see five steps ahead" on that chess board and to act and react organically moment to moment. "There's no question it's the training that I still completely rely on," she says. It's the interplay between her technical approach to script analysis and the anticipation of naturally creative moments with her co-stars that often entices her to sign onto a project in the first place.
READ: Jason Bateman's No. 1 Rule for Career Longevity + Creative Breakthroughs
With "Ozark," Linney reveals that it was the chance to work with Jason Bateman, "pure and simple," that proved too great an opportunity to pass up. Bateman directs and stars as Wendy's cartel-employed husband, Marty, who's forced to move his family of four to the Ozarks in the series pilot. Unbeknownst to Wendy, Marty has promised his employers the move will maximize their drug business' profit margins and get them out from under Chicago's heavy law enforcement. (Bateman landed two Emmy nods this year for his work on both sides of the camera.)
"That's how it happens a lot of the time: 'Do I want to work with this person?' " Linney says of building working relationships. "You get to a point where it's like, 'How do I want to spend my time?' "
She and Bateman had known each other as "a friendly acquaintance sort of thing" for some time, and she'd always suspected the traditionally comedic actor had "a larger range than he had been allowed" to showcase. Plus, the fact that the two talents are "from very different worlds" was equally appealing. "I grew up in the theater and he grew up on TV, so we have a deep respect for each other's life experience, but realize that they are very different and there's a lot that we learn from each other."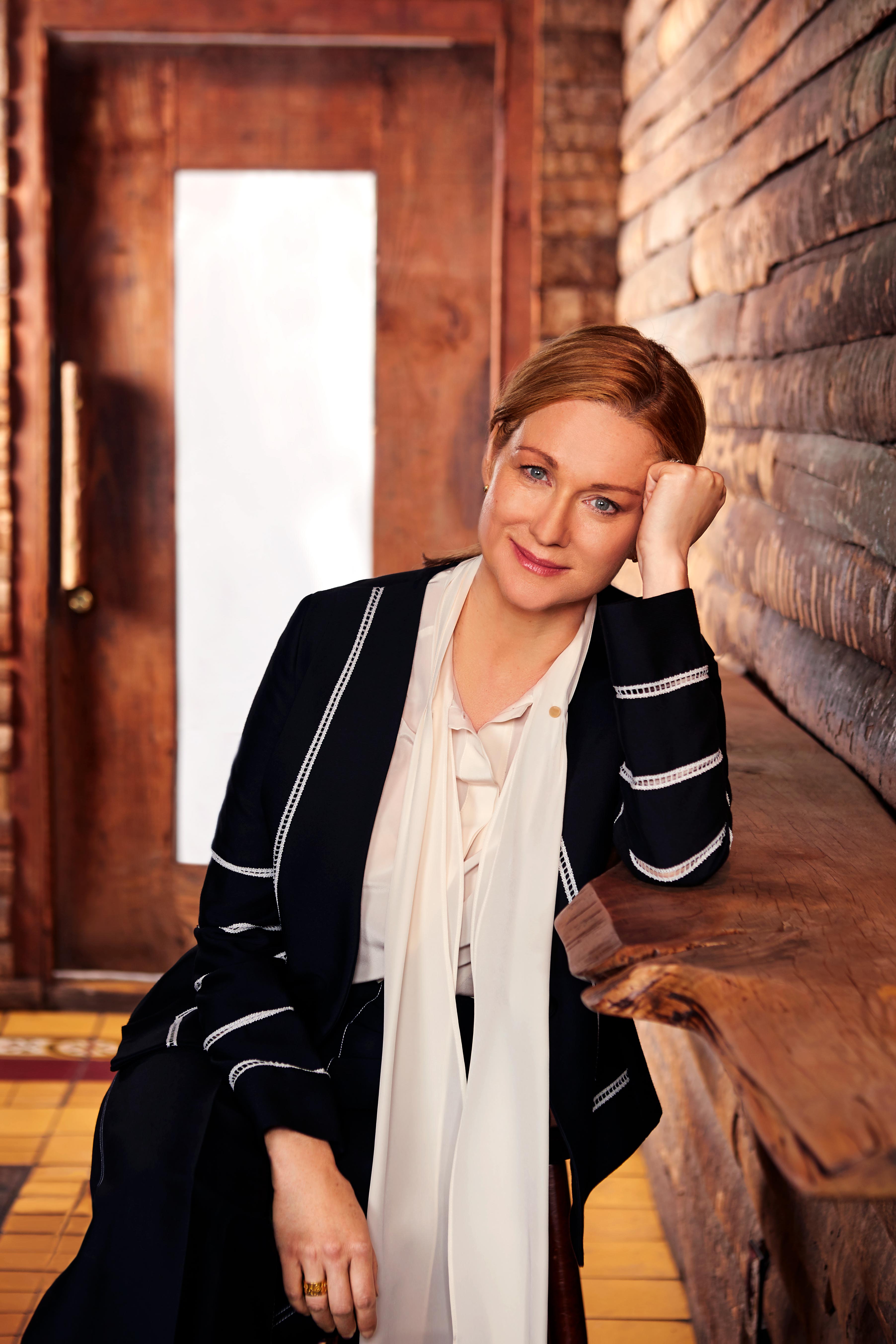 Linney is no stranger to the small screen herself ("The Big C," for example, ran on Showtime for four acclaimed seasons), but her roots are squarely in the theater, where she returns anytime she can manage. Earlier this year, she was on the West End for her one-woman show debut, "My Name Is Lucy Barton," directed by Richard Eyre. "I'm still kind of stunned by the whole experience," she says of her time on the London boards with a laugh. But still, that's the setting that's always felt most like home.
"I never thought film and television would be a part of my life," she says. "As a young person, it wasn't anything that I looked to. It scared me and intimidated me, and I didn't understand it and I didn't really want to understand it. I literally grew up in the theater, so it was where I was comfortable."
She admits, though, that being afraid to do something is often an indication that she should do it, citing her time alone onstage for "Lucy Barton" and the years of work that got her on screens big and small to begin with.
"I don't have a bucket list—it would make life so much easier for my agents if I did! I just hope to work with really good people on really good things that scare me a little bit. Things that will make me grow; things that will make me a better actor and hopefully a better human being."
And have two, going on three seasons' worth of "Ozark" scripts done that for her? Has Wendy, whom Linney describes as someone who "doesn't understand herself very well" and leaves "a lot of room for discovery and realization and epiphany," scratched all her creative itches? In short: an emphatic yes.
"It's really fun; I'm very, very lucky to be there," she says. "I feel like I landed in a pot of honey with that one."
Photographed by Emily Assiran on July 11 at Camp in Brooklyn; Hair by Marco Santini for Davines/TraceyMattingly.com