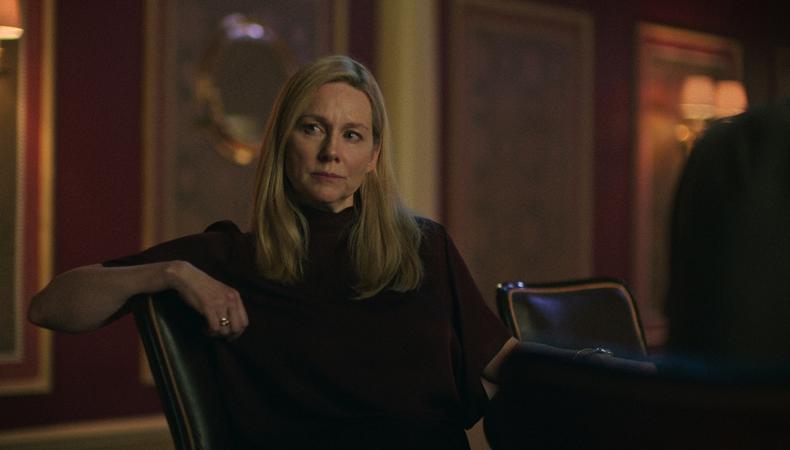 There's an extraordinary fight sequence on Episode 11 of the fourth and final season of "Ozark" in which Marty and Wendy Byrde (played by Jason Bateman and Laura Linney, respectively) are stuck in traffic. Having recently ordered the execution of an innocent man for allegedly attempting to kill cartel boss Omar Navarro (Felix Solis), Marty takes his pent-up rage out on another driver, beating the living daylights out of him before abandoning his car and walking away.
Thanks to slick choreography and a carefully chosen soundtrack (Todd Rundgren's 1972 hit "I Saw the Light"), it's one of the standout scenes of the whole series. It shines both technically and as a metaphor for how trapped the money-laundering protagonists of Netflix's award-winning crime drama feel. It's even more impressive because it's the handiwork of a first-time director: none other than Linney, the show's Emmy-winning star.
"I read it and I was like, 'Jesus Christ, a car sequence? Are you kidding me? You're going to give a first-time director a car sequence?' " Linney says. She laughs before giving a nod to her alma mater, the Juilliard School: "Thank God I went to a drama school that had fight choreography. I choreographed the fight in my mind and told our fight coordinator what I wanted. It was pretty much exactly as I saw it in my mind."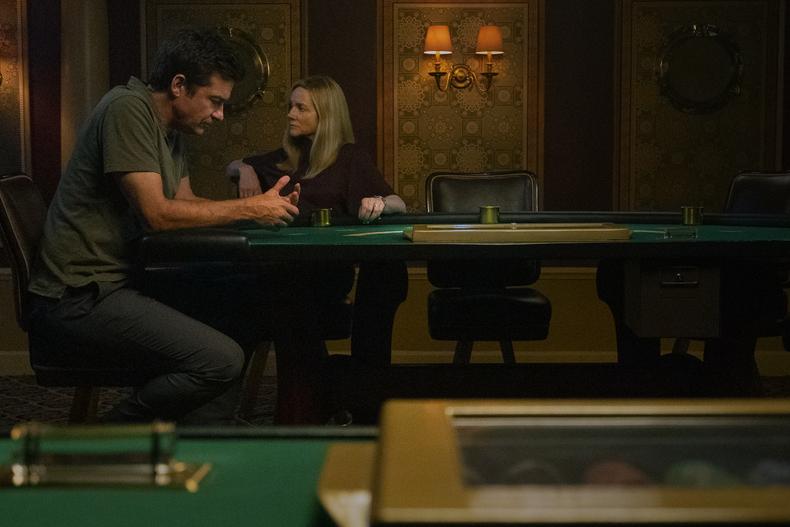 Jason Bateman and Laura Linney on "Ozark" Photo Credit: Tina Rowden/Netflix
She might sound self-assured, but Linney—whose career spans nearly four decades of acting for television, film, and theater—was initially reluctant to step behind the camera. "It's something people have been encouraging me to do for a long time," she says. "I'm an actress; I love what I do, and I don't want to take away from that. I've also been on a lot of sets in my life, and I know what it's like when a director drives you crazy. I didn't want to be that person!"
So, what changed? Bateman, himself an Emmy-winning director on the series, and executive producer Patrick Markey "pushed harder and harder as the seasons went on."
"Jason kept saying to me, 'You've been on sets for decades; you know everything you need to know,' " Linney says. "It's only when you step out of your lane, you realize: I actually have much more experience than I thought."
Linney knew her stuff—she just needed to put it into practice. "You have to know what everyone does and let them do what they do. Point them in the right direction, but let them contribute to it," she advises. "The trick is keeping your focus. People may have different ideas, so you have to be clear about saying, 'Yes, your idea is terrific—but that's not the way we're going. I want to go this way; can you help me make that a better idea?' "
Of course, it helped that Linney was a lead on the show she was directing and knew her character and the story as well as—if not better than—anyone else. "You have to know every thread and how loud each thread is and make sure that things don't compete with each other," she says. "Allow yourself to be surprised. It's that crazy balance—and this goes for acting, as well—of being really prepared but not too knowing. You tell it what to do, and then it tells you what to do."
Now that she's had such success stepping out of her comfort zone, are we going to see more from Linney behind the camera? "I don't have ambitions to be the next great director," she says.
"I've worked with some of the greatest people in the business, so I've seen it done well, and I've seen it done not well. This was an amazing experience that I thought would make me a better actor. And if anything could make me a better actor, I'm going to try to do it."
This story originally appeared in the June 9 issue of Backstage Magazine.