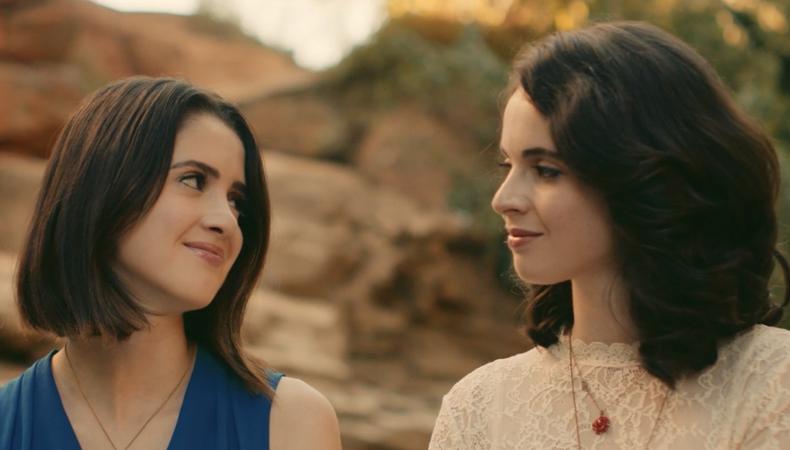 Laura and Vanessa Marano know all about taking control of a career in Hollywood. The sisters—ages 23 and 26, respectively—have been actors since they were kids, the former best known for starring on Disney Channel's "Austin & Ally," the latter for ABC's "Switched at Birth." But "Saving Zoë," a crime drama feature film from director Jeffrey G. Hunt, marks their first time sharing producing credits in addition to starring. It's been a long time coming for the young talents.
Any child or teen actor will tell you building an acting career is hard work, particularly when it comes to finding that perfect work-life-school balance. But the demands of growing up in the industry taught the Marano sisters lessons along the way like set etiquette and the importance of collaborating across practices.
"There were all these things we were aware of and soaking in for 18 years that we were finally ready to put it to use in a different way," Vanessa says.
That desire manifested into "Saving Zoë," "a love story between sisters," explains Laura, with a deeper, darker core. The film follows Echo (played by Laura), who one year after the murder of her sister, Zoë (played by Vanessa), begins high school. Echo desperately wants to invite normalcy back into her life, but is simultaneously determined to get answers for her sister's unresolved death. After she gets a hold of Zoë's old diary, she immerses herself in her late sister's secret online life in hopes of uncovering the truth.
READ: How to Make an Indie Film
Prior to "Zoë," both Laura and Vanessa had experienced a variety of setbacks and projects that fell through and were stuck in a point in their careers, according to Vanessa, "where everything was kind of going wrong." But their mother, Ellen Marano (herself an actor, acting coach, "maverick of the entertainment industry," and co-producer on this film), urged her daughters onto a new path. "At this point in our career, she was like, 'OK, I see you guys want to do this, I see your work ethic: Let's take [it] into our own hands," Vanessa says. "What we knew is we wanted to be in charge of our careers and we knew we were storytellers, and this was a story that was really important to us."
Alyson Noël's book of the same name, their source material, first debuted 12 years ago, and upon reading it at ages 11 and 14, the Maranos immediately connected to the central story. In the years since, they've been trying to get a film adaptation made and distributed; for the better part of a decade, they were met with rejection.
"There was this idea [that] young women want something fluffy and spoon-fed to them, and we were like, that's incredibly insulting to the two young women that you're talking to, and we want this," Vanessa recalls. "We feel that this is something that's really important."
Their luck changed in 2017, and now "Saving Zoë" is finally hitting theaters and on-demand. Moving from just acting to now also producing is less about relearning and more about adding to the skills they have been acquiring throughout the entirety of their careers. In fact, they spent so long developing "Saving Zoë" in pre-production, they each grew as both actors and producers along with the process. In the end, they wanted to help create a set where collaboration was front and center.
READ: A CD's 6 Tips for Getting Cast on the Disney Channel
"We had been on set before and we wanted it to be a collaborative process," says Vanessa. "We were like, 'OK, this is going to be a collaboration, we're going to all be working together. It's an independent film, we're shooting this in 15 days—let's make sure everybody feels seen and feels heard.'"
Becoming producers allowed them to view acting in a new way, too, especially through workshopping the script with writers Brian J. Adams and LeeAnne H. Adams, while also working closely with their director. "I don't think before this experience I would've had the courage to really say what I needed as an actor to fulfill my emotional performance. But with this, I did," Laura admits. "Having that really shaped a performance that I am incredibly proud of and definitely learned a lot from."
Vanessa adds that as actors, they learned the importance of speaking up for their needs on set. "Especially on an independent film, you're going, going, going, going, going," she says. "Everybody wants to be a team player and everybody wants to help out, but ultimately, no one is going to take care of you unless you ask [for] what you need."
In the end, whether behind the camera or in front of it, the sisters have the same advice: Don't wait for permission to create what you want. Go out and do it.
"I think what we learned through this process is you just have to be doing it even when you're not getting a reward for doing it," Vanessa says. "I think a lot of the time, we're embarrassed to be like, 'I want to produce,' or 'I want to write,' or 'I want to be a director,' because you don't have anything to show for it yet. And I think it's more about, 'No, I have this project. Here's what it's about. Here's why it needs to be told.' Going forward with actually telling everybody, 'This is what I want to make.' Finding a way to make it is the bottom line."
Want to hear more from the best creators in film, TV, and theater? Get it right here!