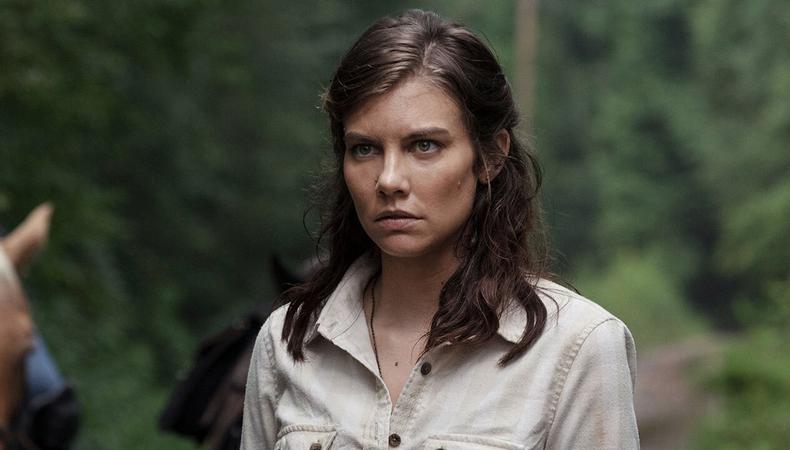 The following Backstage Live was compiled in part by Backstage readers just like you! Follow us on Twitter (@Backstage) and Instagram (@backstagecast) to stay in the loop on upcoming interviews and to submit questions live on camera.
Lauren Cohan and her Maggie Greene has become a fan-favorite star on "The Walking Dead" over the last nine years, and after a brief hiatus, she's returning to the show in the hotly-anticipated Season 10 finale this Sunday, Oct. 4. In the lead-up to her grand return, Cohan sat with Backstage for an Instagram Live to chat about her character, her advice for actors, and the horrors of auditioning—ones that have nothing, in this case, on zombies!
While she's been thrilling us onscreen for years, Cohan started as a theater kid.
"I loved drama when I was at school, but I never got leading roles or anything like that. I was always just singing and being goofy in the chorus. And when I first went into this whole general arena, I wanted to actually just be on 'Blue Peter,' which is a kid's TV show, and present to kids and act things out. I just wanted to have fun. And then when I was in college, I started doing plays seriously, and then that kind of opened up all the different colors of exploring character."
Playing Maggie has been a more profound experience than she'd ever expected.
"In life you don't always get to express the fullness of your emotions. There's a lot you have to sort of temper, and there are definitely lots of moments for Maggie and lots of moments for all kinds of characters where you still have to temper it, but I think it's very lucky that she gets to sort of experience the full gamut of emotions, both because of how the show is and because of how she is and everything that she's had the misfortune or the opportunity of going through. I just feel really, really lucky because I obviously never knew jumping in that this would be the whole story that Maggie would have and that this would be the whole lifespan of the show."
After 10 seasons, she still finds new depth to explore in the show and her character.
"It's just been an amazing time right now because the story [on Season 10 and beyond] already is going to these places where we satisfy a lot of stuff, but we also set up so many new questions for my character: what she's been doing, where she's been, why she's scarred, what's been reinvigorated in her mission. It's great because there's a lot of positivity and she's confronted this ingenuity and these bright spots out there in the world; they sort of give the reason to keep going. But there's also been some pretty gnarly things that have happened, so we're going to get to sort of unearth a little bit of that and then to portray a little bit of that, and it's so cool. I'm constantly surprised."
Got an audition coming up? Cohan's own prep process is in-depth and meticulous.
"I like to take a script and only go one line at a time and create an entire universe with limited information, and then I add a bit more information. But what I really like to do is take a line and go through every possible iteration: how the other character would respond, what you might do, what you might say, and then go onto the next thing. And that information will either prove or disprove your theories. It's slow and it's painstaking, but it gets better because it really exercises the peripheral parts of your creative brain. Sometimes I don't have the patience and I have to just sit down, do the work. That's the biggest part of it as an actor, you do it whether you want to or not, and then it's there when you need it. That's the part where you're just like, this isn't just learning your lines, this is living your lines."
Remember: Your greatest limitations as an actor are self-imposed.
"If you really want to do it, nobody can stop you. And you're not even thinking about whether or not you can do it when you're younger, luckily, because you're just plowing on and you don't know enough failure to be afraid. But having said that, the best thing is just the amount of stories that you hear [of] people who were told 'no' and then they go on to be great successes. Or they don't! But it's up to you if you want to keep going and do what makes you happy."
Want to hear more from Cohan? Watch our full interview below, and follow us on Instagram: @backstagecast.
Looking for remote work? Backstage has got you covered! Click here for auditions you can do from home!