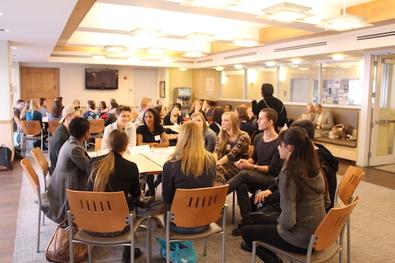 What better way to tackle the four years of college than by dancing through? Dancewave, a Brooklyn-based nonprofit dedicated to "developing new programs and strategies for learning, performing, and connecting the exciting elements of dance in our community," according to their website, will be hosting Dance Through College and Beyond 2015.
The event is a better version of a college fair, with panels featuring college chairs, choreographers, and education specialists; dance classes and performances; networking opportunities; and practical tips on the application process, financial aid, and auditioning; all between the hours of 8:30 a.m. and 6 p.m.
Over 40 colleges will be in attendance for this free Oct. 18 event taking place at the 92Y Harkness Dance Center in New York City. According to a statement, "high school students from all over the country can experience an exciting full-day event exploring college dance programs and the chance to meet one-on-one with dance program chairs, renowned faculty and choreographers, alumni, and students from a range of U.S. colleges."
Students will also have the chance to audition for participating institutions.
Those who will be present at this year's event include Marymount Manhattan College, Hofstra University, Denison University, The Juilliard School, SUNY Purchase College, University of Michigan, Steps Conservatory Program, Hunter College, NYU Tisch, The Boston Conservatory, Rutgers University, and many others.
To round out the day, a showcase performance from the companies at Hofstra, Pace, Temple, Montclaire, and Middlebury Universities will take place at 5:30 p.m.
For more information, including how to register, click here.
Inspired by this post? Check out our dance audition listings!