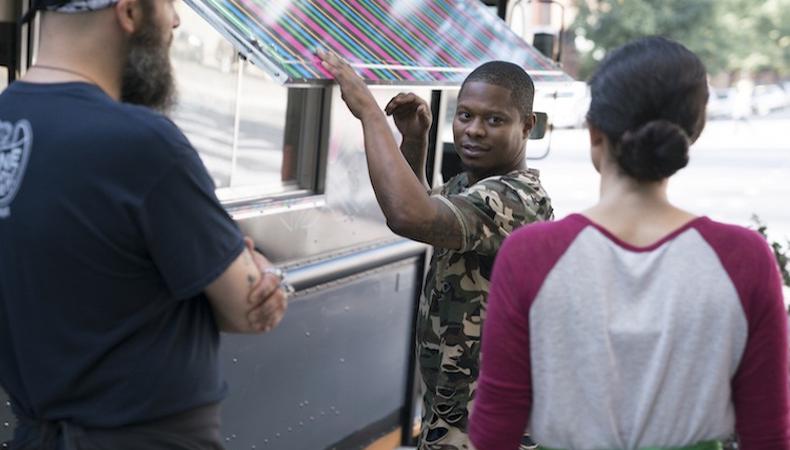 "Black people are human beings. You can't think of somebody as a living, breathing human and shoot them in the back while they're running away from you," says Lena Waithe. With her Showtime series "The Chi," which dramatizes life on Chicago's South Side, Waithe aims to highlight that basic humanity on the small screen.
Though mainstream audiences likely got to know Waithe as both an actor and writer on Netflix's "Master of None" (she won an Emmy for penning its already iconic "Thanksgiving" episode), her latest venture is as far from comedy as could be. Through four fatefully entangled lives, "The Chi" depicts varied systemic injustices faced in the titular city—particularly by black men.
"Black men, specifically, there is such a target on their backs," Waithe says. "They're not the devil. They're not the enemy. I think there is a way to show how they love, how they grieve, how they laugh. There's a way to really show people who we are through these characters."
READ: Lena Waithe on That 'Master of None' Thanksgiving Episode, Broadway + Her Favorite Audition
Those characters cover a full spectrum of the city: a young man working at a chicken shack, selling sneakers on the side (Jacob Latimore); an older gentleman who has time and again paid the ultimate price for playing by the city's rules (Ntare Guma Mbaho Mwine); an adolescent who finds himself on the too-soon precipice of adulthood (Alex R. Hibbert); and an up-and-coming chef with aspirations of running an artisanal food truck (Jason Mitchell).
"There are so many different layers, and that, to me, is what Chicago is," Waithe explains of her characters' development. "It's the hustlers, it's the drug dealers, it's the guy who's got a dream. We want to keep diving into specifics of the city so that people who have never been there can get a real sense of who we are."
At the outset—she originally wrote the pilot in 2014—Waithe had distinct visions for the series' inhabitants, especially the principals. However, her renderings shifted considerably once the actors were cast. "[Casting director] Carmen Cuba, I call her the unofficial co-writer of the pilot, because she cast it in a way that forced me to write the characters differently, all because of who she put in front of me," she says.
Cuba also made a conscious effort to cast primarily unknown actors, a trademark of her brand. Coupled with the fact that both the ensemble and crew were rounded out with Chicago-local hires, "The Chi" looks less like a prestige cable drama and more like the city that it aims to capture.
READ: 'Stranger Things' CD Carmen Cuba Reveals How You Can Get Cast
"That is what's most important: the authenticity factor," Waithe says. "I want Chicagoans to feel proud and be like, 'Yes, that's it.' I wanted to take people that I knew growing up, and my family members as well, and write them in a way that I know them. I'm not saying they're perfect, but they're also doing the best they can in the situations they have been dealt."
Through her rounded and realistic depiction, Waithe hopes, above all else, to reify a city too often rendered nothing more than hot-button; to humanize citizens widely objectified as a sinister "other."
"I think what I'm doing is a very small part in this bigger civil rights movement that we are living in right now," she says. "What I'm trying to do through story is remind people that we are just as human as anyone else, that we wake up in the morning and drop our kid off at school. We wake up in the morning chasing a dream; we wake up in the morning wanting to be a better version of ourselves. The people. That's why I'm doing it."

Ready to make your own opportunity? Check out Backstage's casting calls!