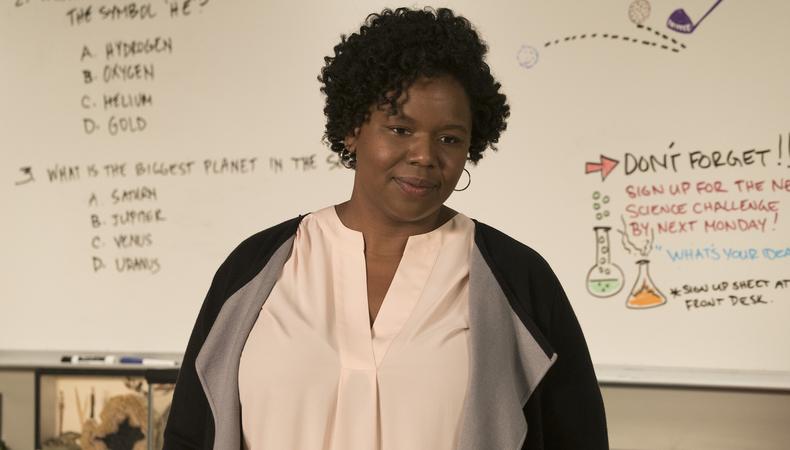 The following Career Dispatches essay was written by actor Liz Jenkins, who can currently be seen on "Black-ish" and "Better Things."
This industry has no shortage of challenges, and as an African American woman, I already have my own set: hair, makeup, and stereotypes. Many roles for black women are described as "sassy." Uh, white women can be sassy, too. Have you ever seen "Real Housewives of Beverly Hills"? "The Bachelor"? And men—let's not act like they can't be sassy! Plus, if you are over a size 18, you can add insulting breakdowns, even more stereotypes, and disappointing costume fittings to that list of woes.
I'm an actor, and I'm plus size, fat, whatever you want to call it. The roles available to me can often be limited. While the industry is progressing, we still have a long way to go before we get rid of the "fat" tropes and jokes. Most of the time, a plus-size character's weight is just the punchline, not an attribute she embraces.
I'm lucky to play Ms. Biggs on "Black-ish," and she was written from the beginning as inherently body positive. She accepts her body as it is and doesn't take body shaming from anyone. Ultimately, she is a strong woman who cannot be trifled with. Don't try it. Sadly, parts like this don't come along often. As a matter of fact, I co-wrote and co-starred in my own web series, "Werk," in order to show the world that plus-size women can be funny without their weight being the joke. It is also important to have representation that sees you beyond your size. They have to know what you are capable of and think outside the box to advocate on your behalf.
APPLY: Get cast on a series like "Black-ish"! Check out Backstage's ABC casting calls
As I said, costume fittings can be hard to navigate. I have often shown up to a fitting, took one look at the clothes hanging there, and known with absolute certainty that they wouldn't fit my body. This is business as usual for plus-size actors, as we can tell with a quick visual scan what non-plus-size store the clothes came from, the unforgiving material they are made of, and the cut and style of the pieces that will not work for our bodies. I have played a few uniform roles, most recently as Gloria the prison guard on the finale of "American Horror Story: Cult" and as a TSA agent on "Better Things," both on FX. Usually, guard uniforms are not made for curvier bodies. They are often menswear, which means the shirts will not button around my chest. "This wont fit," I'll say. "Just try them on," they'll respond. Then, in an effort to dismantle the awkwardness (because that's what I do), I'll make a joke about my "thunder thighs" or say, "Wow! Hall and Oates are perky today." That's what I call my boobs; they're a duo and when it comes to compressing them into a men's button down shirt they "Can't go for that (no can do)!"
Luckily, I have had some lovely life-changing costume fittings. When I show up for "Black-ish," they have clothing from designer brands that I only dream of being able to afford. I leave feeling like a runway model. On top of the quality, the team is actually excited. They snap their fingers and smile when I put on something that clearly feels good. "How do you feel? Do you like it?" I hear genuine excitement rather than frustration with a body that they see as difficult or unruly. The "How to Get Away With Murder" costume department also holds a very special place in my heart. I remember the costumer holding up a pencil skirt and saying, "This is going to look amazing on you." I had actually never in my life worn a pencil skirt, but he was right—it looked great! That stunning outfit helped me further build the character I played. I was a confident clerk who had to give the business to Viola Davis's Annalise Keating, which would have been difficult wearing a too-small shirt with Hall & Oates pushing the buttons to their limits. I'd spend the whole scene worried that the dang thing would snap off and take an eye out.
READ: 'Black-ish' Creator Kenya Barris on Dramatizing Comedy and Art Imitating Life
Later, the Oscar, Emmy, and Tony-winning actor herself gave me a little piece of advice that truly resonated with me. I forget how it came up, but she told me: "You are playing an African American woman, and you know that experience best." While I let that magic sink in to my pores and apply it to my acting (thank you so much Auntie V), I didn't realize that also applies to my entire body. No one knows my body more than me. I should be able to educate anyone who may not know how to dress my body, speak of my body, and defend my body when needed. I realized that I have to approach my auditions and fittings with the same confidence that I try to walk around with every day.
I know what it is like to be a black woman and a plus-size woman, and I'm not ashamed of either. It is perfectly fine to pass on those offensive roles because if we don't all pass on them, they will just keep writing them. Also, I know what I'm talking about when I express what will and will not fit my big, beautiful body.
While the industry is only just beginning to be more size inclusive, we have to take it upon ourselves to be diligent about self-love and self-care. Not everyone has caught up yet, so you have every right to speak up and make your voice heard.