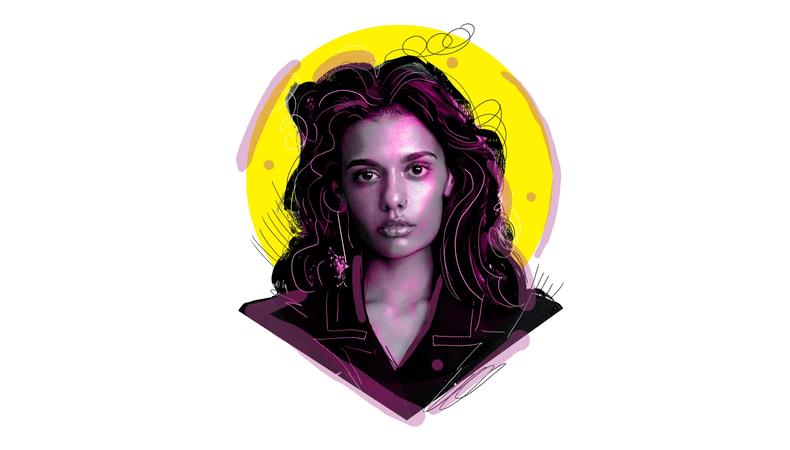 Though Australian actor Madeleine Madden grew up thousands of miles from the United States, where the popular kids' show "Dora The Explorer" originated, she has distinct memories of the Nickelodeon series, which aired in Australia in the early 2000s. "I was a bit old for it, but my cousins would be watching it and come in the kitchen, learning new Spanish words," she says. Now, in her first American feature film role following breakthrough international small-screen performances on Amazon's "Picnic at Hanging Rock" and Netflix's "Tidelands," Madden stars in the live-action "Dora and the Lost City of Gold." She plays Sammy, a classmate of Dora's who's unwittingly swept up in her jungle adventure. Ahead of the film's release, Madden discusses her crossover into the American market and how streaming services can help open international actors to wider audiences.
What would you consider your big break?
My first American role I got was "Dora." That was my big break into the American film industry. Before that, I had a show come out called "Picnic at Hanging Rock," which gained a bit of traction [in America]—which we didn't expect. It's a more Australian TV series that we adapted from a film and from a book which came out decades before. I think there's been little moments of getting some traction in the States. I've always said once I've built up a good enough portfolio that I'm happy with, I would like to come over to America with something to show people. I feel like "Dora" came at a really perfect time because I feel like I've reached that point personally and professionally in my career. There's been writers that I've been chatting to that said, "I saw you in 'Picnic at Hanging Rock,' " and that's how I got considered for other roles. You don't realize how far it can go. And also having all these streaming platforms and networks opens up all these opportunities for actors which we probably wouldn't have had.
APPLY: Want to get cast in Australia? Check out Backstage's audition notices!
What advice would you have for other international actors who want to work on American projects?
If you get to the point where you work on shows or films with substance, even if it's a short film or a big TV series or a feature, it's important to choose projects you love and connect with. And if you can, start creating your own content, writing or directing or producing. What we do is such a big melting pot and it's one big artistic involvement. If you can spread yourself as much as you can over all of those roles, I think that's a really good way to get into the industry. Start working, if you can, and start meeting people. Everyone has their own journey. My family is involved in the arts; my auntie is a director back in Australia, so that was my "in" into the industry. It is a really hard industry to crack. The best way is to start putting yourself out there.
What's the wildest thing you ever did to get a role?
When I was maybe eight years old, there was a short film that was being shot in Sydney. My sister was in it and I was like, "I want to play this role!" And the director was like, "We've already cast that role, but we'll put you in somewhere." I milked that five seconds I was on screen! I just try and be myself and show who I am, and if casting directors or agents or writers can connect me with a character, that's great. But otherwise, maybe it's not my story to tell. I like things to happen quite organically. That was probably the first and last time I elbowed my way into a role.
What advice would you give your younger self?
Trust your gut and your instincts. I think especially as creative people we rely so heavily on our gut instinct to create emotional beats or bring scripts to life. Go with what you feel is right, because that's all we can really do. We're the expert of our own experience, so be as authentic as you can.
What's your worst audition horror story?
There's so many auditions you do and you think, "I did such an amazing job on that," and then it's just silence. For my audition for "Picnic at Hanging Rock," it was pretty bad. I was very poorly prepared and learning lines on the way to my audition. I was like, "That was terrible, I'm not going to get that," and surprisingly, I did. I learned from that to, obviously, never do it again. That was probably the one I can remember where I was halfway through the audition going, "This is bad, this is bad, please make it stop."
How do you typically prepare for an audition?
A lot of running through in your head and memorizing lines. Your memory is a muscle that you build up over time and you get stronger and you remember things easier. Then acting it out. Running lines with other people really helps. If you trust the person you're running lines with — for example, I run all my lines with my mom because she's been in the arts and she knows me well and she can give a good opinion and see some faults. I think running it, rehearsing it, and going over it over and over again.
What has playing Sammy in "Dora and the Lost City Of Gold" added to your acting skills?
I've never done anything like it before! I was doing my audition and I got a callback and I was like, "This is a kid's film, so I'll bump it up even more, the animated performance." This is so foreign to me because I've mainly done dramas in my life. I just had fun with it. At first it scared me because there's a lot of comedy elements to it. What was really lovely is we support each other on and off screen so much. My Australian co-star Nicholas Coombe and Eugenio Derbez, I was chatting to them because they're two very funny people in the film and they're just like, "You've got to have a crack. If it works, it works, if it doesn't, you move on and try something else." That was the best advice doing the film because it was, again, trust your gut and if you fall on your face, it's fine, we're here to pick you back up.
What performance should every actor see and why?
I really love Leonardo DiCaprio's work. I remember I watched "What's Eating Gilbert Grape" when I was very young. My mom put that on. I was blown away with what he did—and he was so young. That's a performance that has really affected me my entire life and still moves me.
Want more stories and advice from the best in the biz? Read more from the Backstage 5 here!