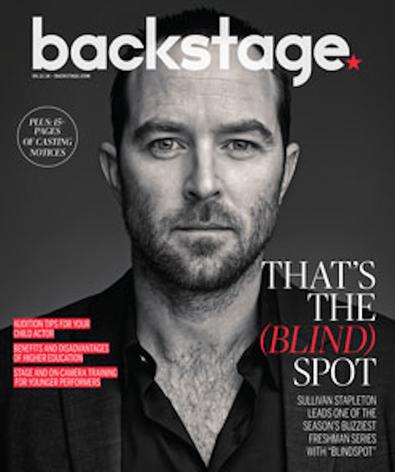 Leave it to Sullivan Stapleton to relocate his interview from a SoHo coffee shop to the Harley-Davidson store in Tribeca. Walking into La Colombe on the last Monday in March, the 38-year-old Australian actor quickly does an about-face. "I know a better place around the block from my apartment," he suggests. Compared to the hipster-chic lunchtime clientele of La Colombe, Sullivan's a natural fit here at the slight café bar in Harley-Davidson of NYC.
Previously seen in films and on series such as "Animal Kingdom," "Strike Back," and "300: Rise of an Empire," the "Blindspot" star has built a career on being a man's man—brusque, built, and bold. But in person, it's a different story: He's personable, warm, and down to earth. He laughs heartily and often, and he's quick to make a self-deprecating jab. Suffice it to say this Aussie's a charmer.
Charmed, too, is his life of late. At the end of the day, "Blindspot" has Stapleton doing exactly what he loves and what he's worked for years to attain. "That's the beauty of this job," he admits. "That's the essence of life, isn't it? Have fun doing what you're doing or go do something else." Even still, he looks bewildered when reminded his face is everywhere you turn; "Blindspot" advertisements decorate billboards, phone booths, and subway terminals all across the city. "In the back of a cab, you're just sitting there going to a restaurant or bar or something and you hear your own voice! What the fuck?"
He'd better get used to the visibility. Upon its premiere last September, audiences couldn't take their eyes off of "Blindspot." The NBC series from creator Martin Gero ("The L.A. Complex") became the season's highest-rated newcomer in prime time thanks to a sensational hook: Jane Doe (Jaimie Alexander) emerges nude from a body bag in the middle of Times Square with absolutely no memories but a body covered in freshly inked tattoos—including the name of FBI Agent Kurt Weller, played by Stapleton.
The ensuing series plays out as a serialized procedural, each episode unlocking the encrypted clues in Doe's tattoos and coming one step closer to unveiling her identity. It's soon discovered that Doe is no ordinary damsel in distress. She possesses a skill set reached only with the highest level of military training and begins assisting Weller in stopping future crimes, a premonitory map to which is scrawled on her skin. And though the twists and turns come with terrorist plots and sex rings, they come twofold within the characters' personal lives. The hazy past between Weller and Doe is a particularly juicy plot for Stapleton. That's not to mention the heroes' present-day romantic tensions.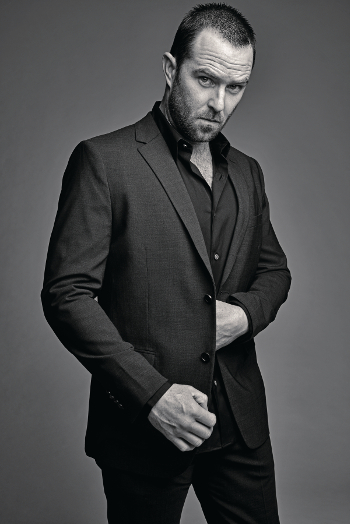 "That's what drew me to the show: It's not just a procedural drama. We're not just dealing with it case by case and that's it," Stapleton says. "There are some ongoing arcs that are continued throughout the series, which is what I look forward to as it unfolds. [The writers] explore each character's personal life in the past, which then shows why we are who we are."
Pondering which surprises he's enjoyed most through Season 1 (the finale airs May 23), Stapleton is quick to say the kiss from the midseason finale and other scenarios marking emotional highs and lows for his Weller.
"You never know which way it's going to go. That's exciting for me," he says. "I go to work, or I get the next script, and as long as I don't die, I'm happy."
In casting the role, Gero says Stapleton was at the top of his list. Not only did he need an actor with brawn, he needed an actor who could also ground the series emotionally.
"I think [Stapleton is] the manliest man on television. He is just so physically competent and has that kind of old-fashioned movie star charisma when it comes to the action and the charm," Gero says. "But what I think is really important is [Weller is] so extraordinarily vulnerable. He's got a tough exterior, but you can see how fragile he is and how much trauma that character has been through. I think that's really what drew Sullivan to the part. It wasn't a typical punch-a-guy, say-a-funny-line role."
There's still more than enough action in "Blindspot" to satiate viewers' appetites. Scenes of Stapleton performing his own stunts while dodging explosions, shooting down the enemy, or standing atop a speeding motorboat zipping around Liberty Island are sure to get the blood pumping. "It's just insane that that's my job," he says. "It's great, it puts a huge smile on my face."
It seems Stapleton's dexterity while being kept on his toes is in part what led him to acting in the first place. He starred in his first commercial at age 10 after his "auntie" signed him up for a kids' talent agency. "But then they tried to get me into that modeling stuff and I went, 'Nuh-uh, not for me,' " he recalls.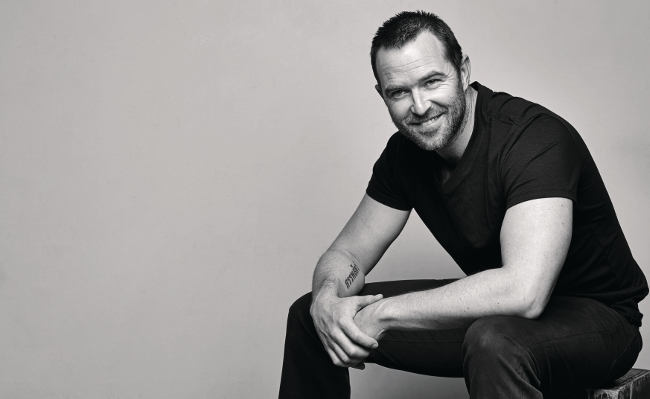 As time went by, he continued acting, slow and steady. "I was never the leading man, I was the guest boyfriend from the other side of the tracks—the naughty kid."
Years working on camera in Australia prior to his 2010 breakout in crime family indie "Animal Kingdom" with Joel Edgerton, Guy Pearce, and Jacki Weaver taught Stapleton to build a backup plan as well as a thick skin. While that eventually led him to working as a grip on film and television projects between jobs ("They called me up and made me haul ass. It was kind of that test of 'Let's see how hard you can work' "), he also put his physical competence to use building houses and working as a carpenter's hand.
"I just didn't give up—that's the thing," Stapleton says of breaking out when pushing 40. "In order not to give up, I also struggled through those periods of unemployment or downtime or shit wages, but I went straight back to building. I worked in different fields so I could support this and do this. I didn't have the desperation of trying to get a job."
He pauses, taking a sip of his coffee before getting to the kicker: "I've always said, yes, follow your dreams or whatever. But those dreams don't fucking pay the rent, and they're not going to feed you. You can't follow that unless you have another ability or another way of feeding yourself or supporting yourself, putting a roof over your head. Then you've got the ability [and] the comfort of really focusing on that job. I'm all about following the dreams, but I'm also about the realism of, you know, it's a hard slog. To make it easier, work."
Want to read more? Check out our Backstage covers here!
Styling by Rachel Wirkus and assistant Jessica Hettwer. Marcelo T-shirt by Theory. Wellar HC suit jacket by Theory, Marlo suit pants by Theory, Sylvain shirt by Theory. All clothing available at theory.com.