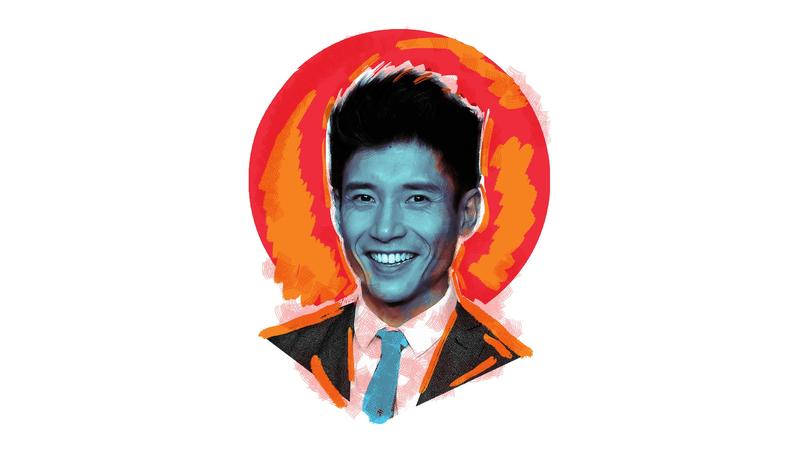 Manny Jacinto is one of many godsends of "The Good Place." The NBC comedy has earned the newcomer a reputation for his varied facial expressions and expert one-liner delivery as the endearing Jason Mendoza. With a background in engineering and hip-hop dance, Jacinto used his analytical side as well as his creative energy to land the part. As the show begins its fourth and final season, Jacinto looks back on bold choices in the audition room and his tricks for a more vulnerable performance.
How did you first get your SAG-AFTRA card?
It was "The Good Place" that got me the SAG card. This breakout role gave me everything that I could've asked for. I'm from Vancouver, Canada, so when I auditioned for "The Good Place," they really liked what I did and they took care of the SAG card. I was already working on my visa at the time, but it was really a push to work in the States.
Tell us about your first day on a professional set.
I started in Vancouver, and my first legitimate job was a show called "Once Upon a Time" back in 2013. I was still new to auditioning. Before, I was auditioning for commercials and little indie films, but this was the first [show] my agent got me after about a year or two. It was really scary. It was a big day—a lot of background—and I was acting opposite a guy named Eion Bailey. He had done "Band of Brothers" and a lot of great work. Everything he did, he was trying to connect with me. When he shook my hand, he looked deep into my eyes and tried to connect. Being a fresh rookie, I thought, What is he doing? Why is he looking at me so weird? I wasn't vulnerable [enough] to connect with him. I had these blocks. He was trying to connect with me one-on-one so we could form a relationship before we started the scene. He would rehearse a lot with me and he knew I was green. He would run the lines with me and he would throw different intentions at me and say, "When I say this, that is what I meant by it." It was a master class getting to work on that set. He took me under his wing and guided me through it.
What advice would you give your younger self?
To enjoy it. Really take it in—it goes by really quickly. And celebrate it, because we have so few wins in this industry. There are so many noes and doors being blocked. It's an honor to celebrate the wins and be on set. [I'd advise myself] to loosen up a little bit to be able to let myself play. That comes with time. You can't necessarily get to the point of playing until you continue to do the work.
READ: How Kristen Bell Helps 'The Good Place' Writers Create Eleanor Onscreen
How do you typically prepare for an audition?
I have a very [strong] right and left brain because of my engineering background. First, I approach it from a very analytical point of view. I break the character down, the story down—I find intentions or actions and I create images whenever I need to. I put down the arc of the scene in terms of the first act, the second act, third act. Then I try to get it on its feet. That's where my dancing background comes in. I like having a lot of time before an audition so I can really prepare, especially if I have to find the back door of the character if he's not really like me. A lot of analytical work in the beginning and a lot of physical and listening work. I definitely have to run it with a human being before I get into the room, because a huge part of acting is listening. It could also be very different depending on the role. That's the foundation.
Speaking of your engineering background, what was the moment you decided you wanted to be an actor?
I was studying for an exam. I think it might've been my second year [of college] and I was just dabbling into the arts. I was sitting in my dining room and I was looking up. I was exhausted from studying. I thought, I know every single moment that's going to happen in my life. I'm going to graduate, I'm going to get a job as an engineer and I'm going to work at that firm for 30 or 40 years. I'm going to have a family and I'm going to retire and live in Hawai'i. I can see my whole life in front of me, and that really sucked, knowing what was going to happen and not being excited about it. I was dancing at the time, and it was this new thing that made me feel something different and I had no idea what it would bring me. I listened to that voice. Acting and the world of performing and being in this industry, there are so many ups and downs. As long as you ride it and take the jump, so many different doors can open. If you can live through the downs and celebrate the ups, it can be a very exciting experience. That really appealed to me. That, and being able to play pretend—to do that as a means of work was exciting to me.
What's the wildest thing you've ever done to get a role?
There have been moments where it's worked out to my disadvantage. [In one audition,] when I was very passionate about being different in the audition room, [I was doing] a very intense scene where I got really angry. I followed my instincts and threw a chair across the room, and the casting director, she stood up, and in my head I was like, Oh, this is great, I'm affecting her. She likes what I'm doing! At the end of it, she goes, "Manny, don't you dare ever do that in my room." I think I was screaming way too loud and I almost destroyed her chair. There are moments that can come to your advantage or disadvantage. It's a matter of knowing how the casting directors work and what they like. Some casting directors like it if you're a little out there and some casting directors like it when you're in the box, especially for film. If it's a huge close-up, you can't do big, extraordinary things a lot of the time. For the most part, I try to find—and this speaks to my role in "The Good Place"—something different than what people would normally do. People come in and they're going to have the lines down and do a good job, but what makes your audition excellent? That's the work I try to find whenever I audition. Sometimes it works out, sometimes it doesn't.
Was that your worst audition, or are there other horror stories?
No! My worst audition was a comedy audition before "The Good Place." I was auditioning for this multicam [series]. I threw away how I usually approached auditions, and I tried this new technique and did it that way. I went into the audition, and I could not for the life of me remember the lines. There was no rhythm at all. By the second take, the casting director asked me straight up, "You do know this is a comedic show, right?" When she asked me that, my face just fell. What I learned was I can't just throw away my previous audition technique. I have to build this comedic investigation on top, which is what I was able to do for "The Good Place"—that audition came about a week later. I think the lesson here is it's a great thing I had that, because I wouldn't have learned from it [otherwise].
What has playing Jason on "The Good Place" added to your acting skills?
Having fun. Finding comedy in auditions. Jason was my very first major comedic role. It was all dark, deep dramas [before]. Being a part of "The Good Place," I can find comedic moments where they won't necessarily be in the script. That's the biggest tool I've been able to put in my back pocket.
What performance should every actor see and why?
It's a film called "Locke" with Tom Hardy. The whole film involves him being in a car, and he's driving home from work and it's all him, all the time, and he's talking to people on the phone. It's just him in the car. It's incredible what he was able to do with this film. The fact that he can carry this with him just being in a car and being able to tell a story and having all these different emotions is pretty insane to me. The whole time I was glued to the screen.
This story originally appeared in the Oct. 3 issue of Backstage Magazine. Subscribe here.