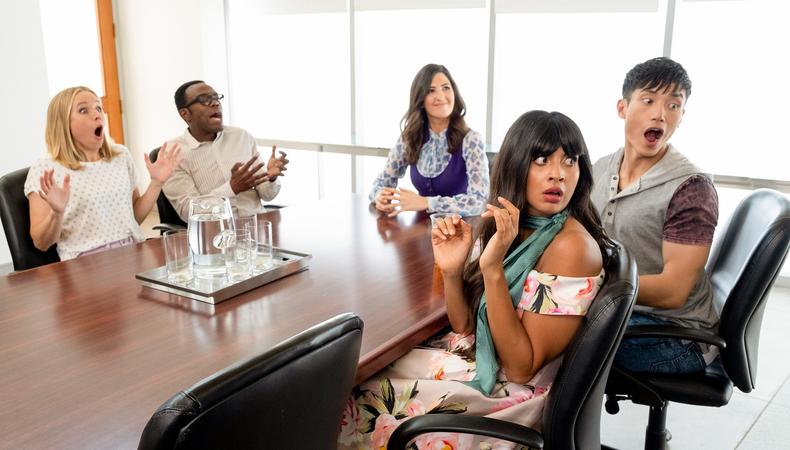 "The Good Place" has never been interested in following prestige TV's formula for success. The wholly original NBC comedy from creator Mike Schur ("Parks and Recreation," "Brooklyn Nine-Nine") is uncategorizable. With a premise no less grand in scope than the afterlife and human morality, it's a series that writers and producers Dylan Morgan and Josh Siegal admit had an uncertain future from the start.
"We didn't know if audiences were going to connect with this pretty weird premise and the idea of all these twists," says Siegal, who shares a 2019 Emmy nomination for writing for a comedy series with Morgan for their episode "Janet(s)." "It's a half-hour comedy that has the DNA of 'Parks and Recreation,' 'Lost,' and 'No Exit,' so you just don't know if that belongs on TV."
READ: How to Become a TV Actor
"The Good Place" is also up this year for the Emmy for best comedy series, a high note as it heads into its fourth and final season later this year. Fans and critics followed the show through its major Season 1 twist and have stayed with it for its comedy and tempered humanity. "It has its heart open more than anything I've worked on and is never ashamed of being earnest," says Morgan. "At times, that's made it feel like something not quite defined by the genre of comedy."
During an era when audiences have more choice than ever about what to watch and where to watch it, there's a special combination of elements that help a show succeed, like the ability to pivot quickly from witty one-liners to more human moments. And for the "Good Place" writers, collaboration is key to employing those elements. "Even in Season 1, as crazy as our stories and mythology got and [as] deep as we would go into philosophy—we have such a gifted cast," says Morgan. "They're so brilliant at making our ideas sound like human beings are speaking in the moment and making them feel alive."
READ: How to (Actually) Get Started in Comedy According to the Breakout Star of 'The Good Place'
That "immortal" cast includes Kristen Bell, Ted Danson, Jameela Jamil, William Jackson Harper, Manny Jacinto, and D'Arcy Carden, and their work alongside the writers has helped maintain the show's strength, even three years in. "The most satisfying part of getting seasons into a show is that the characters evolve, between the things you learn about them and what the actors bring to them. Everyone comes to know the characters so deeply; there's a piece of all of the writers and more than a piece of the actors in every character," says Morgan.
The creative team's symbiosis in front of and behind the camera may seem a little too much like the aspirational "good place" depicted in the show, but Siegal and Morgan insist that's part of the reason it resonates.
"There's a lot of trust involved by the time you get to this point," Morgan says, adding that he trusts an actor who does a line reading slightly differently than the way he wrote it. "They know how the character feels and [they] trust what you're trying to have them say. It's all the best parts of this process."
"You work together to find a way to get to the heart behind the line, the intention, or you figure out how it works for everyone when it winds up on screen," says Siegal.
So where does the comedy factor into these creatives' seemingly divine equation? They start with what will make them laugh. "Your first audience will be you—what do you want to see? What do you think will be funny? What are you dying to have happen in an episode? Then you'll say these things out loud to this room of great writers. If you can get them laughing, that's a great start," Siegal explains. "When it's all working, you feel like you and some of your best friends are having a slumber party and making each other laugh—and at the end of it, there's a TV show. We all take it seriously, but you can't take it too seriously if you're trying to make everyone laugh."
This story originally appeared in the Aug. 15 issue of Backstage Magazine. Subscribe here.