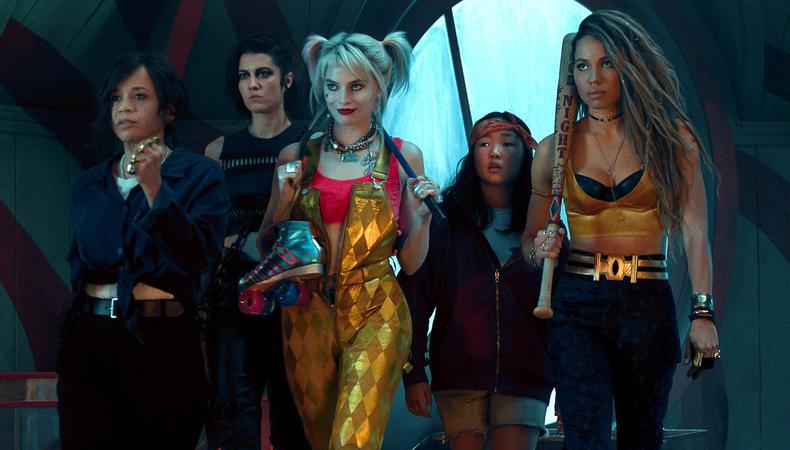 In the new film "Birds of Prey" from DC Films and Warner Bros., Harley Quinn (Margot Robbie) and Black Canary (Jurnee Smollett-Bell) are fighting an army of bad guys. Midfight, Harley turns to Canary and tosses her a—wait for it—hair tie. Canary takes it and scoops her waist-length hair into a knot, because when you're fighting bad guys, your hair cannot get in your face. This is what happens when a woman makes a superhero movie.
This down-to-earth take on larger-than-life characters is what first attracted director Cathy Yan to Christina Hodson's script. "I loved that these women weren't perfect, and I'm constantly fascinated by complex female characters," she explains. "That's something I like to focus on in my work—and Harley Quinn is just a really good character on top of everything else."
READ: 10 Surefire Ways to Make Your Agent Love Having Signed You
In the colorfully named "Birds of Prey (and the Fantabulous Emancipation of One Harley Quinn)," antihero Harley (last seen in "Suicide Squad") has broken up with the Joker and is trying to forge her own identity. Meanwhile, the entire crime scene in Gotham is after her, including mob boss Roman Sionis (an especially campy Ewan McGregor). To beat them back, she joins forces with a diverse team of heroines: Black Canary, Huntress (Mary Elizabeth Winstead), and Renee Montoya (Rosie Perez), as well as an orphan named Cassandra Cain (Ella Jay Basco).
To Yan, the film is not about whether the world is going to end, like in other superhero flicks. Instead, the central conflict is over "Harley's soul," she says, and whether she's inherently good or bad. "Once she separates herself from this toxic relationship, it's an existential question. She learns that she is a little less shitty than she thought she might have been."
"Birds of Prey" was announced in 2016 with Robbie attached to star and produce under her LuckyChap banner. As Yan describes it, it was as if Robbie assembled her own female dream team for the project. Screenwriter Hodson came on board, followed by Yan, who was a newcomer director with only one feature film credit (the darkly comedic indie "Dead Pigs") under her belt. "I would not have been given the opportunity to direct this exact movie five years ago," Yan bluntly remarks.
She is one of only a few female directors to helm a superhero movie, and the first Asian-American woman to do so. Though gender wasn't a prerequisite for the hire, Robbie made sure that a wide array of women directors were considered for the job; Yan believes that allowed the net to be cast wider than ever. "I definitely think Margot stuck her neck out for me in many ways," Yan explains. "To let me enter the room at all, that is really what's different now. There is a real effort to try to find different voices."
READ: 'Black Lightning' Star Cress Williams on Why You Don't Need a Supersuit to Slay an Audition
Yan was up against more experienced filmmakers, but the strength of her pitch got her the job. "Birds of Prey" takes a playful approach to its material; it starts off with Harley's backstory done in the form of a cartoon, and the cuts and dialogue are snappy and zany, like the lead herself. To ground the story, Yan took inspiration from a wide array of films, including "The Professional," "A Clockwork Orange," and "Bridesmaids." "I felt like this movie could serve as a nice antidote to the big VFX-heavy, bro-y, if you will, movies in this genre," she says.
One important component was the fight scenes. Yan wanted them to feel real, so the actresses trained for four months to do many of their own stunts. In one scene, Harley beats up bad guys on a carousel platform while wearing roller-skates; Robbie did that herself, using the skating skills she honed in "I, Tonya."
"I wanted to make sure that these women were powerful because they were strong and smart and knew how to fight, and not just because they had a superpower," says Yan. "Partially because Harley doesn't—her superpower is that she can fight and she's a badass and she doesn't think like anyone else. She's really, really, really smart."
In "Birds of Prey," the women learn how to free themselves from the men and societal pressures (and, sure, demonic inner voices) that are holding them back. Similarly, the film has helped Yan come into her own as a filmmaker. "I was coming off of my first feature that everyone told me couldn't be made," she explains. "['Birds of Prey'] felt like a story I wanted to tell, that I could really understand—female emancipation and finding your own power, being comfortable with it, and being able to use it."
This story originally appeared in the Jan. 30 issue of Backstage Magazine. Subscribe here.