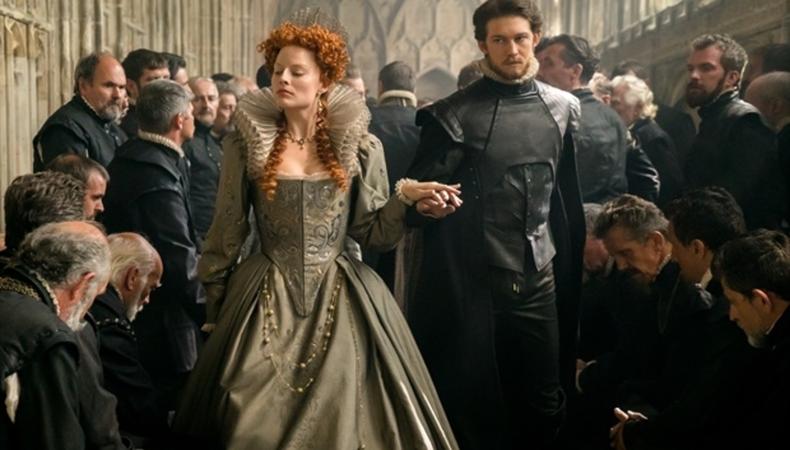 Queen Elizabeth I and Mary Queen of Scots were often at odds but their similarities can't be overlooked, down to their hair color. Focus Features' "Mary Queen of Scots" puts the two redheaded queens in harsh relief as they battle for the British throne, two female monarchs, played by Saoirse Ronan and Margot Robbie, surrounded by men and the threat of losing their power. Hair and makeup designer Jenny Shircore was tasked with creating the clashing queens' looks in the film. No stranger to the period—she also designed Cate Blanchett's Queen Elizabeth I in "Elizabeth: The Golden Age"—Shircore had to approach this story a little differently and she talked to Backstage about the process.
What preparation went into the hair and makeup design for "Mary Queen of Scots"?
I know the period, the looks of the period, and the history of the period very well. This time, we had to see it from a Scottish point of view and the story was very different because in the film "Elizabeth: The Golden age," it's taking Elizabeth from a young girl to a mature woman in a very straightforward way. This time, we told a story of Elizabeth through her illness of smallpox. It was the two women, two queens, two powerful women of the day surrounded by men. They were women who loved each other as sisters and as queens, and were also jealous of each other, so their weaknesses and strengths impact the way they look as we shot the film. One theme was Elizabeth, and then one theme was Mary. We tried to show what each person was going through psychologically in their looks. Elizabeth was suffering badly with her looks with smallpox and that gave Mary strength, that sort of thing. Although I know the period, the time, and the history, we were actually telling a real life story and using those elements of love and jealousy and all the rest to tell the story.
How did you balance fiction and reality in the design?
I felt I had to keep the historic facts real and realistic, i.e. the smallpox that Elizabeth suffered. I did a lot of research about that to know how it looks and what the effects would be because I had to keep that very realistic. What I did have fun playing around with was Mary Queen of Scots' hair, which was more fantastical. I strayed from the facts of Mary Queen of Scots—I took from the period as well as other references.
How did you design the arcs of their looks to indicate the passing time?
They were both redheads, so the start of it was to choose a red color for each queen and, of course, a color that suited each actor and also stood out by itself so you could recognize each actor with their back to the camera. Technically, from the hair point of view that was the main thing that I had established. Although they were all wigs in the film, the early parts were their own hair and their wigs were their own hair. Elizabeth gets smallpox quite early on so we see very little of her own hair before it becomes dry and brittle and falls out through the effects of the disease and she actually takes to wearing wigs, which we know is true. With Mary, she had a lovely, wonderful head of hair. When she first arrived on the Scottish shores from France as a young girl, she's sporting a very European hairstyle, which is a sort of bouffant high hairdo. She then develops a much more English style and she changes as a person, and with that, I tried to make her more powerful and structured. There wasn't a softness about it as the story went on. As she gained strength and became more determined to get the throne, her hair became more structured. We used the actual, historic styling of the day, but I pushed it around here and there and had fun with it as well.
READ: Why Saoirse Ronan + Margot Robbie Got Masculine for 'Mary Queen of Scots'
How did you make the women look dynamic when they were typically on screen with groups of men?
We kept all the men dark with mostly toned down hair colors so that the two redheads would almost glow because the lighting was very low key. It was candlelit, so the two redheads would glow in the dark. Obviously, they are very very beautiful, and we kept their faces pure and clear, whereas the Scottish men they wanted more wild and wooly, and the Englishmen we want more manicured and groomed. So the two women, with their pale skin and their red hair, would stand out in all the big crowd scenes.
What challenges came with this project?
What made it unique was telling the story of two women. Balancing the life of what was going on with one woman and knowing the script so well and what we're going to cut to, with what was going on in the other woman's life. We made sure we had all our facts and details right to be able to tell the story through their looks, what was going on, how they presented themselves to the public, their hair and makeup throughout time, and even in their private lives when they were depressed and downhearted. We told the story of showing one queen who was not at her happiest and knowing we were going to cut to the next queen who was full of confidence. We had to have those looks absolutely buttoned down to be able to tell that story through to the end.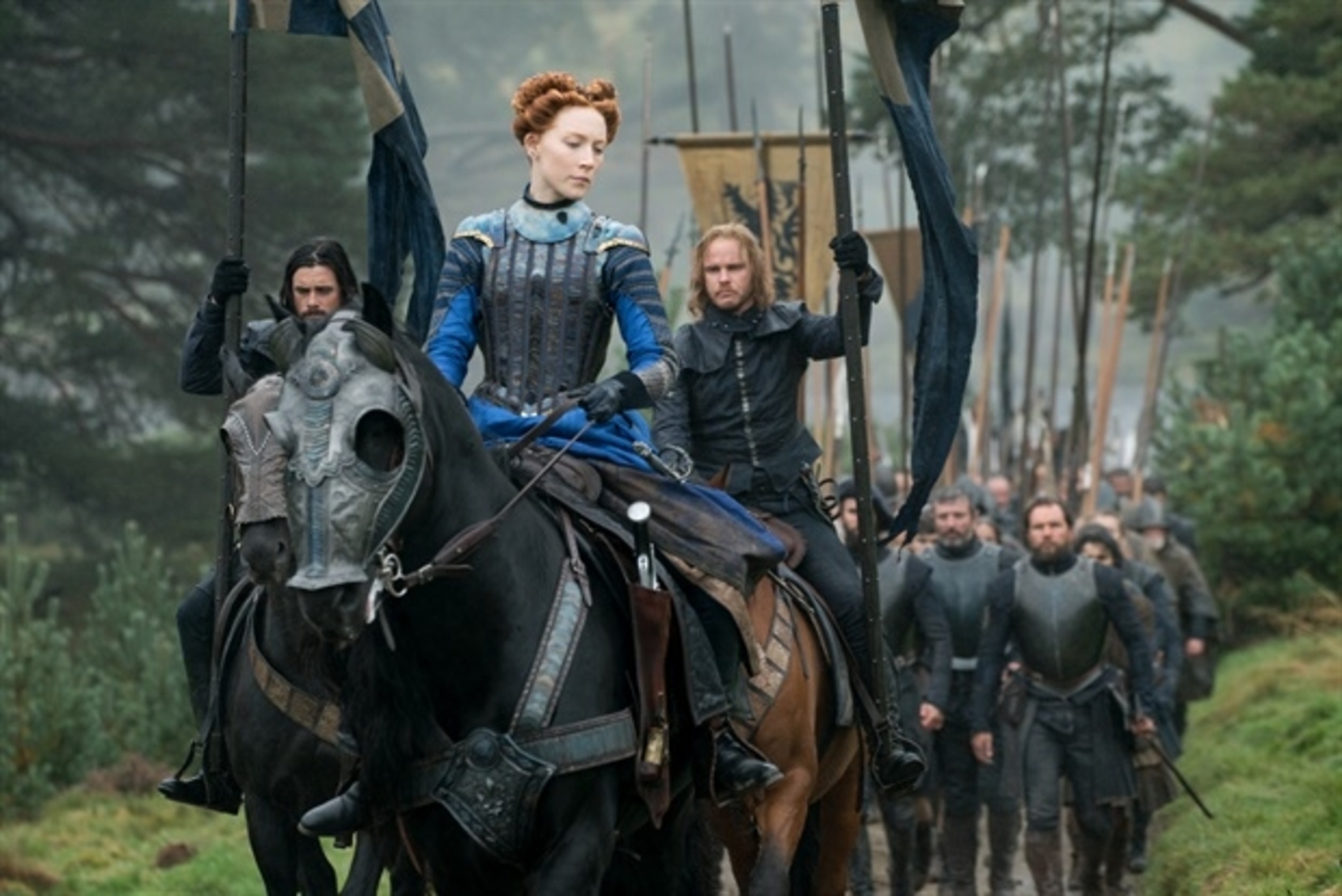 Who else do you work with while a film is in production?
Mainly I work very closely with the costume designer. I take a lot of notes from the director and I also see what the production designer is doing. Basically, to sort out my characters, I work with the costume designer, and also with the actors.
What kind of influence do the actors have on what your ultimate design looks like?
Margot and Saoirse were very open to my suggestions and my designs the plan of their journey in this film. They most often agreed with what I was offering them, but if they had a little doubt here and there, we worked together, had discussions, and resolved how it should be done. I like to work with the actor and to know what the actor is thinking and feeling about a particular theme. And, of course, the costume designers are the most important.
Is there a typical way that you prepare to work on the projects you design?
I love research more than anything and I like to get deep into the period. I do a lot of period drama so I like to learn about the society, politics, food—everything about the period I'm working within. I can't seem to do enough research to know about the life of the people I'm working with, so to speak, and the story that surrounds these people.
READ: 15 Female Film Directors You Need to Know
How did you get into this line of work?
Many years ago, I wanted to be a beautician and I went to a college in London where I studied hairdressing and beauty culture, and I think it came from there. I did have a desire to travel on luxury ships and work in the beauty salon there, but it didn't happen. I trained as a hairdresser first and I went to college to learn makeup. After doing two years in a college, I joined BBC TV and really learned my trade there.
How is what you do for the screen different to what you were learning more practically in school?
In real life, you still are creating something because people come to you to have their hair and makeup done. You still do have to see them through your own eyes and see how you can improve them, but on the screen, I'm not really just improving them I'm giving them a character and changing them. Each character I work with on film is different. When a customer comes to hair and makeup, they come back for the same thing every time. Every time we do an actor it's a different look and a different character. We're developing something else. For the everyday look, I'm improving you, but for film, I'm giving that person a character, so I might be changing them completely. I'm not improving them, I might be making them worse!
What advice do you have for someone who wanted to get into hair and makeup design for film?
The first thing is they would need to be very sure because it is a glamorous life and it's not a glamorous life, it's a very hard one. It's hard but wonderful work. I would say that they would probably need to experience a few days on set to know what they're getting themselves into. Then there are various areas of makeup: there's prosthetics, special effects, straightforward makeup. They need to know which side they really want to belong to and develop their skills in.
What don't you think people know or realize about what you do?
Very often I'm asked if I have to read the script. I'm quite shocked at that because how would I know what I had to do if I didn't read the script? They don't realize the amount of stock we carry, they think we just have lipstick and a comb in our pocket. There is a huge naivete about what we do.