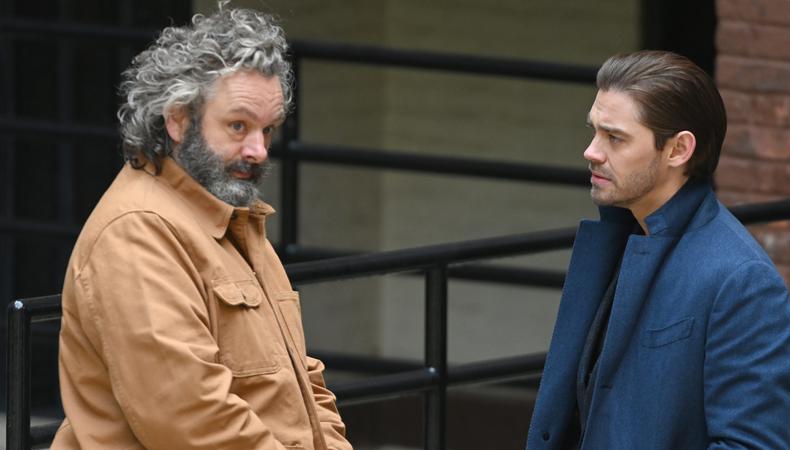 Mark Saks has made a living in network television as of late. It makes sense, as a former network casting executive, but one of his latest projects "Prodigal Son," is a little different from some of his recent hits like "The Good Wife" and "Madam Secretary." The cast requires a more diverse search and is filled with a combination of, as he says it, "veterans and newcomers." He shares his process and encourages actors who have graduated during the pandemic to make the move because there's more production happening than it might seem.
Talk about casting "Prodigal Son," especially coming in after some of the pilot casting was done.
In Season 1, there are a lot of arcs. There were a lot of characters who would come in and play recurring characters or had a structured arc. Those pieces needed to be put into place immediately. The first was Charlayne Woodard, who played during the first season, Tom Payne's character's childhood, and then later in life psychiatrist. Then there was Molly Griggs who played his love interest. Then there was the big bad the second half of the season, which was Dermot Mulroney, so I knew I had some big ticket items up front. We started on those fairly early just to get the right pieces in place.
What's different about casting this series compared to other procedural type series you've done?
It's not just purely cops and robbers. There's a lot of diversity on the show. There are a multitude of roles and types of roles, which you don't normally get in a police procedural. It's usually a lot of "officer No. 1" and "plainclothes detective." Prison has been a centerpiece set for the show. That was giving you an opportunity to really dig into those character actors for inmates and prisoners. That was also interesting to me. I had never done something like "Oz" or anything like that.
What challenges come with casting this series?
I always believe the best recipe for success is a healthy mix of veteran actors and great newcomers. I try to do that on all my shows. That's certainly evident here. For instance, we just did an episode that aired called "Alma Mater," and it featured young prep school students and two of the leads in that episode, the guest leads, were their first credits, both out of Carnegie Mellon. They were playing 17–18 and they had just graduated from Carnegie Mellon. It was their first job. It's finding those stars of the future. And then you get to work with veterans. Catherine Zeta-Jones, who doesn't really do episodic television joined us for seven episodes. I just thought, Wow, this would be a dynamite combination. And it's rare to get your first choice. She was one of my first ideas when we went through a long list of people. We're lucky to be working with her.
How do you know one of these newcomers is up to the job of acting opposite the veterans?
For that episode, Alma Mater, I think there were four roles for juvenile roles. They played students, as I mentioned, 17–18. I think we saw between 220 and 250 young actors for the four available parts. I spent days watching those self-tapes and then giving notes to them to see if I could get adjustments before I showed them to the producers. Two of them prevailed. I knew they were really well trained at Carnegie Mellon. One of the other students I had seen on stage multiple times. He was recently in the "Torch Song" trilogy on Broadway. And then the other part I had used multiple times before on other shows. Usually, you have seen their training, you've seen their minimal body of work, and then you work with them to find the best performance for an audition as you can.
How did the pandemic change your casting operation?
I think self-taping is here to stay. I did a sort of an informal poll when I was out in Los Angeles last February. I asked the actors who came in during the pre-read portion, "How much self-taping are you doing and how much in person are you doing?" That was prior to the pandemic and the shutdown. The general answer was about 60% in the room for a casting director or casting associate or producers and 40% self-taping. Now that is 100% self-taping and the occasional Zoom. I think we will probably stay at this level, I think people are getting used to this. Technically, the process the actor goes through to self-tape now, it's improved tremendously over the past 11 years. I wonder if we will go back in 2022, to some sort of in-person casting, I'm not sure. I would advocate for it because I miss it. I think part of the casting director's job is to get performers ready for their auditions for producers, to bring them to a certain level. Once they're hired, it's obviously the director and showrunners' business. But I wonder if it is just too convenient now to just look at self-tapes. I don't know. I don't think it's good for the actors. I don't think it's good for the casting directors. I know the creative people want to be back in the room. I think they want to work with the actors they're about to hire. It's good for everybody to hear the material out loud, to see what's working and what's not. Actors are meant to perform. This is what they want to do. In New York, most people are theater actors. This is how they were brought up when they were trained. They want to go into a room and they want to work with the director. They want to get those adjustments. They want to get that direction.
What advice do you have for actors right now?
One thing we're finding is the younger actors are coming out of BFA programs or MFA programs have not moved to New York or to Los Angeles. They are staying in their hometowns with their parents. There is a lot of production. There is so much television and film, and I don't think younger actors realize that so they are staying in Texas, and Seattle, and Colorado, and Montana, maybe with their significant others, maybe with their parents, maybe sheltering in place with roommates. People are not moving here, and it's very difficult to hire a young actor who's sitting in Michigan and self-taping in their parents' house because of the protocols and quarantines. We don't have a lot of leeway to go out and hire these people, it's also almost financially not worth taking a small job on a television show because they would have to fly themselves in. I think that's something that's unfortunate about where we are right now. My heart really breaks for the people who graduated in 2020 and 2021 because they're just not here. A lot of people are walking around unsigned. It's been very difficult. My message is establish yourself, move, find a way to make it work. You can't have a career self-taping in your parents' house in the middle of Nebraska.
What do you want actors to know about this weird time in entertainment?
This is a great time to absorb content. I know so many actors who don't watch enough content. They don't really go to the movies. They don't really watch a lot of television. They want to work in television and they want to work in film, but they really are not connected to what's on the air and what's streaming, and this is a great time. It's so easy now to connect. Open your laptop and it's all there. Subscribe to everything. Start reading everything. Read Backstage, Deadline, Variety, read The Hollywood Reporter. Read all the periodicals. Immerse yourself in the business and in the industry. There are so many platforms out there. It's so easy. It doesn't take a lot to just look at pieces of shows on YouTube. I feel like actors don't do enough homework. And this is a great time to do that homework.

People might complain, "My agent doesn't get me enough auditions, there's nothing out there." You can be doing so much for yourself. National Theatre in London, they have been broadcasting their shows, that's invaluable to be able to watch some of the world's greatest actors on the stage of the Olivier Theatre in London, great new plays, and great classical works. And I don't think people take advantage of that. I don't think people take advantage of the three-quarters of what's on the air, or what's streaming at the moment. There is some great television out there at the moment, some truly innovative shows. This is their livelihood, and they don't bother.