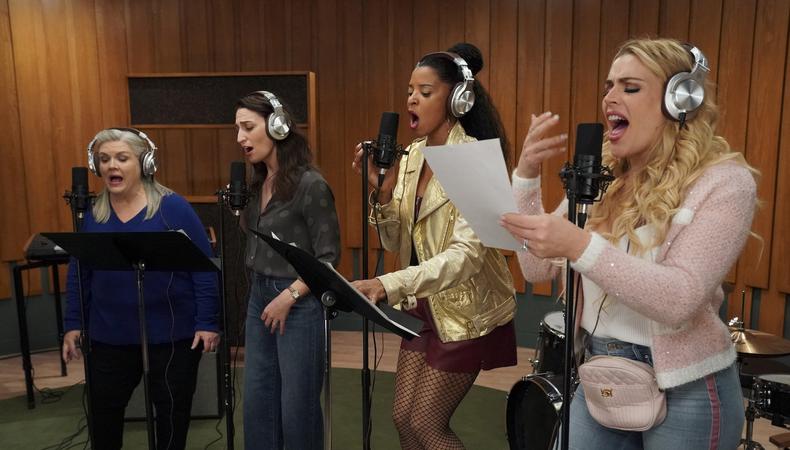 "Girls5Eva" is first and foremost a comedy, which is why you may not notice it's also a sly commentary on misogyny and the ways it has destroyed women for generations. "I didn't shy away from telling the truth about how women are treated," says Meredith Scardino, who serves as creator and showrunner.
The series, which premiered on Peacock in May, follows four members of a former girl group who reunite in their 40s, older and varyingly wiser. Hailing from executive producers Tina Fey and Robert Carlock, the show sits firmly in the duo's hyperbolic, joke-fueled milieu. But the fact that it arrives at a cultural moment when the treatment of all women—especially 2000s female pop stars—is being reexamined gives it a subtle but real bite.
"Everything is a little bit more absurd, and it helps highlight the truth, in some ways, when you turn the volume up," says Scardino, who is Emmy-nominated for writing on the show and is a veteran of Fey and Carlock's "Unbreakable Kimmy Schmidt." "I knew I always wanted to make a really jokey show; but to sustain a show, you need to care about people. What's wonderful about being on streaming is that things have a bit longer to breathe. You can have these moments where you really feel for these women and root for them, and it's not just some joke explosion."
The women themselves are a crucial component of the show's marriage of pathos and humor. Led by singer-songwriter-actor Sara Bareilles, the group is rounded out by "Hamilton" Tony winner Renée Elise Goldsberry and comedy icons Paula Pell and Busy Philipps.
"Our actors are so good at making these people come to life and making you care about them," says Scardino. "Even Renée's portrayal of Wickie, who can be super selfish and narcissistic at times—she can make you feel empathy for her in a way that makes you feel connected to that character. Sara has amazing timing and kills every line. Paula and Busy are just complete comedy pros but also have the ability to be really good dramatic actors. I feel like I have all of these amazing ingredients, and I'm just hoping not to mess it up."
Scardino had always wanted to create her own series, and she was kicking around various ideas while at a writers' space she frequents in Manhattan called the Writers Room. ("There are self-tortured-looking people just milling around this space, silently on deadlines," she says.) She knew she wanted her show to be about a group of women approaching middle age who could all be hilarious. And then, she recalls, "I happened to see a news story about the Spice Girls reuniting, doing some sort of reunion tour without Posh, and a bunch of lightbulbs started going off."
She knew the concept had legs—the way she always does when "you just keep thinking of ideas and you can't take down your notes fast enough." She pitched it to Fey and Carlock, and they were sold. But to be a first-time showrunner—not to mention on a project that features original songs in every episode, which Scardino co-wrote with Jeff Richmond—was no easy feat. Oh, and there was a pandemic to contend with, too.
Mistakes were made and lessons were learned—which Scardino will continue to put to use, with a second season on the way. But ultimately, the show got made and people liked it. That is its own huge accomplishment. "I kind of still can't believe that's how everything gets done: Someone has an idea, and suddenly it's on TV and in the movies, and you're like, 'Oh, someone just decided they wanted to make a "Thor" movie,' " she says. "And now we watch a 'Thor' movie. It's thrilling. And to be able to do it with a group of people who all come together for a shared goal—it's just amazing."
This story originally appeared in the Aug. 12 issue of Backstage Magazine. Subscribe here.
Looking for remote work? Backstage has got you covered! Click here for auditions you can do from home!