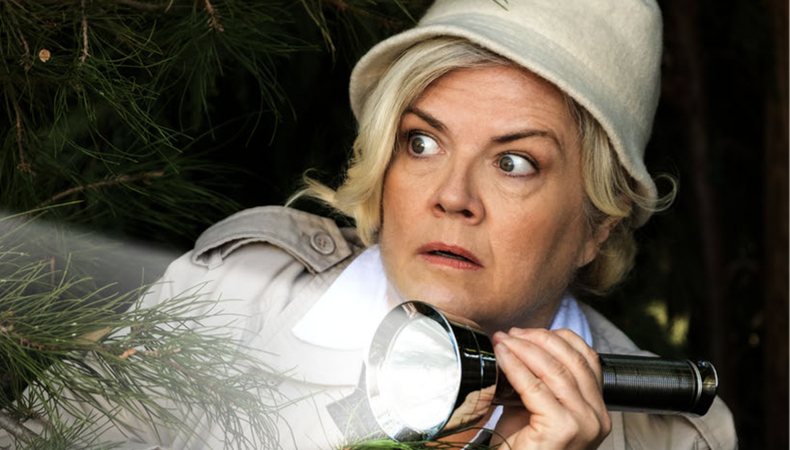 Paula Pell has always been a self-described "old soul," evident from her earliest memories performing. "In eighth grade, I played Mother Superior in 'The Sound of Music,' " the writer-actor says with a laugh. "There is video of me doing it and it sounds like a 65-year-old woman. I was 13 years old with braces and I'm singing 'Climb Ev'ry Mountain' and it's so old-sounding."
Pell never anguished her inner sexagenarian, but it didn't exactly offer a clear path forward in her acting career. Having studied theater, she planned to perform professionally, but for much of her adulthood, her "type" didn't afford many possibilities. "I was a plus-size girl with a younger face, but also sounded like I was an old lady," she recalls. Now, in her late-50s, she's appearing regularly in films (like Netflix's "Wine Country") and television shows (like NBC's "A.P. Bio," on which she's a series regular). "I aged into these parts, in other words," she adds. "All I ever wanted was to play character roles. This is my sweet spot now."
Today, she's also starring on Quibi's "Mapleworth Murders," which she co-created with John Lutz and which also features some of comedy's heaviest hitters; Tina Fey, J.B. Smoove, Tim Meadows, and Patton Oswalt among them.
Though she's more prolific in front of the camera now than she's ever been, Pell wasn't sitting around these last few decades waiting to age into the parts she wanted to play. Actually, she wrote for that little sketch show "Saturday Night Live" from 1995 through 2013, penning some of its most memorable characters including Debbie Downer and Justin Timberlake's Omeletteville mascot. Though she'd had no desire to become a writer, she wasn't finding acting jobs that suited her. And believe it or not, she wanted to work!
"It wasn't ever really that much of a choice," she admits. "I just never thought I would get a writing job because I didn't feel qualified for that. I didn't know about how 'SNL' did hire actors [for writing jobs] because it's such a great thing to have writers who have also been actors. They understand the actors, they understand the hosts, and they know how to write for them, but they also know how to give them notes. They know about the psychological part and the fact that it's vulnerable. It's vulnerable to stand up and do something silly and then have everyone get a horrible look on their face."
Joke-writing came swiftly to Pell—who even by phone is infectiously hilarious—which meant she settled quickly into her tenure at 'SNL.' It was the more rigid, structural nature of narrative storytelling that took a while longer for her to grasp. In fact, even today, it's hardly her favorite part of the writing process.
READ: Aidy Bryant Is a Case Study for Writing Your Own Work
"In movie writing, you're always trying to drop little hints, but it's all very subtle and under the radar to make it satisfying. Reluctantly, I've had to learn structure because I hate structure," she says. "I always want to just write, get in this delirious late night explosion of writing, dialogue, and character. But when I have been forced in order to get projects through and get hired for projects, you have to be good at story and you have to know what those structures are. A lot of it is just those dropping hints, [which makes you] then start watching movies or TV shows in a different way. You realize that there is nothing for nothing and everything's got a reason to be in there."
In some ways, "Mapleworth Murders" is an amalgam of Pell's career to this point: The short-form narrative episodes follow a number of small-town homicides (in the very British, non-bloody way), each respectively depicted through three 7-minute episodes; it's as much narrative as it is character-driven as it is joke-driven. Plus, she gets to write for the performer she knows better than any other: herself.
"I mean, basically we all have about four comedy moves that we just kind of change a little bit," she jokes. "I know my moves and what kind of things are in my sweet spot." And while she relishes the agency that comes with helming a show creatively, she admits that getting to just be an actor on other people's projects is a reward all its own.
"Being writers and producers and all that is so much more like being the adult. They're the grownups that have all the calls that are worrisome of like, 'Oh shit, get on line one, there's a disaster,' " she explains. "When you're acting you're really just responsible for yourself and your interaction with the other actors. It's so delicious to not have all the responsibility for the rest of it. I love going in and getting my sides and getting my makeup on and knowing that my job today is saying these things, being this character, and being a good person to be around. Just to be funny, that's it. That's my responsibility."
Looking for remote work? Backstage has got you covered! Click here for auditions you can do from home!