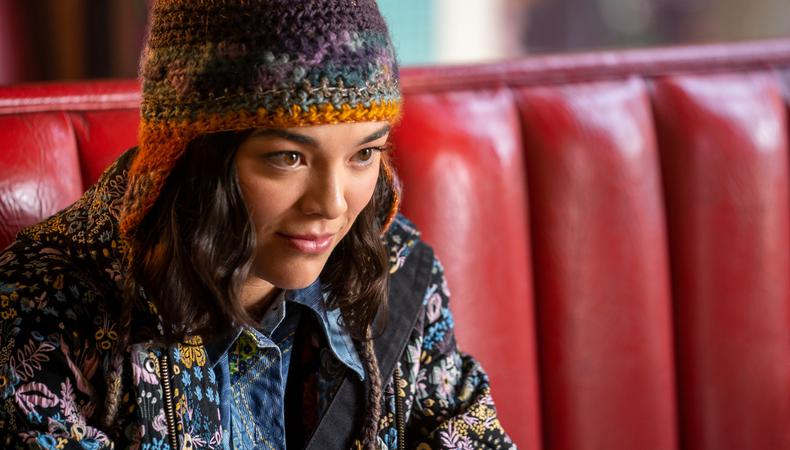 The following interview for Backstage's on-camera series The Slate was compiled in part by Backstage readers just like you! Follow us on Twitter (@Backstage) and Instagram (@backstagecast) to stay in the loop on upcoming interviews and to submit your questions.
Logging in from South Africa where she's currently filming her latest project, Midori Francis of Netflix's "Dash & Lily" and Off-Broadway hit "The Wolves" took over our Instagram to answer your questions! From the challenges of filming her newest project during the pandemic to the best parts of filming "Dash & Lily" in a then-hustling and bustling New York City, Francis touched on it all. Check out her best advice for aspiring actors and her thoughts on competition and collaboration in the industry in the edited conversation below.
What's your advice for aspiring actors?
Get training! Learn how to do it. It's a craft and a skill, and like anything else in life, you might need help and guidance. And after you learn how to do it, figure out the next steps from there. But first, get some training! [And] be yourself. Being a second-rate version of someone else is never honest or interesting. You're never going to be right for everything and not everyone is going to like you, but if you can dive into who you are and bring that to the room, people will appreciate that.
What has been the hardest part about being an actor during this time?
It's been weird to figure out what to do with my time when I wasn't working for all those months, and who am I without it. How do I stay motivated and creative when I don't have a job?
What are the challenges of filming during a pandemic?
Filming during a pandemic was at first scary and weird. We're in a bubble and I didn't want to leave. It has turned out to be the most beautiful experience because we all appreciate being at our job more now than ever and all of this stuck in this hotel time has made for some serious late-night bonding. We are on a wine farm, so that's a thing. It's been a really special one and we all feel really grateful to have our jobs.
What were the challenges of filming "Dash & Lily"?
It was definitely hard not being able to act with Austin, but we got to know each other through our own red notebook and became friends in real life which really helped. Of course the hours can be rough, but I love it and that makes all the difference. The hard parts, like having to dance in front of a room full of strangers and embarrassing myself, turned out to be the best parts because that was such a fulfilling scene.
When did you know you wanted to be an actor?
When I was a kid, I loved musical theater and "Annie" specifically. But I saw this play when I was 14 called "The Price" by Arthur Miller in Cape May, New Jersey, and the acting was so realistic and good. [That's when] I knew.
Did you ever consider quitting acting?
Maybe not seriously, but those thoughts have come into my head. It's hard, it's a hard job. You have to have thickness of skin, and I didn't have that always, so I've had to build that.
How did you choose an agent and manager?
I talked about the things that were important to me, like representation, and making sure roles were not racist, for me. I talked to people who listened and cared and seemed to believe in me and understand me.
How competitive is the industry?
Competitive in the sense that you really have to keep working all the time and not get lazy, yes. Competitive with yourself, yes. Competitive with other people? You need your actor friends and so I would say support them the best that you can and reach out and be a part of a community. Don't be insular. There's room for everyone.
Looking for remote work? Backstage has got you covered! Click here for auditions you can do from home!