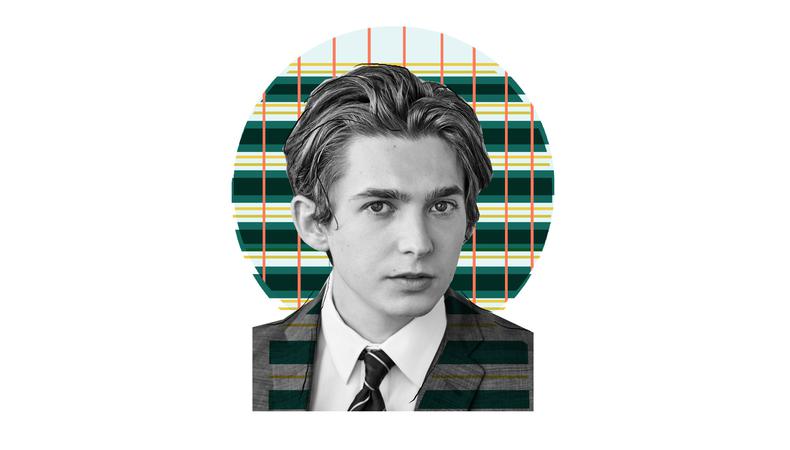 Austin Abrams has spent nearly half his life onscreen, acting on series as varied as "The Walking Dead," "SMILF," "The Americans," and "Euphoria" since his "Ticking Clock" debut at age 13. The last year, though, has seen him revisiting the roots of his 2015 breakout "Paper Towns," as he's gotten back in the game of teen dramas adapted from beloved YA novels: first with "Chemical Hearts," starring alongside Lili Reinhart, and now on Netflix's infectious Christmastime series "Dash & Lily," based on the book series by Rachel Cohn and David Levithan and co-starring Midori Francis. In the lead-up to the series, now streaming, Abrams took our acting questionnaire to relive some audition nightmares and early career successes.
How did you get your SAG-AFTRA card?
God, I don't even remember, that was a long time ago. I did my first movie when I was 13. Through a teacher of a class, I don't know how, but she was able to get auditions, and then I ended up getting that audition through her. I can't even remember when I first got it, it's so long ago now.
Which project would you pinpoint as your "big break," and who was the casting director who cast you for it?
Probably that first thing that I did. It's called "Ticking Clock." It was a movie with Cuba Gooding Jr. and a straight-to-DVD kind of deal, but that was really the start of then being able to get an agent through people that worked on that movie. If you haven't done anything—at least from what I heard back then when I was younger—they don't really know if you can do it, how you can handle yourself on set. So definitely having something that I could show like, "Look, I did something." Yeah, it was very helpful.
Any audition horror stories you can share with us?
I honestly have too many, I don't think we have enough time in the day. I've definitely had my fair share of my manager calling me and being like, "What the fuck?" I remember one. I don't know if it's a "horror story," exactly, but I had auditioned for this movie. I made a tape, and a while had passed. It was, like, months that had passed, and I think they really liked what I did. So I was going into the room, and when I walked into the room, there must have been 10 people in there, all the producers and the writers and the director. I didn't know it at the time, but apparently I was the only person that was going in to read; they were pretty sure that based on what I'd done before that they wanted me to do it. I guess they just wanted to see me live and see how I worked with the director. But the material that I got, it was a little bit different. They had obviously worked on the script more, so I was kind of feeling like this was a different character a little bit—[so] I just completely changed the character. I made him a little bit more cold or robotic, just very strange. So I went into this audition and did it completely different than what they had seen in the tape. They were all a little freaked out by what I did. I didn't know at the time they didn't want me to change it at all. I don't regret doing that, though. That was just funny. They said it wasn't bad, it was just really strange.
What's one screen performance every actor should see and why?
I do specifically remember, at around 15, watching "There Will Be Blood." That really changed my whole perspective of what was possible, so that was a real jolt of energy that I found in that movie. Before seeing that, I didn't know who [Daniel Day-Lewis] was at all. I think I watched that, and then I looked him up, and I was like, "Wait, what the fuck? This is the same guy!" I couldn't believe it was the same person. [His performance] was just so alive and living. That's what really struck me; I didn't even know that was possible.
How did playing Dash on "Dash and Lily" make you a better actor?
I'm definitely walking away with a feeling of confidence, and this is also a testament to how collaborative the people were that I worked with. I think when you're more of a "main" person, they do seem to listen to you a little bit more sometimes. I did my best to contribute what I could to the story, and tried my best to be a leader as we were doing it. So I think there's definitely a sense of confidence and a sense of seeing: OK, I did have an idea of what I was doing, and I was able to positively help the show and everyone that's a part of the show.
What's one piece of advice you would give your younger self?
Relax a little bit, and make sure and enjoy what you're doing. It's just really a joy, what you're doing. Take it easy. Focus on liking what you're doing, because I do feel like the more you enjoy it, then the more you're going to be able to advance and the more people are going to enjoy your performance. You were able to do that and everything comes together.
Looking for remote work? Backstage has got you covered! Click here for auditions you can do from home!