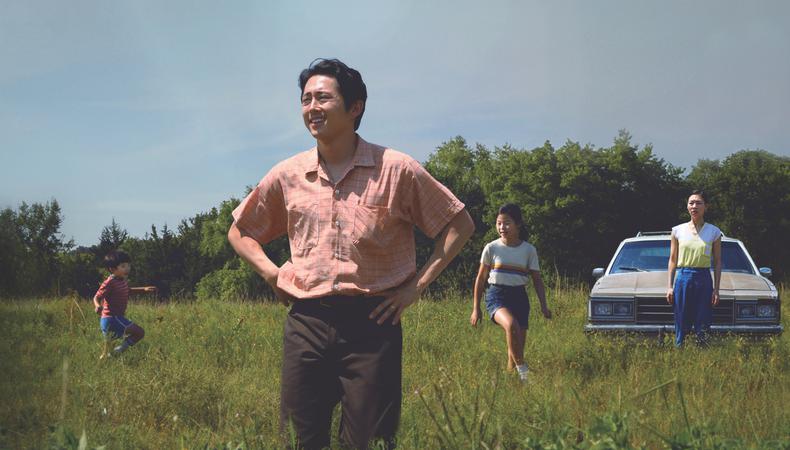 As we look back at 2020, we at Backstage have pinpointed the year's best big- and small-screen ensemble work for your SAG Awards consideration and beyond. For more voting guides and roundups, we've got you covered here.
Main Cast: Noel Cho, Yeri Han, Alan S. Kim, Will Patton, Steven Yeun, Youn Yuh-jung
Casting by: Julia Kim
Directed by: Lee Isaac Chung
Written by: Lee Isaac Chung
Distributed by: A24
Ask any current or future citizen of the United States for their definition of the American dream, and every answer will be different. Lee Isaac Chung's A24 drama "Minari," his autobiographically inspired story of a Korean-American family moving to an Arkansas farm, is a reminder that life, liberty, and the pursuit of happiness are measured differently for every family—and, within that unit, every individual.
But the acting in "Minari" is so convincing and so authentic to a specific Korean-American immigrant's upbringing that this Sundance Film Festival Grand Jury Prize winner has been upheld as the definitive cinematic depiction of the American dream. Jacob and Monica Yi, played by the magnetic Steven Yeun and Yeri Han, will be relatable to any parents experiencing the pitfalls and fleeting hopes of providing for one's family. Their longing for upward social mobility is a hope for their children more than themselves, embodying that timeless, constant struggle toward a better future.
At least, that's what Jacob tells himself and his wife after moving their family from California to their new home: a trailer nestled in a green field on the outskirts of an Arkansas town. Determined to plant and grow vegetables to sell to Korean vendors rather than continue to work in a poultry factory separating chickens by gender, Jacob develops tunnel vision when it comes to his definition of success. As his son David (Alan S. Kim), daughter Anne (Noel Cho), and Monica adjust to this new rural lifestyle, the family patriarch pins all his hopes on the soil he's proud to call his.
Yeun excels at demonstrating first blind optimism, then the crushing weight of failure and the guilt that comes with it. He beautifully charts the character's full-circle journey away from selfishness and back toward what really matters. To us, it's tragically clear that this struggle comes at a cost; as Monica attempts to assimilate and adjusts her expectations lower and lower, Han runs the gamut of actorly emotions: grim desperation, tentative hope, maternal warmth. But under it all, like the water beneath the family's ill-fated farm, is a building sense of injustice. The look on her face when Jacob makes his priorities obvious in the film's final act provides an unforgettable moment of quiet rage.
Complicating the fragile family dynamic is the arrival of grandmother Soonja (Youn Yuh-jung). Irreverent, foul-mouthed, and, at least in the young David's eyes, as un-grandmotherly as can be, Soonja's disruptive presence represents the past, reminding the family of their Korean roots. Youn steals the show, her uproarious comedic timing giving way to poignancy. As this story's gut-wrenching conclusion nears, it becomes clear that David's impressions of his family inform our own; we sense that Chung is piecing together elements of his own childhood and translating them for the screen. David and his grandmother's evolution from cheeky adversaries to affectionate friends gives this film its heart, and doubles as a touching homage from the writer-director himself.
Populating the predominantly white Arkansas community around the Yis are Will Patton, Scott Haze, Esther Moon, and Darryl Cox as neighbors and friends. Patton plays the fervently religious Paul, an addled war veteran who becomes devoted to helping Jacob on the farm. His wild eyes and gentle physicality heighten the film's dreamy atmosphere, further implying that this story's characters and events are less recreations than impressionistic memories.
But the cast of "Minari," firmly tugging on our heartstrings by the film's devastating denouement, give each of these characters vivid hearts and minds. Acting as a cohesive ensemble requires performers with a keen awareness of backstory and dynamics, especially when portraying a family. Yeun, Han, Kim, Cho, and Youn provide a prime example of such cohesion.
This story originally appeared in the Jan. 20 issue of Backstage Magazine. Subscribe here.
Want more? Stay in the loop with everything you need to know this awards season right here!