Steven Yeun's journey from aspiring improv comedian to leading "Minari," the toast of this film awards season, began in earnest after some words of encouragement from a mysterious audience member he'd never seen before and has never seen since.
"I was in college, doing acting for fun," he remembers. "This woman, she came to a staged reading and pulled me aside afterward and was like, 'I really enjoyed your performance. I think you should pursue this. We are gonna need people like you.' And I understood what she meant."
Yeun took those magic words as permission to envision a Hollywood that tells true-to-life Asian American stories that feature more than a handful of people who look like him. The path to success in such an inherently image-based industry, however, was and still is far less clear for anyone outside its cookie-cutter (white, American, mostly male) status quo. "At the time, there was only John Cho in the main mainstream," he points out. "He was the only one really doing comedy—him and Steve Park."
If you know the identity of this "ominous woman," as Yeun jokingly calls the audience member who spoke to him, please drop him a line. "She said these nice words to me, and it just kind of lit a fire. I was like, maybe John is now clearing a path for someone like me to exist."
"We're all human beings, and these are very, very, very core stories of who we are, all together, collectively. We just might express them in slightly different ways."
Born in Seoul, South Korea, and raised in suburban Michigan, Yeun recalls performing in church bands and being "raised by TV" after immigrating; the horror projects he'd later star in were presaged, perhaps, by early childhood viewings of "A Nightmare on Elm Street." (His recurring dreams of Freddy Krueger sitting in his kindergarten classroom "like a spider on the wall by the chalkboard" suggests those movie nights happened a little too early.) It wasn't until he went to Kalamazoo College, where he studied psychology, that Yeun discovered the freedom of live improvisation. He followed fellow comedian Jordan Klepper to the Second City in Chicago, scraping by with the occasional theater gig or local commercial.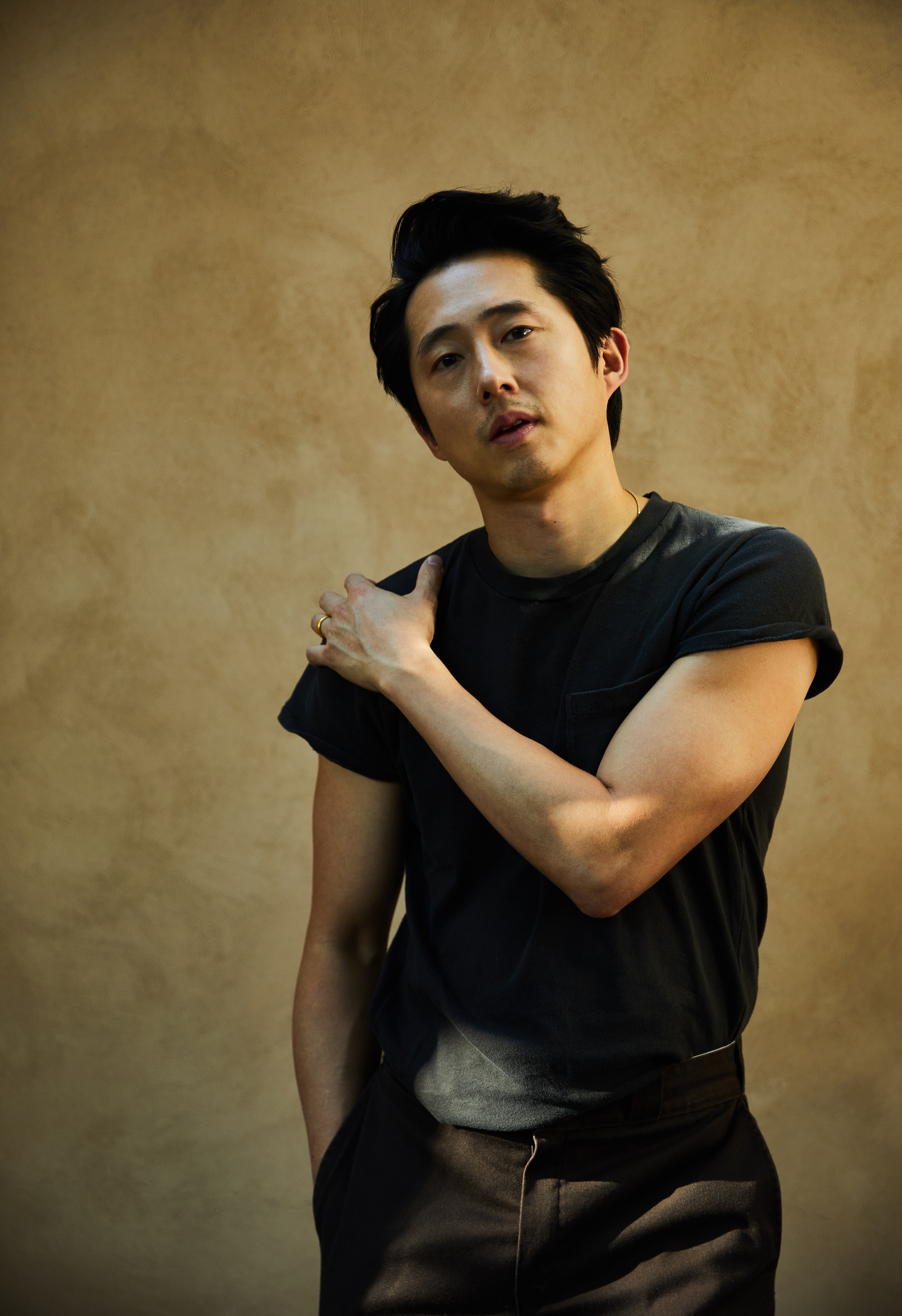 "I couldn't see through the trees, really," he says of his career beginnings. "I was just diving into the darkness."
This is why "representation matters" has become one of progressive Hollywood's favorite talking points. Wouldn't it be easier for a Korean American actor to imagine himself onscreen if there were a dozen or more John Chos? "There's pros and cons to that discussion, obviously. Like, you don't want representation on a surface level," says Yeun. "But even then, it serves a great purpose. Initially, just seeing someone who looked like you was enough to give you an expanded worldview of what you can be."
Chatting via webcam in his car (a momentary refuge from "crazy kid town," par for the course for press interviews in the pandemic era), Yeun says that these days, he's seeing storytellers "carry the torch of expanding on their humanity while also representing their community." The needle is moving, and he's hopeful that Hollywood's gatekeepers are taking notice. Look at the success of Bong Joon-ho's "Parasite," the rarest of phenomena: an Oscar-dominating hit that in no way caters to the American gaze.
"What's nice to see about something like 'Parasite,' and America starting to become more aware of Korean cinema, is that it allows people to see what Asian people are like when they're not considering how they fit within Western society, but rather when they're just thinking of themselves as human beings," says Yeun. "Director Bong doesn't wake up every morning and say, 'I'm an Asian person in an American world.' He's just like, 'I'm director Bong,' and his world doesn't keep telling him otherwise. Whereas here, I might wake up and say, 'I'm Steven, I'm me,' but then you walk outside, and sometimes you'll get this feeling that people are trying to put you in a specific box or lane because of the way you look."
Case in point: Yeun's casually racist audition room experiences. In addition to the typical trials and tribulations of making a living in the arts, it's no surprise that actors from minority backgrounds are faced with fewer available roles, limited imaginations in casting, and "classic archetypes," as Yeun says delicately.
Nevertheless, in 2009, he began to see through those proverbial trees. Within a year of making the ultimate leap of faith—moving to Los Angeles with stars in his eyes—he booked roles first in short films and commercials, then on "The Big Bang Theory," then on an AMC zombie drama that would become the most-watched cable show of all time.
"Each year, I could see a little bit more clearing, and then more clearing. And then when 'The Walking Dead' happened, a lot opened up." After six years as fan favorite Glenn Rhee, Yeun led Joe Lynch's "Mayhem," stole the show in Bong's "Okja," and fostered a prolific voiceover career in animated TV. In 2018, he earned awards recognition for his eerily enigmatic work in Chang-dong Lee's "Burning," solidifying his reputation as a bona fide critical darling in both Korean and American cinema.
Then came "Minari." Writer-director Lee Isaac Chung's autobiographically inspired indie from A24 (in theaters Feb. 12), featuring Yeun as both an executive producer and the top-billed actor, is the story of a Korean American family moving into a trailer in an empty Arkansas field, which Yeun's patriarch Jacob Yi envisions as their future farm. The film offers a detailed depiction of immigration and assimilation rendered with enchanting cinematography and music. It features intimate, understated performances from Yeun, Yeri Han, Alan S. Kim, Noel Cho, and Youn Yuh-jung, netting it two 2020 Sundance Film Festival prizes and resounding awards season buzz.
"I enjoyed every minute of working with Steven," Chung tells Backstage. "He's one of the smartest collaborators I've had, and he searches and probes for ways to make each scene work better through his performance.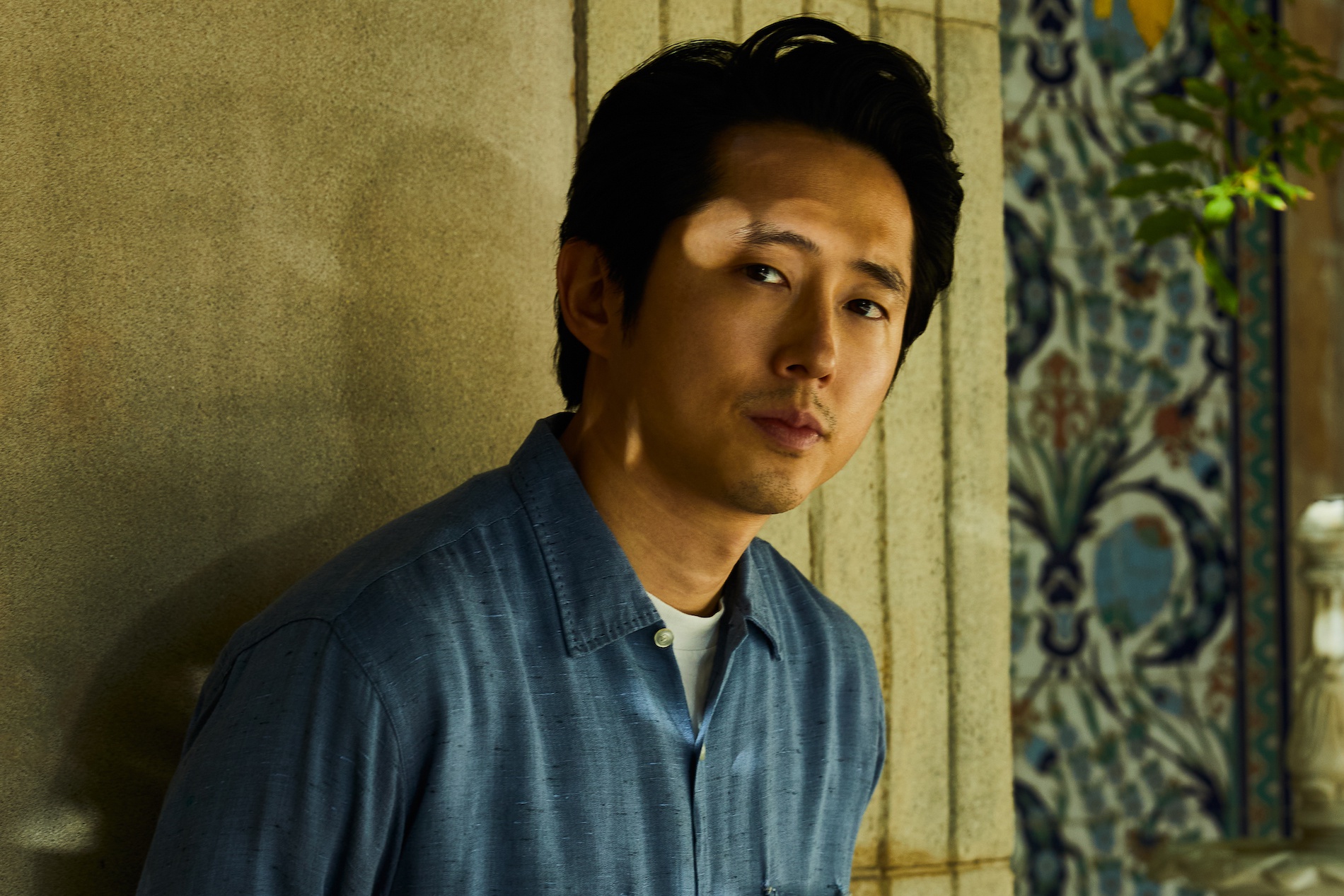 "I find that when I talk to Steven during preparation and on set, he uses the words 'truth' and 'honesty' a great deal," he adds. "These ideals drive him constantly, and it translates to a fully realized person on the screen."
It's hard not to see "Minari," the story of an—rather than the—American dream, as the project that Yeun's entire career has been building toward—a fulfillment of his artistic credo. "This is not a Korean movie, [and] this is not an American movie—as you understand it," he explains. "This is such a uniquely American tale. And I think the third culture of it, the Korean Americanness of it, that specific lane that it inhabits, hasn't necessarily been claimed in wider American society.
"The narrative of Korean America is this—of pizza and kimchi together at the same table. It's caught between two worlds…but ultimately, it's its own thing. That's what we're trying to get to."
Hollywood still has progress to make when it comes to portrayals of foreigners, Americans, and immigrants "living their own, unique, third-culture life," as Yeun puts it. Ahead of this year's Golden Globes, the Hollywood Foreign Press Association classified "Minari" as a foreign film, rendering it ineligible for their best picture prize, suggesting that American stories featuring languages other than English aren't, in fact, American.
"We're chipping away at that," Yeun says. "One particular thing I think means well, and works—I'm not trying to bash it—is the phrase 'specificity is universality.' I know the intention of that phrasing, which is: Tell it specific and tell it true, and that will unlock the universal. But it puts the labor of essentialized authenticity onto it. And then you're busy trying to police it for its cultural authenticity…. That still puts the onus on the creator to explain themselves to the audience."
A better phrase, he suggests: Humanity is universality. "It's when you can get so deeply specific that you are not explaining anything anymore," says Yeun. "That was the central focus for us in 'Minari.' [The film didn't say,] 'Hey, America, this is what Korean Americans are.' Instead, it focused on being a father or mother or family, or desiring something or striving for something. Or just living. It allowed more people into the narrative to enjoy it, because there wasn't this wall up of authenticity that people had to scale."
Anyone outside a specific cultural experience can still understand, and relate to, fundamental truths. As Yeun says, "We're all human beings, and these are very, very, very core stories of who we are, all together, collectively. We just might express them in slightly different ways."
But how to get at those core truths and, as Chung says, translate them into fully realized people? In this case, the writer-director's memories were blended, impressionistically, with the actors' personal histories. "Steven's preparations really took off as he brought himself and his creative instincts to Jacob, leaving behind any instinct to emulate his father or other fathers of that generation," remembers Chung. "The more personal he made this role, the more real Jacob became. And the more I let 'Minari' become about the Yis and not the Chungs, the truer the story felt."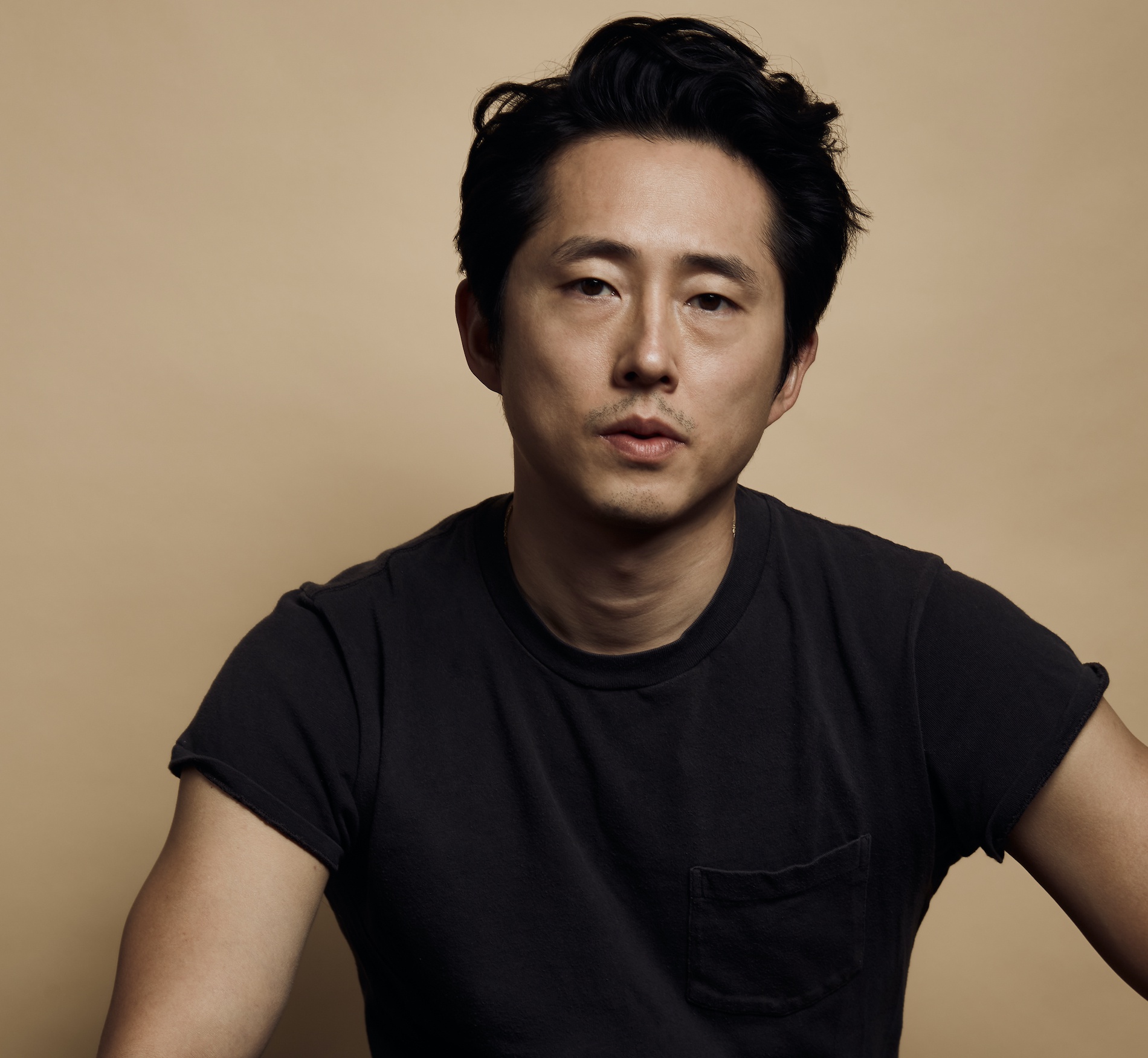 "The journey of Jacob for me, personally, was understanding I am my father," says Yeun. "Yes, my father and I are separate people who lived in different eras and had different conditions. But the core feelings are still the same: of a family, and what you must do as a father, and the desires to uphold your family, and the feelings of your own ego that you must contend with, and the inner connectivity of the whole family unit. It was really humbling to understand that there is no real divide."
Humbling, sure, but also terrifying. "This is embarrassing to admit," Yeun says with a grimace, "but I was so scared about this one! I think it was because I had to go through all the feelings of: I'm representing a community. As someone [who's] part of that community, the voice was really loud in my head, self-policing. 'No, a Korean father stands like this! He behaves like this!' You realize those are thinly veiled, archetypical renderings of people. And they're not the true intention and humanity of who they are."
Then came the epiphany that echoed the acting adage Yeun has heard countless times before: Just like prepping for any audition, "you pick at it, and you touch the ugly bits, and you touch the things that scare you. And you just dig in and dig in, deep, deep, deep, deep. And then you throw it away.
"Finally, a wave came and hit me," he remembers. "I'm just in service of this singular character, of the truth and the honesty of this one person. If I can access [it] through that person, it will do the rest of the work for itself. Because Jacob does not uphold the experience of all Korean immigrants. He is a singular person, just like I am a singular person. At some point, there's just a submission to it."
Now, Yeun can't help but wince remembering performances that didn't drill as far into those depths of self-discovery. "I spent most of my early career trying to pick at the process [in] a very literal way," he admits—a character's tics, the way they walk or talk. "I think all those things are absolutely necessary. But while I was busy doing that, I was never getting to the intrinsic feeling of why this person exists and who they are in an intangible way. So when I look back at a lot of my early work, I cringe—because I feel like I'm missing something, like I'm performing a vision or idea from a third party of who I think I'm playing."
Therein lies the ultimate advice for working actors—the way to claim what was missing from that early career. Yeun no longer has to create characters that stand in for an entire cultural experience or based on an imagined third party's gaze. In "Minari" and, hopefully, future stories like it, he's letting all that he is—Korean, American, actor, father—become universal onscreen without explanation or compromise. It is Yeun's humanity that will shift Hollywood's status quo and clear a path for others like him.
"I'm still trying to work on what I'm capable of doing," he shares. "I still find myself seeing a little bit more clearing and a little bit more clearing."
This story originally appeared in the Jan. 21 issue of Backstage Magazine. Subscribe here.
Looking for remote work? Backstage has got you covered! Click here for auditions you can do from home!
Photographed by Gari Askew II on 12/2 in Pasadena, CA