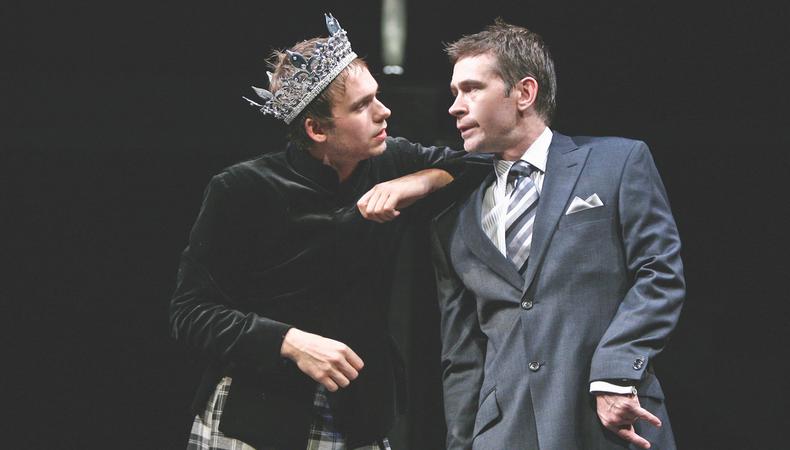 As evidenced by the countless books and online databases out there—including Backstage's the Monologuer!—there are a lot of monologue options for actors. How do you find the one that's going to best show you off in the audition room?
"The best monologues are mired in subtext," says Amy Levinson, artistic associate and literary director at the Geffen Playhouse in L.A. She points to Bill Cain's emotionally rewarding speeches in "Equivocation" and Glen Berger's "Underneath the Lintel" for their use of "rich, colorful language juxtaposed to pragmatic, daily information." That combination of ethereal and grounded specificity also appears in the work of Sarah Ruhl and Rajiv Joseph, Levinson says, and provides actors an opportunity to demonstrate their mastery of language.
"Pragmatic versus sublime: If you can reach both, you can reach somebody in their head and in their heart."
As the literary director of play publishing company Samuel French, Amy Rose Marsh is a veritable encyclopedia of dramatic literature. When asked about favorite monologues, she mentions Ruhl, Kristoffer Diaz, Jessica Dickey, Sarah Treem, Jason Grote, Samuel D. Hunter, Dominique Morisseau, and Halley Feiffer. Solo artist Daniel Beaty, she says, is a smart choice for an actor "because he performs himself; he knows how the words feel in his mouth." One-person plays featuring multiple characters like Beaty's, in fact, make finding and curating an impressive monologue easy.
Miriam Weiner, literary associate at NYC's Vineyard Theatre, recommends thinking outside the box. If an actor adapts a song into a dramatic moment or illuminates an unlikely character, they get directors' attention amid an avalanche of two-minute auditions. "Reinvent it in some interesting way, a completely different, refreshing take," she says. "Smart risks that make sense!"
All three agree that actors must—no ifs, ands, or buts about it—read the entire text from which the speech is taken. "The idea that somebody would do a monologue from a play they haven't read is...ridiculous. I can't even imagine!" exclaims Levinson.
Marsh takes it a step further, advising actors to read, or at least be familiar with, the playwright's body of work. "The thing actors need to keep in mind is that you will be working with living writers," she says. "So training yourself to do monologues from living texts that were [produced] last year shows that you have a layered mind. It shows that you're reading." It's important to demonstrate a working knowledge of everyone at an audition—producers, directors, even the playwrights themselves. As Marsh points out, "You don't want to go to an audition and the writer is in the room and you don't know anything about them."
The contemporary theater world is small enough that auditioners should know what plays and playwrights are in the zeitgeist. In today's digital age, it's also easier than ever to connect within that world. A lot of early-career playwrights, Marsh says, are eager to chat and answer questions. "They'd be excited to hear, 'Hey, I'm doing a monologue from your play!' " Opportunities to unearth a perfect fit are everywhere; Danielle Mohlman even writes monologues custom-made for actors for a small fee.
Ultimately, however, the ideal monologue is just one of many weapons in the actor's arsenal when they present themselves as eligible for the job. "The truth is I've sat through so many auditions and I typically remember the actor, not what they did," says Weiner. The selection of a monologue is one of many components that provide directors with what she calls a "window into how they work."
When in doubt, avoid the likes of the Bard. "There are enough new plays happening in the world that you don't have to stick to Shakespeare," says Marsh, adding, "Please...don't do Shakespeare!"