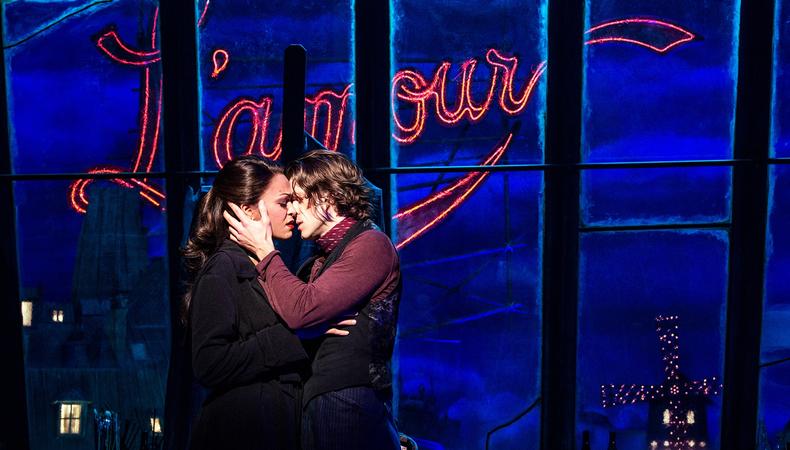 "Well, I think it helps if you love the thing you're adapting," says Alex Timbers with a laugh. "That's the starting point, and then you start to think about, What is the theater version? What can theater do better, or what can theater do even more richly than [film]?"
Timbers, the Tony-nominated director and writer, is speaking to the time-old (entertainment) quandary of translating an existing piece of another medium to the stage. With his large-scale and ornate style, he's made the transpositional feat somewhat of a specialty, beginning with 2014's "Rocky" and most recently seen in last season's Tony-nominated "Beetlejuice."
Now at the helm of "Moulin Rouge!," the stage musical adaptation of Baz Luhrmann's 2001 film (opening July 25), Timbers faces his most ambitious inter-medium transformation yet: turning a film that dwells in sensorial opulence into a synesthetic, emotionally dimensional live experience nested within the Al Hirschfeld Theatre.
"The thing I love about 'Moulin Rouge!' is it feels inherently theatrical. The film is one of the few films that feels actually immersive," Timbers explains. "There's world-creation, and one of [my] first impulses was thinking, I hope you're transported to 1899 Paris when you step into the Hirschfeld." And despite the film's theatricality, that required some tweaks for the Broadway stage, which Timbers adds Luhrmann fully embraced. "He said, 'I don't want you to feel like you're making a carbon copy of the movie.' So we were able to look at things in brand-new ways."
READ: How to Become a Musical Theater Actor
As in the film, the stage musical uses reimagined pop songs for its score. But the songbook is all-new, meaning audiences will hear well-known anthems from the likes of Lady Gaga, Adele, and Britney Spears, all orchestrated to propel the plot forward.
"It felt really important to us from a theatrical vocabulary standpoint that the scenery and costumes adhere to what is period-appropriate, but juxtapose in ways that are still surprising, still contemporary. The lighting and sound and choreography is really contemporary," Timbers says of his collaborators, book writer John Logan and choreographer Sonya Tayeh. "It felt like an opportunity to heat up and enhance the love triangle between the Duke and Satine and Christian, and make the Duke more of a credible love interest for Satine to up the conflict. In musicals, you have the opportunity to deepen and complicate backstory and relationships."
Speaking to those relationships, Timbers knew casting the actors who would reify them onstage was—and is—crucial to the musical's success. It was also, he acknowledges, a monumental prospect for actors to assume and reconstruct characters like Satine and Christian, played so memorably on film by Nicole Kidman and Ewan McGregor, respectively. The coveted roles ultimately went to Tony winner Karen Olivo and Aaron Tveit, who both make them their own.
"Whether it's [based] on a book or a movie or a biographical musical where they're playing real people, I think treating anything like it's a brand-new play or a brand-new musical is the best way to come into a room," Timbers says. "I am always hoping to see something that is from scratch, that feels personal to them. Ewan McGregor's performance is phenomenal, but the stage adaptation asks for a different thing. The dynamic between Satine and Christian is sort of an Orpheus and Eurydice story: Christian goes to hell and comes back a changed man; it's innocence and experience."
As crucial as the central relationships onstage in "Moulin Rouge!" is its heavily deployed ensemble, every member of which deftly exercises jaw-dropping triple threat ability without detracting attention from the foreground. That, too, is by design.
"Because it's a world-creation show, we really wanted people who could perform not only this catalog of music and incredibly unique, thrilling choreography; we were also looking for people who have a kind of attitude and mystique and a front-footedness as performers," Timbers explains of casting the ensemble. "Their energy and attitude was equally important as their skill set in the casting process. We definitely weren't looking for wallflowers."
Whether you're auditioning for the ensemble, a principal role, or any role at all, Timbers' advice remains the same: Be unapologetically you, and the many other chips will fall where they may.
"I always love performers who come into the room with a confidence about what they're doing; they go to the pianist, they say hello, and they know the piece they are going to perform," he says. "There's no asking permission to do exactly what you want in the room. We're all nervous. The one thing that's helpful for every performer to know is that every director and choreographer wants that performer coming in to succeed. It makes your life and casting so much easier. We are always rooting for you as a performer."