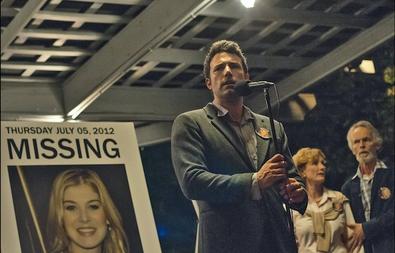 Halloween, pumpkin spice everything, and fall foliage (on the east coast) have descended upon us. But aside from those delights, other things to look forward to this fall season are great films! Here are 10 you might want to check out!
"Annabelle," Oct. 3
"Before the conjuring, there was Annabelle." As the prequel/spin-off to last year's wildly successful horror film "The Conjuring," director John R. Leonetti has taken the bone-chilling demonic doll in the movie and given her the spotlight. "Annabelle" hits theaters Oct. 3.

"Gone Girl," Oct. 3
Directed by David Fincher, "Gone Girl"—based on the novel by Gillian Flynn—stars Ben Affleck, Neil Patrick Harris, Rosamund Pike, and Tyler Perry in a film about a man accused of having a hand in his wife's disappearance and hits theaters Oct. 3.

"The Good Lie," Oct. 3
"The Good Lie" tells the story of three Sudanese refugees (Arnold Oceng, Ger Duany, and Emmanuel Jal) who are given the opportunity to escape their war-torn country and settle in America to start new lives. Reese Witherspoon plays their employment agency counselor but becomes more to the three as the film goes on. Also featured is "House of Cards" actor Corey Stoll. "The Good Lie" is in theaters Oct. 3.

"Addicted," Oct. 10
Before there was "50 Shades of Grey," Zane's erotic novels such as "Addicted" were hiding in drawers all over the country. After her books "The Sex Chronicles" were turned in a television show in 2008, the New York Times best-selling writer is now taking her stories to the big screen with "Addicted," starring Sharon Leal as a housewife who, after an affair, finds herself losing touch with her life; William Levy as her seductive lover; Boris Kodjoe as her husband; and Tyson Beckford. The film is out in theaters Oct. 10.

"The Judge," Oct. 10
In this drama, Robert Downey Jr. plays a lawyer having to face his past when he returns to his small hometown for his mother's funeral. Soon after he arrives, the town's judge and his estranged father (Robert Duvall) is accused of murder and sets the father and son on a path to prove the judge's innocence, reconnecting with each other in the process. "The Judge," also featuring Billy Bob Thornton and Vera Farmiga, is in theaters Oct. 10.

"Whiplash," Oct. 10
Starring Miles Teller and J.K. Simmons, this hard-hitting film follows a young jazz drummer and his obsession with being the best. When he's pulled into the school's conservatory, his abrasive and emotionally trying professor will push him to his limits. This Sundance winner (grand jury prize and audience award) is on limited release beginning Friday, Oct. 10.

"Birdman or (The Unexpected Virtue of Ignorance)," Oct. 11
It's difficult to make the fantasy/reality (depending on how you look at it) of a washed-up actor who played a superhero seem plausible, but in the hands of the Oscar-nominated director Alejandro González Iñárritu ("Babel," "Amores Perros"), Michael Keaton, Edward Norton, and Emma Stone, it's as real as not having booked a gig for months while living in New York City for $2,500 a month (you know what we're saying). In this film, Keaton's Riggan Thomson mounts a Broadway show in a last attempt to prove he's not a has-been. The film will be out in theaters Oct. 11.

"Dear White People," Oct. 17
Winner of Sundance's grand jury prize for breakthrough talent, first-time director Justin Simien has moved the concept of "Dear White People" from a viral Twitter handle to a concept trailer to an award-winning film. The movie focuses on a group of black students struggling to find their place in a mostly white college where blackface parties are acceptable. The film stars the fierce Tessa Thompson, Tyler James Williams, Teyonah Parris, Brandon P. Bell, and Kyle Gallner, and is out on limited release Oct. 17.

"St. Vincent," Oct. 24
Bill Murray fans rejoice! Your favorite actor is returning to the screen as a grumpy old man with a double whammy drinking and alcohol problem. When desperation forces him to agree to babysit his recently divorced neighbor's (Melissa McCarthy) son, a surprise friendship emerges. Jaeden Lieberher brilliantly plays the young boy and Naomi Watts takes on the role of a pregnant Russian stripper-prostitute. Catch it if only to see McCarthy impressively hold down her first dramatic role. "St. Vincent" hits theaters Oct. 24.

"Nightcrawler," Oct. 31
Journalism is a tough gig, but being a freelance crime journalist in Los Angeles must come with its own set of challenges. Jake Gyllenhaal plays Lou Bloom, a down-and-out man looking for work any place he can find it. When he realizes a camera and a cellphone with GPS is all he needs to deliver news, he's willing to do anything to get the juiciest story. See Gyllenhaal in this flick come Halloween (Oct. 31).

Inspired by this post? Check out our film audition listings!