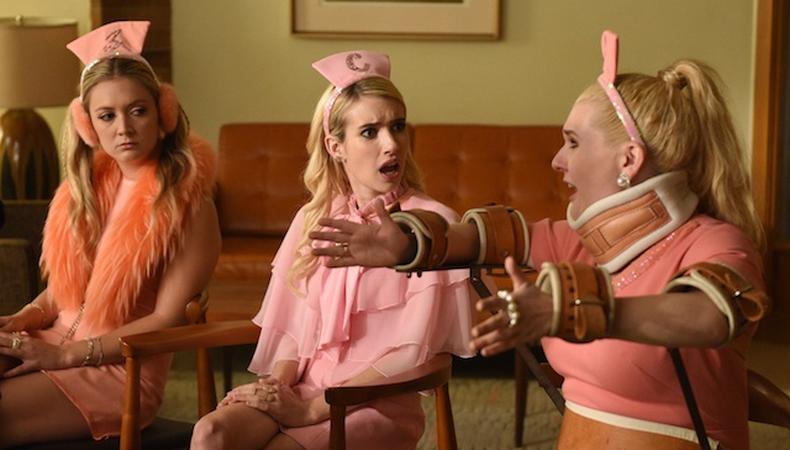 With over 23 years of experience in the casting industry, Richard Hicks is no stranger to an audition room. The Emmy Award–winning casting director's credits run the gamut of genre and style, with projects as varied as "Curb Your Enthusiasm," "Hell or High Water," "Zero Dark Thirty," and "Gravity." He is also the sitting president of the Casting Society of America, which is currently prepping for its annual awards show, the bicoastal Artios Awards, at which members are honored for casting excellence in film, television, theater, and new media. The 32nd annual awards will hit the Beverly Hilton Hotel in Los Angeles with host Joel McHale on Jan. 19. Host Michael Urie will simultaneously take on the East Coast at Stage 48 in Manhattan.
As CSA president, Hicks is no lame duck. He counts himself among this year's casting nominees for the television pilot and first season: comedy category thanks to his work on Fox's horror-comedy hit "Scream Queens." Speaking on his process for signing the likes of Emma Roberts, Lea Michele, Nick Jonas, and Jamie Lee Curtis, Hicks likens casting a new project to entering a new world.
READ: 8 Facts About the Casting Society of America
"As a casting director, you get to step into this untouched sphere and see what's true about it," he tells Backstage. "Then you find what's important in the actors you choose for this world and try to bring the best version of that to the screen, television, or theater."
In fact, his lasting relationships with actors of all mediums are, in hindsight, the most fulfilling parts of his career. (Starting out, he admits, that wasn't necessarily the case.)
"I used to want to be admired and liked and thought of as the coolest guy in town," Hicks says, "but I realized this isn't the job. It's the communication between the actor and the director that is paramount, and we as casting people are the space in which quality work happens. The goal for me is to create as much of that space as I can."
Considering the ways actors can make an impression in the audition room, Hicks suggests they focus solely on the audition materials at hand. Actors must hone in on the palpable things they can control in that situation, not on the circumstances surrounding the prospective job. Nerves and desperation do not serve them well.
READ: Will the Academy Awards Recognize Casting?
"There are so many variables that you as an actor cannot control," he stresses. "Because actors need to get the job, their energy serves as static between what they're delivering and what I see." With that in mind, actors should go into the room ready to prove they are the one for the job but are also prepared for the heartbreak of not getting it. "You [should] come in and do what you think is right and you have a point of view and you offer it up as a possibility, and then you let it go. If you're able to do that, you're more likely to sustain yourself in a career, and therefore more likely to be awesome the next time I see you."
There are also ways to connect outside of the audition room. If you are keen on reaching out to him, Hicks prefers actors who show, not tell. Send him a link to a passion project streaming on YouTube, for instance—"something that moves you, that backs you up," he says. "That type of stuff is what we gravitate toward and when we come across it, we remember it. While it's nice to receive a thoughtful note, what's better is someone who's doing amazing work. So do that and let the chips fall where they may."
Ready to leave your mark on Hollywood? Check out our film audition listings!