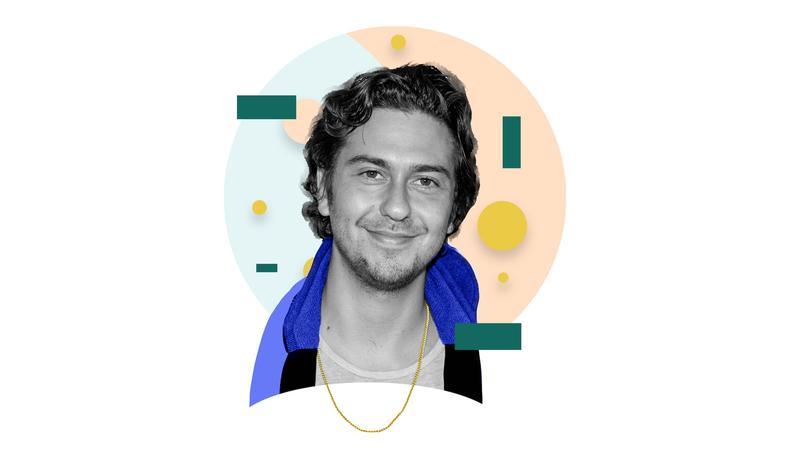 Nat Wolff's first director was his mom. It was on the "Naked Brothers Band" film, which launched the Nickelodeon show of the same name—and his career. Now 27, Wolff has grown into meatier adult roles like Jake in last year's "Mainstream." His latest project sees him embodying a real-life figure: Joe Exotic's 20-year-old husband, Travis Maldonado, on Peacock's "Joe vs. Carole." The show is based, of course, on the story told by 2020 Netflix docuseries "Tiger King."
What's the wildest thing you've ever done to get a role?
I really fought for the "Joe vs. Carole" role because they said, "We like Nat, but we like him for the other husband part." I just didn't feel right for that part. There was something about Travis on the documentary series that I connected with immediately. I sent an email to my agents a year before the audition process even happened, and I said, "If they ever make a version of 'Tiger King,' I have to play this guy." I fought to audition for that part when they wouldn't see me. I came into my audition for Travis as Travis. I worked on the physicality and the voice and spent hours watching footage of him and listening to him. I tried to treat it like I had the part already, which sometimes I don't do out of not wanting to get too invested in something that might not happen.
RELATED: How Nat Wolff Moved From Teen Musician to Respected Actor
What has playing Travis added to your acting skills?
I found it to be a really painful process, because what he goes through is really tough. There are a bunch of roles I've played where at the end of each shooting day, I can shake it off, watch "Family Guy," and feel fine. For this role, I intentionally tried to stay in the mindset the entire shoot, and then even when we wrapped, it was lingering. At the time, I thought, This is a dark place to live in. But, actually, going through it was really beautiful and life-affirming. At the end of that project, I had grown as a person even more than I had grown as an actor. It tends to be that, when I grow as a person, it seeps through into the acting.
How did you get your SAG-AFTRA card?
It was this movie "Peace, Love & Misunderstanding." It was my first significant part in a movie outside of the Nickelodeon world. It had Jane Fonda playing my grandma and Catherine Keener playing my mom. It was a dream job to get your SAG card on. I saw a little bit of it on TV six weeks ago, and I was cringing at my performance, but it was also nostalgic—because I remember how insanely excited I was to walk onto set. I try to remind myself of that now. That childlike enthusiasm for acting is the best place to create from.
What advice would you give your younger self?
Try not to let the anxiety and fear drive you. And get in therapy sooner, and start meditating sooner.
What is your worst audition horror story?
I auditioned for Woody Allen; it was the fourth or fifth time I was coming back. They said, "It's down to you and somebody else," right before I went in. It just clicked me into anxiety. I went into the audition with the shakes that you can't get rid of. I start the scene, and Woody Allen says to the casting director, "He's shaking." I never recovered from that moment.
What performances should every actor see?
Meryl Streep in "Sophie's Choice," Dustin Hoffman in "Kramer vs. Kramer," and Jack Nicholson in "One Flew Over the Cuckoo's Nest." Robert De Niro in "Taxi Driver," Marlon Brando in "On the Waterfront," Mark Ruffalo in "You Can Count on Me," Denzel Washington in "Malcolm X," Daniel Day-Lewis in "There Will Be Blood," and Nat Wolff in "Mr. Troop Mom."
This story originally appeared in the Feb. 24 issue of Backstage Magazine. Subscribe here.