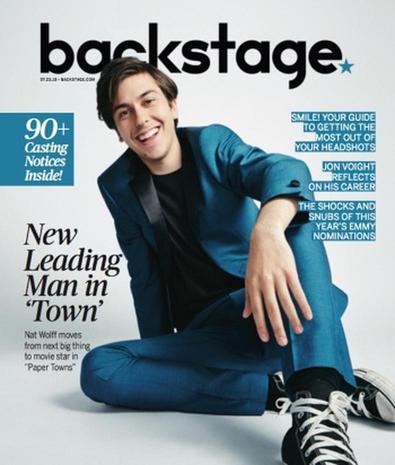 Twice over lunch with Nat Wolff, his fork falls from the table and he catches it midair.
"I saw 'Kingsman' last night, with Colin Firth, and they do shit like that, like, catch forks," he muses in mid-May, months after wrapping his first lead role in the much-anticipated "Paper Towns." This time he drops the fork on purpose before catching it again. "I could totally be in 'Kingsman.' "
A decade-long acting career has seen the 20-year-old hone quick reflexes on- and offscreen while still chasing and internalizing what intrigues him for future recall.
"It's kind of embarrassing to say now, but I've always been a Method actor," he admits. "I feel like the name has been ruined by certain people who pretend to be [Method] and do stupid shit. But I try to use stuff from my real life. I find what's like me in the character, what's not like me, and then I find ways to fill in the gaps."
Closing the gap between himself and "Paper Towns" protagonist Quentin meant tapping into elements of his psyche—obsession, projection, desperation—that he'd put to bed years prior.
Part coming-of-age adventure story, part rumination on unrequited love, the film follows Quentin on his last-ditch effort to woo his childhood friend and neighbor, Margo (Cara Delevingne). When she disappears and he discovers she's left clues for him as to her whereabouts, Quentin sets out on a road trip with his best friends to find her.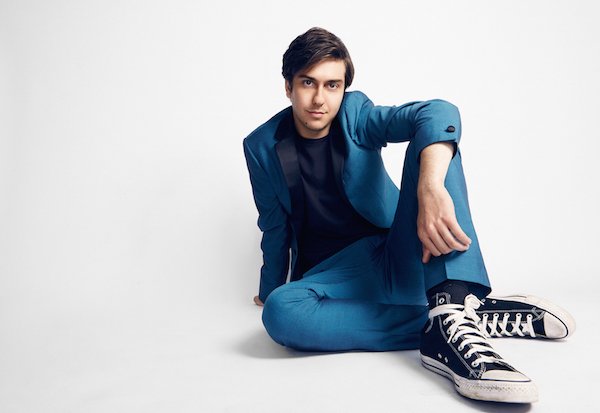 After his 2014 portrayals of the nihilistic Fred in the Gia Coppola–directed "Palo Alto" and the surprise comedic relief as a blind cancer patient in "The Fault in Our Stars," Wolff impressed critics and Hollywood enough to merit a chance at a fully fleshed-out character. And where his past roles failed to keep his undivided attention, "Paper Towns" demanded it.
Wolff happily upped his preparation to meet the challenge head-on, probing the script and John Green–penned book upon which the film is based ("It's like having an inner dialogue already written for you") during the six months leading up to the shoot.
"Before, I felt like 'Palo Alto' was the deepest I'd gone into a character because it kind of started to mess with my head a little bit," he says. "But at least there were clear differences in how I felt at home and how I felt on set, whereas with this one, I just went into a hole when I was making this movie, and I felt like I was coming out of a fog when I finished it. Being the lead, you're basically in every single scene and you don't have to find your place in the story—you are the story."

In addition to creating playlists of the songs that permeated his own coming-of-age, Wolff aggressively pursued additional research for the romance-mystery mash-up of "Paper Towns."
"We watched all of these detective movies as part of our prep, like 'The Big Sleep' and 'Double Indemnity,' " Wolff says of the two-week rehearsal with his onscreen best friends, played by Justice Smith and Austin Abrams, "and we started doing all these Bogart imitations in rehearsal." He pulls out his clipped, nasal Humphrey Bogart rendition.
"Justice tried to do it and he just sounded horrible. Like, 'Dude, that sounds Italian! You sound like an Italian.' But then Jake [Schreier], the director, was, like, 'No, no! Let's actually do this, where Justice can't [do the voice].' "
The scene made it into the film's final cut and has Quentin and Ben (Abrams) speaking in full-on Bogart, trying to convince Radar (Smith) to cut class to search for Margo. The free-flowing experience of making the film opened the door for incorporating endless personal touches into their roles.
"[Nat] definitely likes to improv a lot and understand how the character thinks outside of what's written," Smith says about his co-star. "When I met him during his 'Quentin' phase it was so different from when I met him after the movie wrapped. He just likes to—and I do this, too—merge the character with where you are so you're not in this limbo, and it's easier to jump into it."
The trio avoided the no-man's land of alternating between their characters and themselves over the two months of filming; they called each other by their characters' names and acted like "regular" high school kids, not Hollywood actors. For example, they were temporarily kicked out of their apartment complex for shooting out a streetlight with a BB gun after Green mentioned it was keeping him awake at night.
"It was like summer camp," says Smith. "We got really close, really fast."
The natural chemistry between the young actors was there from the beginning. Wolff, attached to the project since its inception, was present to weigh in on all casting sessions and drafts of the script.
"Not that I picked anybody, but I gave my opinion and every single person that I thought should be in it was the person [cast]. It was like being a real part of something as opposed to just being a hired gun," he says.
Wolff was so entrenched in the filmmaking process that he felt empty when he returned home to New York City. His father, jazz pianist Michael Wolff, later told him, "You were so weird for, like, two weeks after you came back."
It was an admittedly bizarre transition for the actor, who says he had to acclimate to being on the Internet again and talking to people who weren't his co-stars.
But Wolff is adept at the shape-shift. "I feel like when I start a new movie, I have to forget everything I've learned and learn how to do it again," he says. "Every single time it feels like a whole new process."
Despite his age, Wolff has proven he has the astute capability to dive deep into complex characters. Fingers crossed his next movie has him using his lightning-quick reflexes to catch things like forks or plates in a full-fledged adult role.
Or, as Wolff puts it, "I said to somebody, 'I've come of age in a couple of movies. I've got to stop coming of age at some point.' "
Want to read more? Check out our Backstage covers here!