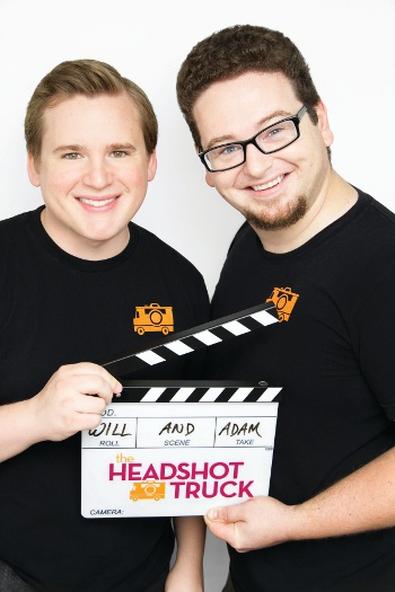 William Harper and Adam Hendershott started as actors (the former still is) until they teamed up to create the Headshot Truck, the world's first mobile photo studio.
How did the Headshot Truck come about?
Adam Hendershott: It was around when the food truck craze was blowing up and I was helping a buddy move. We had a U-Haul truck and the idea struck: Why couldn't you have a mobile photography studio? I Googled it and realized I had an original idea. [A friend of mine] went to college with Will and suggested we hook up—he's done a bunch of startups in L.A. We had coffee, he loved the idea, and we put together a business plan.
What's the idea behind it?
Hendershott: People coming to L.A. or New York to pursue an acting career need to get headshots as one of their first steps, and we don't think they should have to pay an arm and a leg for a quality photo. Most actors have side jobs and need to pay for rent and acting classes, and can't always shell out $800 and up for a headshot. So with me being a former actor and Will currently being one, a lower price point was very important to us.
What types of packages do you offer?
William Harper: Our gold standard, if you will, is our Two Looks package; it's about an hour or two if you go with a makeup artist. We also do this thing called Express Day where we team up with acting schools and do mini 20-minute sessions that are good for when they need just one more look or something very specific.
What are the perks?
Hendershott: One is the convenience; another is the efficiency. Our cameras are hooked up to a giant monitor so you're able to see the photo right away. If you need more makeup, or to lean forward, smile differently, fix your hair, you know before you leave that you absolutely have the stuff that you want. Another reason: Wi-Fi. You need me to email a preview to your agent to see if they like your wardrobe choice? Done. You want me to text you the photo I just took so you can post it on Casting Frontier? Boom.
What can clients expect?
Hendershott: It's a fun new experience that no one has had before because it's the first of its kind! It might seem a little weird at first, but people step in and their first impression is usually being super impressed at how professional it looks. Clients forget that they're even in a truck and start having fun taking photos with our staff. Plus, being in the controlled environment of the truck allows us to shoot day or night, rain or shine!
Like this post? Check out more of our Inside Jobs!