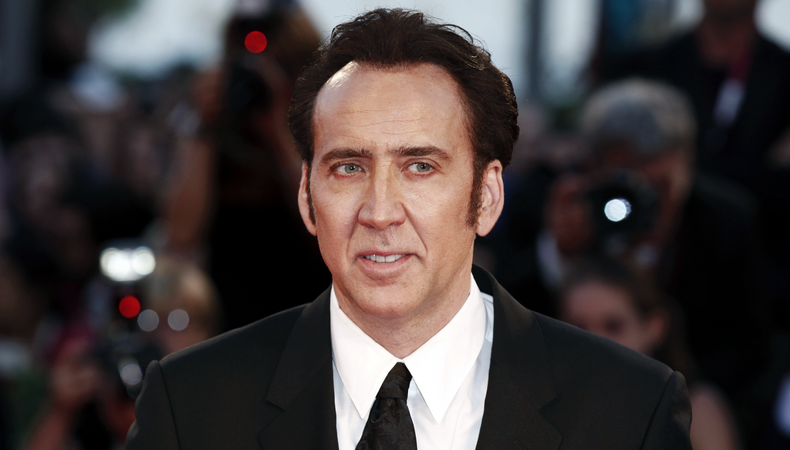 "In the Envelope: The Actor's Podcast" features in-depth conversations with today's most noteworthy actors and creators. Join host and awards editor Jack Smart for this guide on how to live the creative life from those who are doing it every day. This episode is brought to you by HBO.
Nicolas Cage has become one of the best-known film performers of his generation thanks to a philosophy other actors can live by: "Work as much as you can," he says. "Good or bad, fall on your face or stand up—but get so in tune with your instrument that you know it so well that you know when it's working or when it isn't working."
The legendary actor-director-producer reveals all in his In the Envelope podcast interview, from the keys to great on-set collaboration to tricks of the trade stretching back four decades. Are there techniques he uses for all of his wide-ranging roles, from 1987 romantic comedy "Moonstruck" all the way to 2018 supernatural horror indie "Mandy"? "Every time," he says, "I check and see if there's something in my life experience that is applicable and go inward—go into the micro and really try to find that emotional content."
That content can—and should—come from anywhere an artist finds inspiration, he adds. "Read the newspaper, look at movies, check into your dreams," Cage advises his fellow actors. "You've got to be relaxed and then be open; be open to your dreams…. What can you do to empower your imagination? How can you augment your imagination?
"The real job, in my opinion, of a performer and of a director and a writer is: from a place of neutral, to hold a mirror to what's happening now. And whether it's on another planet or [in] a different time, it doesn't matter. Hold a mirror to what's happening now so it reflects back to people and they connect with it and they get something from it."
Born in Los Angeles to a family of artists and filmmakers (including aunt and uncle Talia Shire and Francis Ford Coppola), Cage can pinpoint the exact moment when he was initially inspired to act: watching James Dean in "East of Eden" as a teenager and breaking down watching the actor break down. "I knew then that the power of film performance was more compelling, more profound, than any other art form that I had experienced [up] to that point," he remembers.
Now, after leading such iconic films as "Raising Arizona," "Vampire's Kiss," "Con Air," "Face/Off," and "National Treasure," and earning an Academy Award nomination for "Adaptation" and a win for "Leaving Las Vegas," Cage is making good on his mission to find "eclectic" roles that keep him and his audience challenged. "When everyone said, 'He's not an action hero; he can't be an adventure hero,' that made me go, 'Well, let me try it!' "
The key is to keep experimenting with different acting techniques and styles, and then incorporate what works from each project into the next. "You can go as big as you want as long as it's honest, as long as you're still putting the emotional content behind it," Cage explains. "When people say, 'Well, that's over the top,' I say, 'Well, you tell me what the top is, and I'll let you know whether or not I'm over it.' I'm working on something, and I'm trying to find something which I think is exciting.
"That's a good example of why independent cinema needs to stay forever in the picture," he adds. Case in point: Michael Sarnoski's feature directorial debut "Pig," from distributor Neon, in which Cage plays a truffle forager on a quest to recover his beloved pig. Cage's Critics' Choice Award–nominated performance is one of the year's most naturalistic, utilizing both his movie-star charisma and a quiet simplicity that speaks volumes.
He'll be shaking things up again in one of his upcoming projects, playing himself in Tom Gormican's daring comedy "The Unbearable Weight of Massive Talent." If there's one lesson to be gleaned from Cage's innovative screen career, it's this: "Maybe you'll fall on your face; maybe you'll get fired. Try not to get fired—you want to keep your career going! But it's a good idea to talk to the director first about what you'd like to do with it. And then try it." Check out his interview in full wherever you listen to podcasts:
Listen now on: