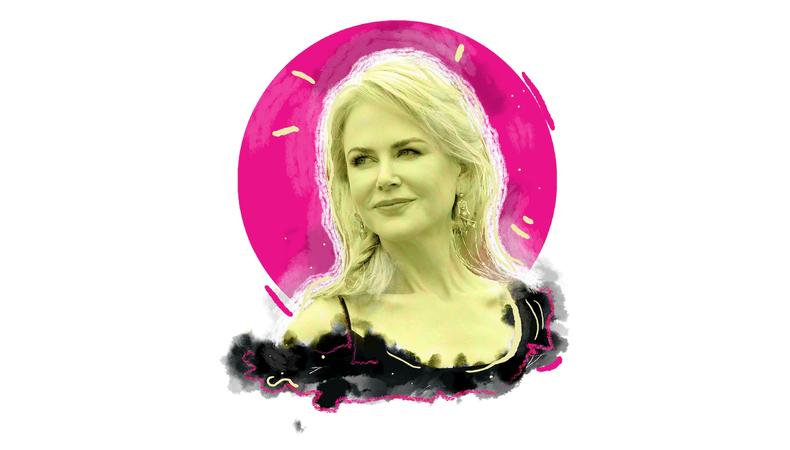 There's an important through line to Nicole Kidman's performances that extends beyond her technical skill: the time and experience she carries into characters. Ranging from modernist author Virginia Woolf to Fox News staffer Gretchen Carlson in the upcoming "Bombshell," Kidman colors her roles with lived-in radiance from hard-earned expertise. She puts in the work as an actor—and from talking her way into an audition as a preteen in Australia to disguising herself for Martin Scorsese and Robert De Niro, she teases that she's always able to get herself in the right room, one way or another.
For Nicole Kidman, Acting Is in Her Blood—and the Results Are Revelatory
What is the wildest thing you've ever done to land a role?
I remember dressing up to audition for "Casino" with Martin Scorsese and Robert De Niro. I dressed up completely, so you couldn't recognize me, and I walked down the street and men were whistling and stuff like that. I didn't get it—I was way too young—but I went in there and Martin didn't know who I was. De Niro didn't know who I was. I just pretended I was that woman. I was so far from that woman, but I had this low-cut shirt, the shortest [skirt]. And to do the research to build up for it, I would go into stores dressed like that. I couldn't believe the way people reacted. I mean, I've done so many wild things, it's insane. I have that terrible thing that once I'm in it, I pretty much will try and do anything. It's my commitment to the art, and I don't have strong boundaries because I didn't learn them at 14. I just learned full and utter commitment.
What is one performance every actor should see and why?
I think you should study Vivien Leigh and you should study Brando. Isabelle Huppert is extraordinary, as well, particularly when she works with [Michael] Haneke. But I'm a huge fan of Vivien Leigh. I think she was an amazing actor. There are so many, but you look at Brando in certain roles and you just go, "There's nothing better." And for a woman to study that is fantastic.
How did you get your SAG-AFTRA card?
People ask me that! I came over [to the U.S.] and it was "Days of Thunder." But that's not my first union card because, obviously, I joined in Australia.
What's your worst audition horror story?
When I started, I went and auditioned for "Annie" when I was about 12, and I had to talk my way in! They measured you at the door—it was a cattle call. They measured me, and I was too tall to play an orphan or to play Annie, and I said, "Please, please, please! You've got to let me in." My mom had driven me halfway across the city and she hadn't wanted to do it—she so didn't. And I think I sang four lines [before] they cut me off. It was great because at the time I was devastated, but, boy, did it fuel the fire. I was on so many auditions before I was even 17. I would have to catch two buses to go to acting class when I was a teenager—[my parents] wouldn't drive me. On occasion, my dad would get off on a Saturday morning and go, "Ugh, OK! Maybe I'll drive you." I had to work for it. I had to push beyond anything I had to get to those classes. But once I was in that dark theater doing those classes, I was the happiest kid. That saved my life.
What advice would you give your younger self?
Do everything you can to get a role, and then if it doesn't come your way, it wasn't meant to be yours. As soon as you learn that, you just breathe and you're along for the journey. And then rejection doesn't hurt as much because it just wasn't meant for you. Your path is your path. It's going to be very individual. I would say, "Don't ever try to conform," because conforming is not being true to who your artistic self is. Every time I've tried to conform, it's been a disaster.
This story originally appeared in the Nov. 28 issue of Backstage Magazine. Subscribe here.