"Fearless." Few words have been used as often to describe Charlize Theron—and she's certainly deserving of the label. Not only has she built a life in the arts over her 25-year career on her own terms, but a deep dive into her catalog of prestige character studies and genre-defining blockbusters reveals exacting instincts and a woman bold in her choices.
Charlize Theron on Breaking Out in Hives Ahead of an Audition
That's why it's especially surprising—disarming, even—to speak with the actor on a Sunday afternoon in October and have her confess to her career's earliest roadblock: fear.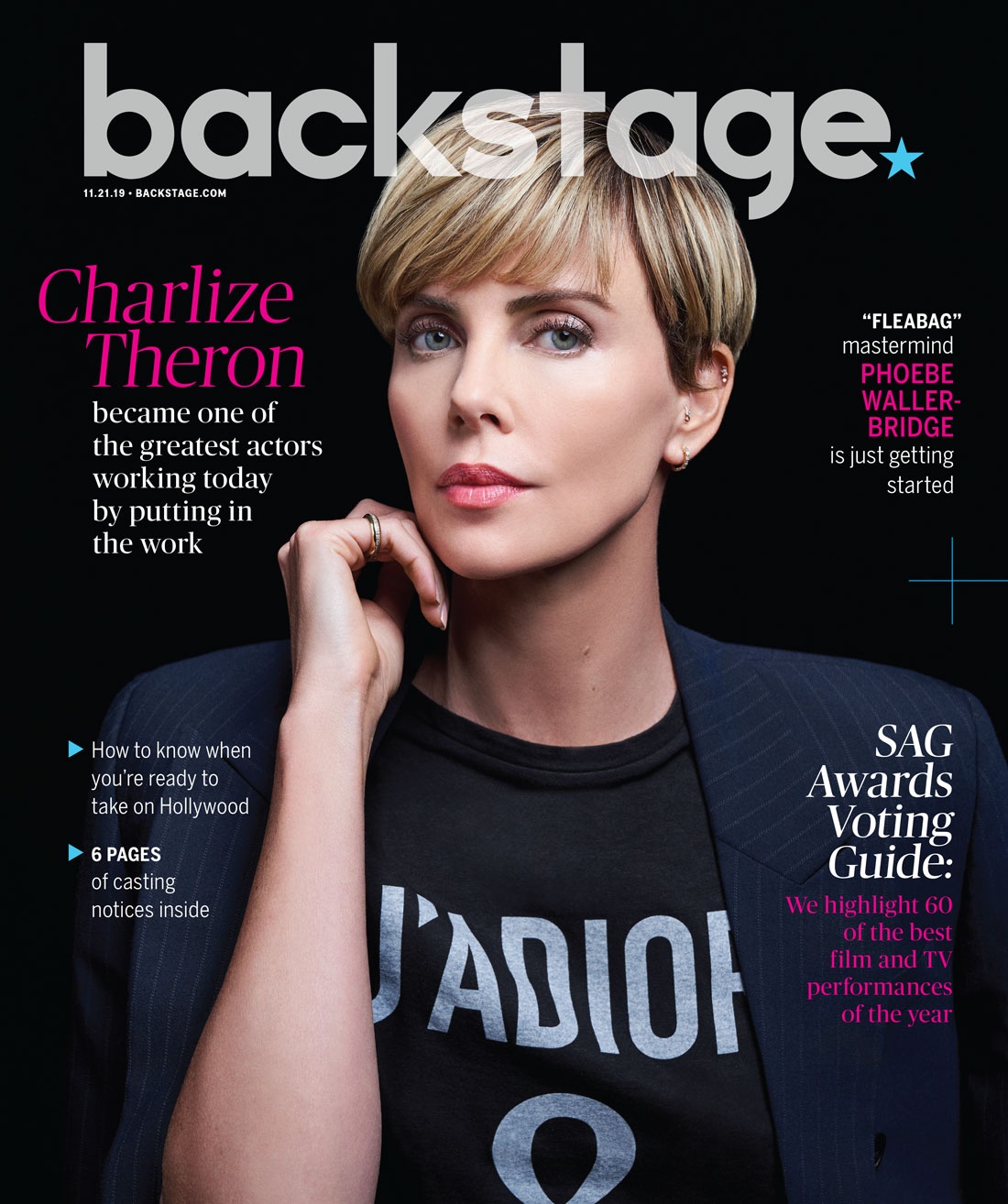 "I would have enjoyed everything a little bit more if I'd just chilled out and didn't get so caught up in the fear and [the] feeling that there was a clock ticking," she says, sitting in the privacy of her green room at the SVA Theatre in Manhattan. We're just out of a preview screening of her latest awards-caliber project, "Bombshell," and it's a packed weekend trip of back-to-back press in New York City. "I was so rushed by all of it because I had this horrible fear that if this [didn't] work out, I was going to go back to South Africa. I knew what that life was like, and I just didn't want to do that."
Much has been said of the life Theron left behind: a childhood on a farm in rural South Africa, milking cows and befriending goats; a mother who shot her violent, alcoholic father in self-defense during a particularly nasty fight. She left the farm at age 16, soon after his death, after being offered a chance to model, a vocation that took her to Europe and the United States. But her dream since the age of 4 had been to dance, and she moved to NYC to train at the Joffrey Ballet School before a knee injury at 19 cut those aspirations short. Her mother dusted her off, got her back on her feet, and brainstormed an alternative: acting. Theron booked a one-way flight to Los Angeles.
While her life up to that point had equipped her with self-starting brawn, whenever she was reminded of how much was on the line, she'd lose her composure. "Literally, I could only stay if I could support myself," she says, adding that the fear hit her worst in the audition room. "I struggled a lot with my nervousness," she says. "I would break out in hives. My neck would get incredibly red, and I would see black dots. In the beginning, that was really hard for me. I had auditions where they would just stop it."
But there were those gatekeepers who saw through the nerves to the potential. Even then, Theron had an ineffable charisma and authenticity that couldn't be faked or ignored. She says that auditioning for Tom Hanks, who directed her in her second feature film role, 1996's "That Thing You Do!," was a turning point.
READ: Why You Should Channel Your Inner Tom Hanks at Your Next Film or TV Audition
"I was so nervous that I couldn't say the character's name," Theron recalls, but Hanks gave her the space she needed to calm down. "He just got up and was like, 'You know what? I really need to go to the bathroom. I'll be back.' It was his way of giving me a breather. When you have people who have that kind of kindness, you're incredibly grateful."
Theron doesn't have to worry much about audition nerves today. She's an Oscar winner, an acclaimed producer, a United Nations Messenger for Peace, a single mother of two, and one of the world's highest-paid actors. Complicated, richly textured women—many of whom, she's admitted, are difficult to love—are at this point her calling card. In "Monster," she plays sex worker and serial killer Aileen Wuornos; in "Mad Max: Fury Road," she plays war captain-turned-feminist savior Imperator Furiosa; in "Atomic Blonde," she's an undercover MI6 agent; in "Tully," a mother suffering from postpartum depression; and in this year's "Long Shot," the first female president.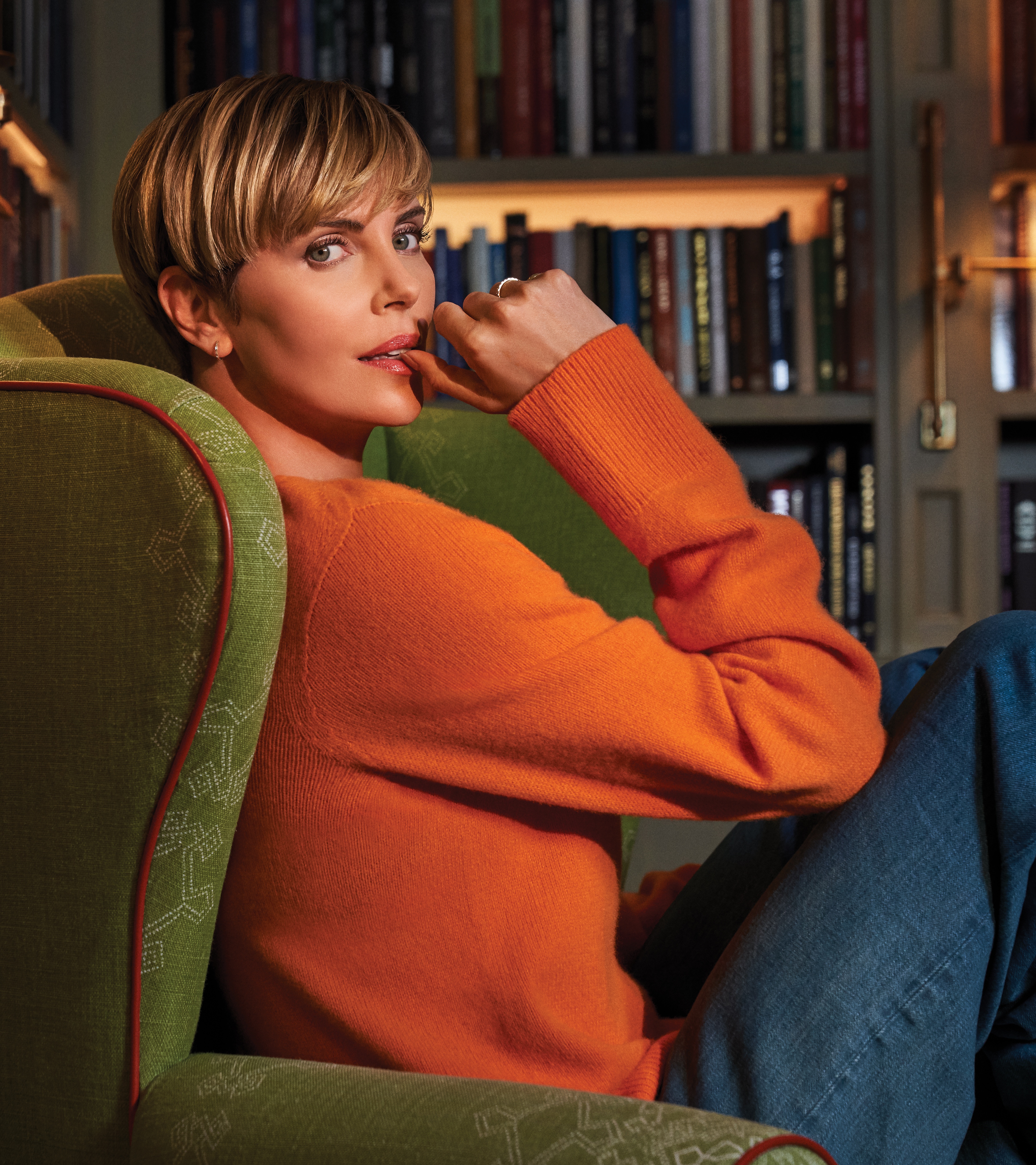 Even still, such roles aren't notched due to a lack of fear, as many might believe, but by her embrace of it. Theron has learned when to let her nerves lead the way. "It's always been driven by fear," she says of her decision-making. "I'm interested in very complicated, conflicted characters, and sometimes that takes a while to wrap your head around."
No role, she says, has scared her quite like that of Megyn Kelly. Starring in the Charles Randolph–penned, Jay Roach–directed "Bombshell" alongside Nicole Kidman and Margot Robbie, Theron, who also produced the film via her Denver and Delilah Productions, takes on the former Fox News anchor in what will become one of the defining turns of her career. So complete is her embodiment of Kelly through emotional precision, voice work, and prosthetics that there are moments re-created onscreen (interviews with then-presidential candidate Donald Trump, for instance) when one would be forgiven for mistaking her for the real thing.
While Theron was attached to the #MeToo-influenced film early on as a producer, she wasn't convinced that portraying Kelly during Fox News CEO Roger Ailes' 2016 sexual harassment scandal was right for her. "She's definitely the most well-known person I've ever played, and that scared me a little bit."
Theron has played real-world figures in the past ("Monster," "The Life and Death of Peter Sellers," and her Oscar-nominated performance in "North Country" among them), but Kelly is one of today's most recognized faces. Not only that, she's divisive, partisan, and, after her firing from NBC, often scrutinized and ridiculed. Any onscreen examination of Kelly's character is going to be subject to audiences' preconceived notions of her, no matter how empathic or measured the actor's take. "When you play somebody like her, you have to be incredibly transparent in obeying who they are and what they are," Theron says of her initial reluctance. But once Roach signed on to direct, he sat her down to talk "Bombshell" through. She needed someone to tell her to "stop being an idiot."
READ: 6 Steps to Getting Over Audition Nerves
"He read the script and he was just like, 'You have to play her. This is great.' That gave me the confidence to get past my own issues and just do it," Theron remembers. "As a producer, you just want to do what's right. The movie has to win in the end. The last thing I'd want to do is take a job on something that I'm producing that I can't fully fulfill. That's not fair to the film. [But] these things tend to all be a bit of a process—I don't think I've ever read anything that I said, 'Oh, my god! I can't wait to do this!' "
While there were specific acting challenges to playing Kelly, Theron walked the character through the same creative process she would undertake for any other: research, preparation, coaching, and collaboration. Kelly is not involved in the film, and Theron did not push for access or one-on-one interviews to prepare; Kelly's memoir, "Settle for More," provided enough insight into her personal perspective that the rest became imaginative work or otherwise informed by public record. "The one good thing when you're playing somebody who's that well-known is that there's a lot of footage; there's a lot to read," Theron says. "The material that I had access to was overwhelming."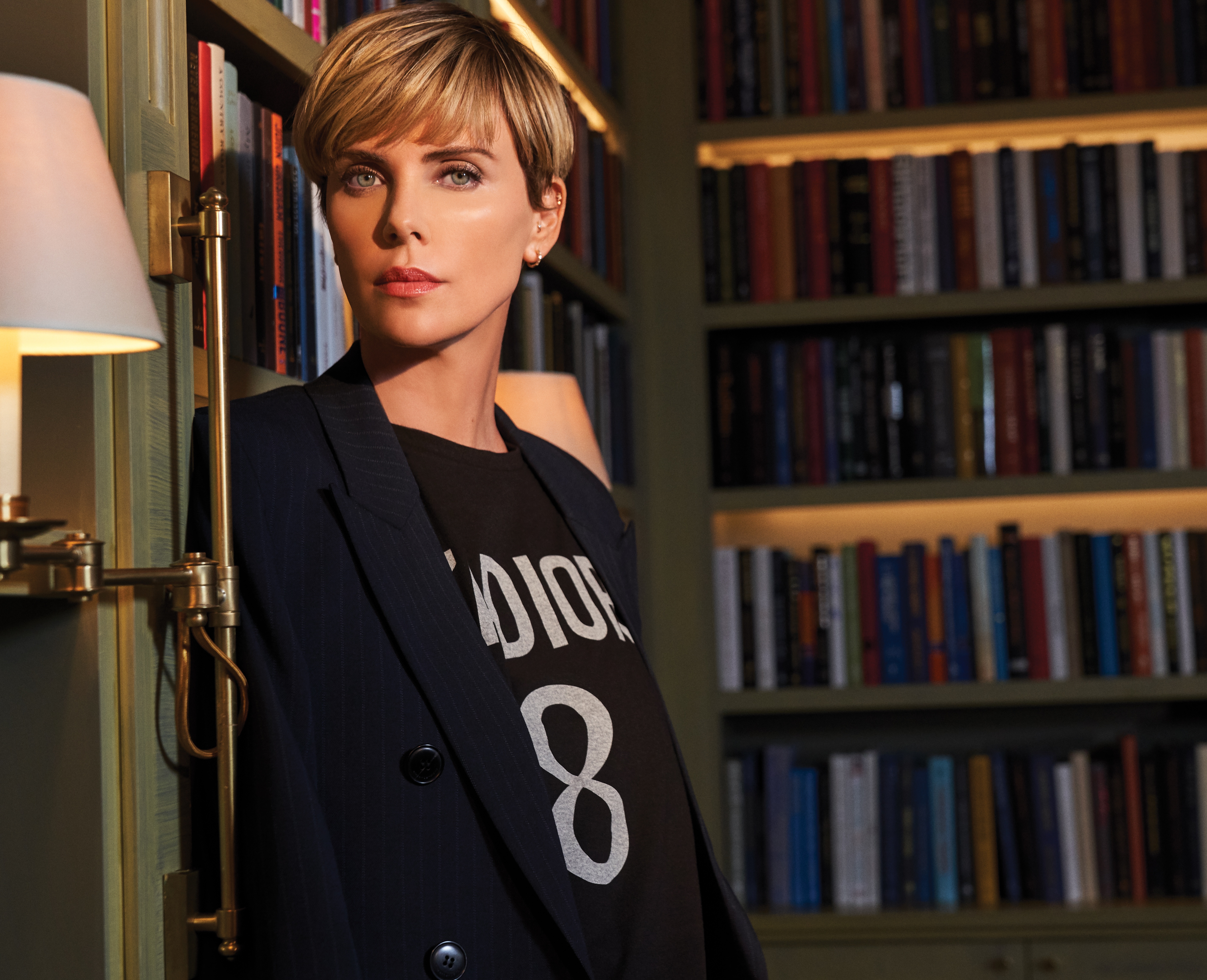 Then it was just a matter of putting in the work. Theron is no stranger to physical transformations and has spoken extensively on her efforts for past projects, emphasizing in her recent "Tully" press tour that it's not "brave" to gain weight for a role. More of interest to her is the required emotional excavation. While the physical is more immediately impressive (an added 50 pounds for "Tully," uncanny facial prosthetics with the help of Oscar winner Kazuhiro Tsuji for "Bombshell"), the exterior means nothing without knowing the "why" behind it.
"When you don't have a clear, deep understanding of the why, people will never believe it. And so, I have to be able to understand all of that stuff before I try to sell the bill of goods to other people," Theron says. But building a character's physical identity in tandem with the emotional, she concedes, is "a great tool set that adds on to everything else you were already doing as an actor. It's a case-by-case thing, but there is, to me, this beautiful thing that happens when you can get both sides: the exterior and interior. It's a really powerful dynamic."
She credits her dedication to both sides to her naturally "obsessive-compulsive brain." Kelly, for instance, had her working with voice coach Carla Meyer, to the point that hearing herself onscreen even took her by surprise. "Months later, I'm like, 'How does this work? What's going on?' [Meyer] was a huge part of that, because the voice was very intimidating."
Admittedly, it helps that Theron is doing something she loves. She'll work tirelessly until she's where she needs to be.
"I almost treat it like studying. I will find space where I am alone, where I can be focused, where there's nobody in my house, and I can really just sit down and study and play and look at my face and hear my voice and walk around and be a fucking idiot and my dogs are the only ones who are seeing that," she says.
In the past, others have mistaken her all-in approach for Method acting, to which she says, "God, no!" She did try Lee Strasberg's famous technique only once—to mixed results. With encouragement from 1997's "The Devil's Advocate" director Taylor Hackford, she recalls, she "really went all the way with it," and ended up "so unhappy the entire time we made that film." But she values having learned the lesson that actors need to find what works for themselves. "I'm so glad that early on someone pushed me into that, because after that experience, I was like, 'This is not for me, but how can I be as good as I want to be [while] not feeling the pressure of having to use this thing that everybody tells you is great?'"

It turns out that as important as it is for Theron to dive in, it's equally important for her to step out of the work. Then, when she returns to it after a break, she's energized and ready to go again.
"When I'm on a set, I'm 100 percent in it, and I will have access to energy that will take me to as deep a place as I possibly want to go—but I don't have access to those things when I'm tired. That's something that I had to figure out for myself. Now I know when I switch off and I go home and I raise my kids and I pick up dog shit, that's good for me," she says. The opportunity to switch off the actor brain, she adds, has become an added appeal of producing.
Which brings Theron to her process' final step: collaboration. As insular as an actor's prep work can be, inviting others in to teach you and challenge you is fundamental. "Any actor who tries to tell you that they did it all by themselves is just a complete fucking liar," she says. "We all want to believe that we're that good, but I know for a fact that [in] anything that I've ever done, I am completely at the mercy of my crew and the people that I work with…. I trust that somebody's taking me outside of myself into a place that I couldn't go by myself."
That much has held true since her first days in Hollywood. After all, Theron would never have faced down her acting fears in the first place had she not had the right people behind her—her mother, Hanks, and the "Bombshell" team among them. The only question now is: What challenge will she rise to next, and whom will she bring along for the ride?
This story originally appeared in the Nov. 21 issue of Backstage Magazine. Subscribe here.
Photographed by Chad Griffith on Sept. 24 at the Whitby Hotel in New York; styled by Leslie Freemar; hair by DJ Quintero; makeup by Sabrina Bedrani