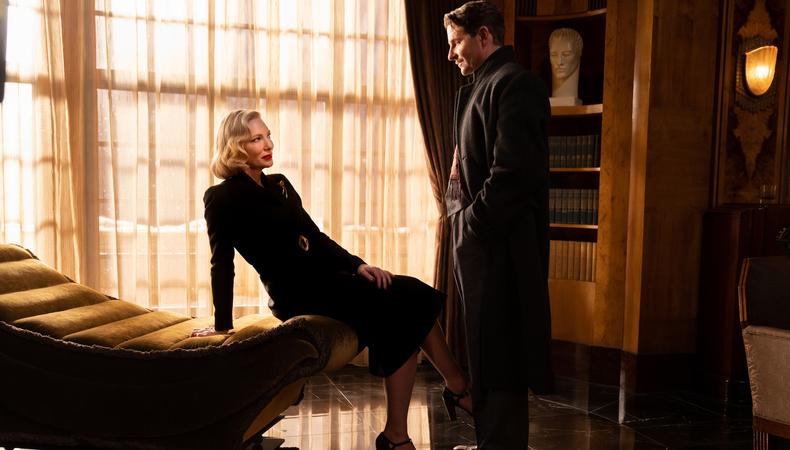 Most of the time in film and television, less is more when it comes to sets. One major exception? The work of Guillermo del Toro. Just ask Tamara Deverell, the production designer for the Oscar-winning auteur's latest noir saga, "Nightmare Alley."
Once you'd signed on to the film, what was your jumping-off point for building this world from the ground up?
The first thing I did was watch the original [1947 "Nightmare Alley"] movie and then promptly, in conversation with Guillermo, forget about it. We tried not to compare or talk too much about it, because we wanted to make our own version. I also read [William Lindsay Gresham's] book, and that was really the feeling of the movie we were going for. I do a ton of research, and that gives me something to react to and show the director and the DP. I tend to start with color palettes; I know how important color is for Guillermo. It's certainly important for me. We had a lot of discussion—not about reflecting on film noir and other films, but we looked at a lot of paintings and art and art history. We were looking at a ton of carnival banners. We actually bought some of Fred G. Johnson's [work], who's sort of the Picasso of the carnival banner world.
More than most directors, del Toro is known for his strong visual aesthetic. As a visual artist yourself, how do you communicate with him?
My language with a director like that, who is so visual, is just to do drawings and models and sketches. We look at those together, and we draw together. Guillermo actually draws himself, and he'll draw with me. He loves arches. Everything in this movie became an alley, in a sense. Everything got longer and longer so you could get these vistas. He's so knowledgeable—not just about film, but art history. For every character, he wrote a backstory, a two-page document on who Zeena [played by Toni Collette] is, or who Molly [played by Rooney Mara] is—her likes and dislikes, that she loves chocolate and the smell of fresh laundry. Little details like that informed me.
The production design in this film is anything but subtle. How did you ensure that it was always in service to the story rather than just for show?
The thing with Guillermo is so much of the story is the look of the films. With other projects, you want to sort of slide back; you want the production design not to overtake the experience of watching the movie. But with Guillermo, every little prop, the micro and the macro—he sees everything, and he really shows it. I felt like I actually had to force myself to push more into the foreground of the film with the colors, and especially with the carnival and the banners. I didn't do my normal thing, which is: OK, I'm not going to take away from the actors.
How different is working in production design for a film from a television series?
It depends on the TV show, because I'm doing "Cabinet of Curiosities" with Guillermo for Netflix right now, which are his curated stories with different directors. It's very visual, and I'm doing incredibly fun, interesting, 1970s, wacky sets. But usually working in TV, we only have so much time. I went to art school, and I studied everything: painting, printmaking, sculpture, filmmaking, photography. I wanted to be an artist. When I work on something like "Nightmare Alley," that's a realization of me as an artist. There are big stars, and they're fabulous; Cate [Blanchett] blows my mind, and Bradley [Cooper] is amazing. But for me, working on a film is like I'm making a painting. Every frame is a painted sculpture. I've done sci-fi—"Star Trek: [Discovery]," those giant set-extension effects. They're fun, but they're not where my soul is.
RELATED: How to Become a Production Designer
Do you have one piece of advice for someone who wants to pursue production design?
Don't learn one thing. I think part of my success as a production designer comes from the fact that I studied everything. I learned everything. Cooking, sewing—everything you can lay your hands on, because it's all information about life, color, and texture. Just pay attention to color and texture all the time.
This story originally appeared in the Jan. 27 issue of Backstage Magazine. Subscribe here.
Ready to get started with Backstage? Become a subscriber here!