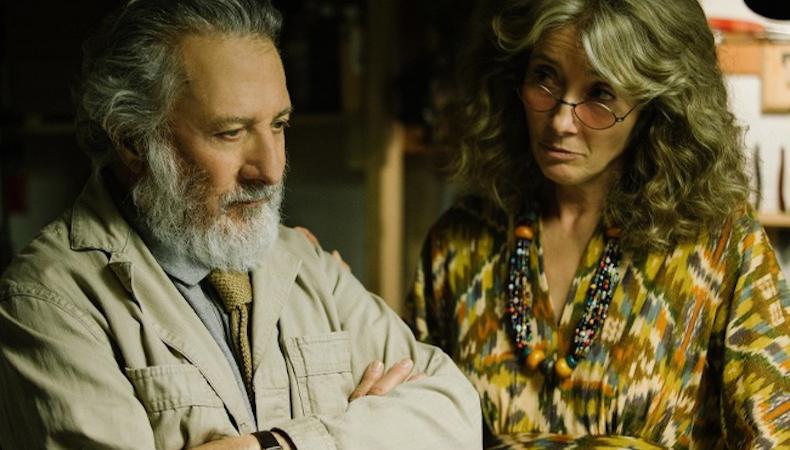 If you had asked Noah Baumbach at the start of his career who he would love to work with, he'd probably have said Dustin Hoffman. A longtime fan of the Oscar-winning actor, he finally got Hoffman in front of his camera for his latest feature, "The Meyerowitz Stories (New and Selected)," on Netflix. Baumbach knew that Hoffman often passed on scripts that were sent his way. Nevertheless, he wrote the role of Harold Meyerowitz, a sculptor whose neuroses (and lack of recognition) have scarred his three now-adult children in ways both unspeakable and hilarious, with the "Rain Man" and "The Graduate" actor in mind. He knew he'd need an actor who could make audiences not just understand this difficult character but love him in spite of his flaws.
In fact, Baumbach wrote many of the main roles of "The Meyerowitz Stories" with actors already in mind. Joining Hoffman are Adam Sandler and Elizabeth Marvel as Danny and Jean, Harold's stunted children from an early failed marriage; Ben Stiller as Matt, his golden boy from yet another marriage; and Emma Thompson as Maureen, his current partner. "I knew I wanted them all for those parts," he tells Backstage. "And it was one of those happy experiences where everybody I had in mind agreed to do it. I didn't have to change my plan."
READ: Dustin Hoffman + Noah Baumbach on Script Analysis, Long Takes, and 'Midnight Cowboy'
Returning to the kind of acerbic comedy he mined in "The Squid and the Whale," Baumbach has created yet another portrait of a family made up of characters that in lesser hands would be unwatchable. Instead, Harold's intransigence, Danny's lack of ambition, and Matt's off-putting high-mindedness add color to fully fleshed characterizations. Casting, Baumbach says, played a crucial role in making these characters not feel like caricatures. That was definitely the case with Maureen, whose drinking problem and brazen obliviousness about setting Harold's affairs in order when he gets sick and has to be moved into a hospital, leaving his three kids unmoored, threatens to reduce her to a hippie harpy.
"I didn't want the character to be a villain. I didn't want her to be a joke," Baumbach remembers. "There are certainly a lot of comedic elements to that character, but I wanted somebody who would give her dignity, in a way—and also be funny." That's why, when he was writing it, he was thinking, "Well, if Emma Thompson plays this person, you'll never dislike her. Even if she can be maddening or foolish—or even somewhat underhanded—you'll always understand her."
Baumbach knows his scripts have an off-kilter sensibility, one that requires specific performers to pull it off. Thankfully, Thompson and Hoffman, especially, were up for the challenge. "Dustin was very keyed into the musicality of my dialogue. For him, getting the cadences down and the line readings down informed the character in a lot of ways. Instead of talking about backstory or anything like that, it was going the other way around: If the line is said properly, then he understands what the character is."
Baumbach concedes that's not always the case; with some "really wonderful actors," his writing style is "just not the right fit…[while] some actors really take to it and understand it intuitively." Connecting with the rhythm of his words, not to mention the physicality his script demanded (Hoffman running after Stiller in downtown Manhattan is an unexpectedly hilarious tableau under Baumbach's direction), is what makes this dysfunctional family drama feel more dynamic than its literary title would have you believe.
Praising his actors for their onscreen chemistry—you really do get a sense of grievances nurtured over decades in blink-and-you'll-miss-them gestures—Baumbach stresses how much of the process came from getting his actors to delve deep into the script, letting him play the role of conductor. As he explains, "My job is kind of to listen to if it's off- or on key. But with this group, they kind of hit the ground running."
Are you the next Dustin Hoffman? Check out Backstage's film audition listings!