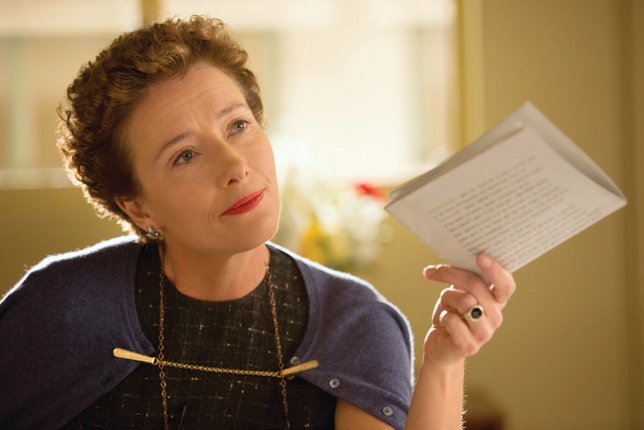 Emma Thompson was eight years old the first time she saw "Mary Poppins." The film had a profound effect on her, as it had on so many people before and since. She went on to read and adore the first two "Poppins" novels on which the 1964 film was based.
"I didn't get that feeling that you get when you read a book or see a movie and you think, 'Oh, that's nothing like the book,' or 'That book is nothing like the movie,' " she says. "I felt that the two things were so different that I experienced two completely different moments."
Decades later, Thompson is starring in "Saving Mr. Banks," about the tortuous, often un-magical making of one of the most beloved films of all time. Thompson plays author and "Poppins" creator Pamela "P.L." Travers, who, driven by financial concerns, acquiesced to Walt Disney's dogged pursuit of her signature on a contract granting him the right to adapt her work for the big screen.
Travers, in many ways, was the opposite of her most famous creation. A native Australian who suffered childhood trauma and reinvented herself as a proper Englishwoman, she resisted Disney's advances for years until finally agreeing to work with screenwriter Don DaGradi and the songwriting brothers Dick and Bob Sherman on a "Poppins" screenplay. She spent much of that time subjecting Disney and his team to endless tongue-lashings and a litany of demands. She seemed to her collaborators intent on running the project into the ground.
It was Kelly Marcel and Sue Smith's screenplay for "Saving Mr. Banks" that drew Thompson to the idea of playing Travers, a character the actor calls "one of the most interesting people I've ever played." The Travers of "Banks" also presented Thompson an uncommon opportunity.
"It's like snow in August," she says when asked how rare it is to come across a role like this. "Not only a strong female lead, but a strong female lead who is well into her 50s. We can get a strong female lead, but it's Sandy Bullock or Cate Blanchett, and they're still young. She's not a mother and she's not a wife. She's an artist. I've never seen that."
Like so many artists, Travers had sharp elbows and deep emotional scars. To prepare to play her, Thompson listened to hours of nearly 50-year-old tapes of Travers sitting in a rehearsal room, haranguing DaGradi and the Shermans.
"I would just put them on and go about my business—clean the house, do the ironing, sometimes zone out," she says. "When you listen to the tapes, you can hear in the way in which she's using her breath and the sort of juddery way in which the sentences come out that she was in a state of high and almost constant distress. She sounds crotchety and irritable, but actually I think it's a form of distress."
It took more than just listening to tapes to prepare Thompson for the role.
"The perm was very helpful as well," she says. "Sometimes you can just put on a pair of glasses and a hat, and you've suddenly got a different character, and it's as simple as that. But sometimes it's not as simple as that, and certainly Pamela wasn't as simple as that. She was very kaleidoscopic."