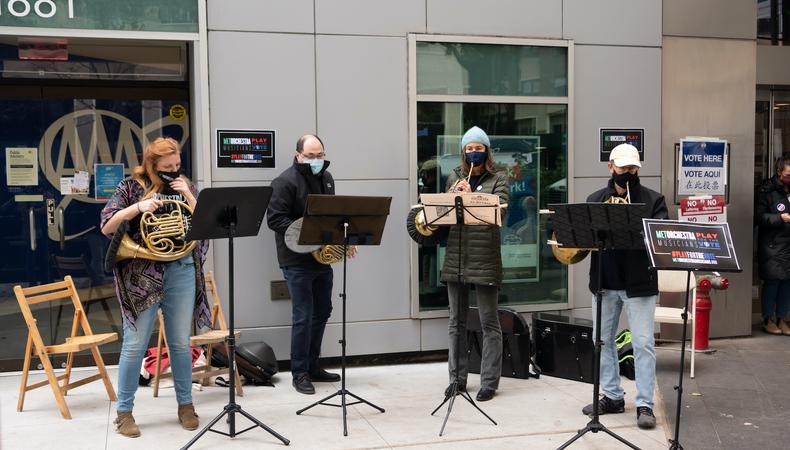 New York City is now taking applications for its Open Culture program, which will allow cultural institutions to apply for permits to perform in more than 100 outdoor spaces around New York City. But Actors' Equity Association has been vocal in its criticism about the program, telling its members to check with the union before accepting Open Culture work.
Open Culture will allow live performance venues to apply for a permit to host outdoor performances. The application fee is $20 and must be filed 15 days prior to the event. The permits themselves are free and are for a single month of events; each applicant has a maximum of four performance days per location per month that they can apply for. The program is expected to run through Oct. 31.
But Equity is skeptical of Open Culture. "The current structure of the program does not meet Equity's minimum standards for wages or COVID-19 safety," said Equity's Executive Director Mary McColl in a letter to members.
The union is criticizing the city for not requiring producers to pay a living wage or provide proof of workers' compensation insurance. The union said that the city also doesn't require workers to be tested for COVID-19, performers be socially distanced from crowds and each other, and the city doesn't require a COVID-19 safety officer.
"It is especially concerning that the city has put forward a plan that does not ensure a safe workplace for workers," said McColl.
When reached for comment, a representative from the Mayor's Office said that Open Culture wasn't just meant for professional companies. It also accommodates volunteer and school events, which don't always pay their participants.
"This program is designed to fill city streets with cultural performances of every description. You could see classically trained orchestras on one street, and an amateur dance troupe on another. That's what makes it fun and dynamic—but it also means one-size-fits-all regulations don't really make sense for this program," the representative said.
The city encourages professional producers that hire union workers to abide by union rules, and that the program does not set out to erase union protections or union wages. It's meant to provide space permits, and labor rules should be negotiated between the producers and the unions.
In addition, all applicants to Open Culture need to also submit their own COVID-19 safety plan, including mandatory health screenings for the production team prior to the event. Producers must agree to keep six feet of distance between audience members, provide face coverings to artists and audiences, and provide public hygiene stations.
Professional producers must also have liability insurance, with a minimum of $1 million per occurrence.
This news comes as New York Governor Andrew Cuomo has announced that starting April 2, live performance venues can reopen at 33% capacity, with a maximum of 100 people indoors and 200 people outdoors. If all attendees are tested, that capacity increases to 150 indoors, 500 people outdoors.
No Broadway productions have announced their return. But the venues that are reopening include the Music Box Theatre on Broadway, as well as the Apollo, Park Avenue Armory, St. Ann's Warehouse, The SHED, Harlem Stage, La MaMa, National Black theatre, and the Glimmerglass Festival's Alice Busch Opera Theater.
It seems initially, the reopened venues will not host shows, but rather concerts, as part of NY PopsUp, a series of one-night-only events organized by producers Scott Rudin and Jane Rosenthal, in collaboration with the state.
"As a result of those conversations, we have signed an agreement allowing for Equity members to be paid for NY PopsUp performances with a living wage and health and pension payments," said McColl. "The NY PopsUp team has also incorporated our feedback into their safety plan, improving the safety for everyone associated with the project. We will continue to push New York City to make changes to the Open Culture program that prioritize pay and safety for the workers who make New York City a cultural destination."