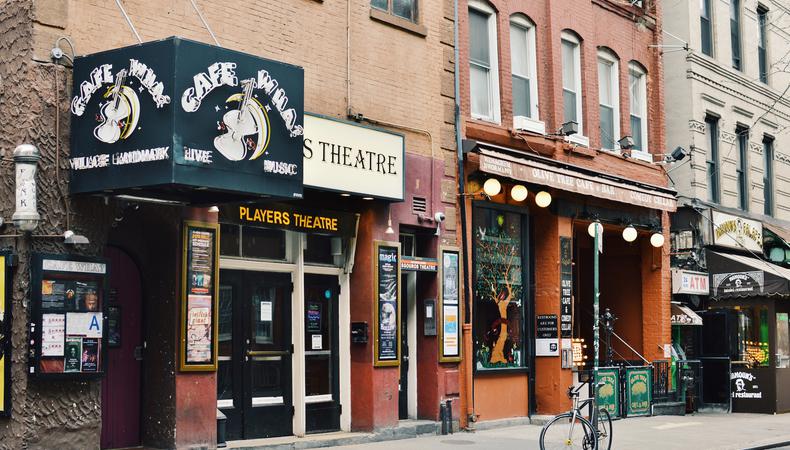 A coalition of eight Off-Broadway theaters and comedy clubs have filed a lawsuit against New York Governor Andrew Cuomo and New York City Mayor Bill de Blasio, pressing both branches to permit resumed performances. The city's live venues have been officially closed since March, and have not been allowed to reopen. Meanwhile, as argued in the suit, "Saturday Night Live" has been taping in front of a live (socially distanced) studio audience since returning for its 46th season last month.
The lead plaintiffs in the lawsuit, filed in the Federal District Court in Manhattan, are Catherine Russell, the general manager of the Theater Center in Times Square, and Michael Sgouros of Greenwich Village's the Players Theatre. Other venues to join the suit are the Actors Temple Theater, the Gene Frankel Theater, Soho Playhouse, the Triad, Broadway Comedy Club, and New York Comedy Club.
The lawsuit argues that small venues can open safely at limited capacity and demands that Cuomo's executive order closing small venues be overturned. The lawsuit was filed by attorney James G. Mermigis, who wrote: "Casinos, malls, movie theaters, restaurants, gyms, catering halls for weddings, christenings and bar mitzvahs, bowling alleys, 'Saturday Night Live,' schools and colleges have been allowed to reopen but the small venue theater industry remains shuttered despite its median capacity of only 144 seats."
The small-venue theater industry, as cited in the suit, generates around $1.3 billion in total economic output annually. Additionally, it employs an estimated 8,400 workers full-time and provides roughly $512 million in wages. The suit further insists that if these venues aren't permitted to reopen soon, they "may be forced to permanently shut their doors."
In a statement to the New York Times, Richard Azzopardi, a senior adviser to Cuomo, said: "We get sued virtually every day for virtually every action taken during this pandemic, and frankly, I've lost track of all the frivolous suits filed against us." He then added, "We are moving heaven and Earth to contain this virus and we know some people are unhappy, but New York continues to have one of the lowest infection rates in the nation, and better to be unhappy than sick or worse."
A spokeswoman for the city's law department, Kimberly Joyce, said her faction would be slower to make any comment: "We will review the lawsuit when served and respond accordingly."
Meanwhile, the Broadway League has announced that Broadway theaters, where the seating capacity is much larger (usually at least 500 seats), will remain closed at least until May 2021. Movie theaters in NYC also remain closed, though Cuomo has allowed cinemas outside of the city to reopen starting Oct. 23 at limited capacity. In addition, there have been a number of outdoor performances to small audiences throughout the city.
Mermigis's law firm has filed similar lawsuits for New York gym owners and restaurants. Both entities have been allowed to reopen under limited capacity.