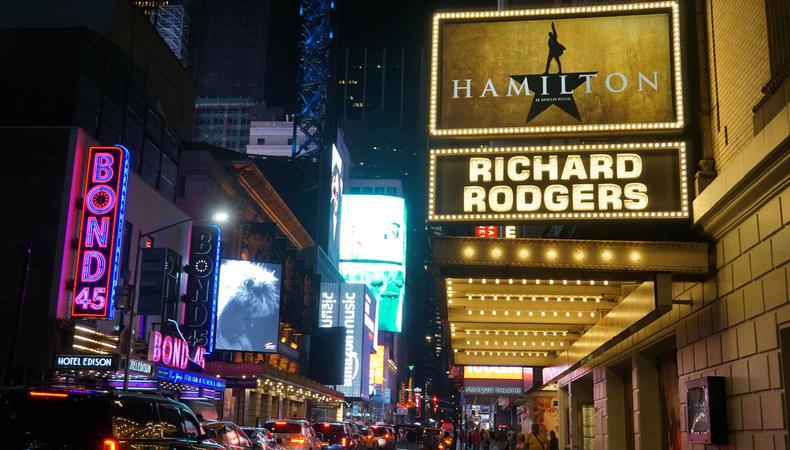 Broadway theaters will remain closed through May 30, 2021 and possibly beyond, the Broadway League announced Oct. 9. The news, an inevitability that does not make it sting less, adds four months to the previously announced January reopening aim. All Broadway shows have been suspended since March of this year.
The new date also forces a number of shows that had, perhaps optimistically, announced spring productions, to go back to the drawing board, including the Sarah Jessica Parker–led "Plaza Suite," Michael Jackson biomusical "MJ," and the splashy "Music Man" revival.
The announcement means thousands of actors, musicians, stagehands, designers, and other artisans will remain out of work well into the new year. Actors' Equity Association, the national labor union representing professional actors and stage managers in live theater, released a statement shortly after the news was announced.
READ: Dr. Fauci on a Timeline for Broadway Reopening
"My heart breaks for everyone who works on Broadway or depends on it to make their living," said Mary McColl, executive director of Actors' Equity. "Today the Broadway League made the difficult but responsible decision to put the safety and health of their workers and audience first. This is a deeply painful time for everyone who depends on the arts for their livelihood. We are at this moment because, seven months into the pandemic, our nation still lacks a coherent national strategy for masks and testing which could help bring the virus under control."
The blow is a particularly devastating one as it comes days after the Equity-League Health Fund, the insurance provider for members of Actors' Equity, announced theater actors would have to work more (16 weeks compared to the previous year's 11) in order to qualify for six months' worth of health insurance coverage—a relative impossibility, given the extended theater closure.
"Too many in the industry need help now as we face another six months without work. The ongoing lack of work in the arts means we face a critical need for a federal COBRA health insurance subsidies, renewed federal unemployment benefits and arts funding," McColl added. "Washington must act."