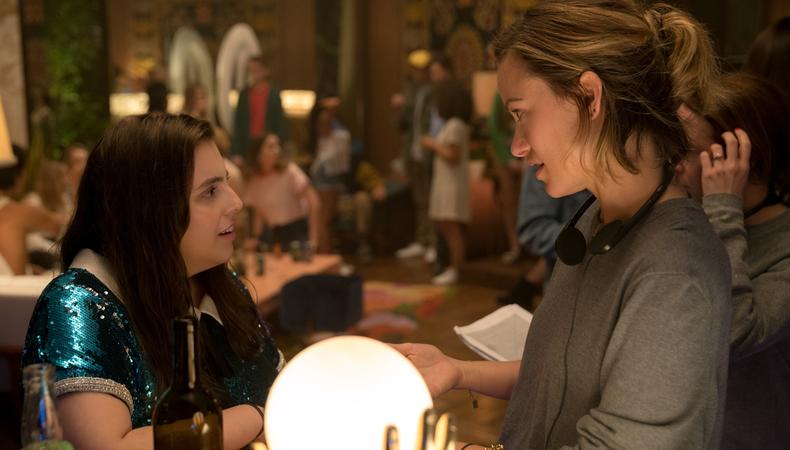 Making the leap from either side of the camera to the other is a daunting task. Just ask Olivia Wilde, whose "Booksmart," now in theaters, marks her feature film directorial debut; a feat she'd long-coveted but one by which she was fiercely intimidated. So it was in true showbiz fairytale fashion that a somewhat more seasoned director provided a confidence boost.
"If you wanna be a doctor, look before you leap," Steven Spielberg wrote to Wilde in a letter, she recalls in the New York Times. "If you wanna be in show business, leap before you look."
With the note now framed in her office—and with her behind-the-camera milestone checked—she'd like to relay just one thought back to Mr. Spielberg: "I want to tell him I took that leap," she says.
READ: Why Beanie Feldstein Is Irresistible
And speaking of leaps, Wilde also hopped on the phone with Backstage earlier this year to discuss her "Booksmart" star Beanie Feldstein, and why the film pushed them both as artists. "I think we both had something to prove and I think that's very energizing," she says. "We were both bringing our A-game."
Also adding of their collaboration, Wilde details what makes Feldstein such a special actor and furthermore, what other actors can learn from her.
"She's a great listener and that's paramount. And she's also incredibly generous with her spirit. It takes generosity to create a good scene," Wilde says. "She's not only focused on her own character's journey in the moment, she's focused on the scene. And I believe that comes from her experience in theater. She cares, she does the homework, she thinks deeply about the subtle nuances of her characters, she thinks about their layers."
Whether you want to call her an actor who directs or a director who acts, it makes no difference; it's clear that Wilde, regardless of which side of the camera she stands on, knows what she's talking about.
Want to hear more from the best creators in film, TV, and theater? Get it right here!