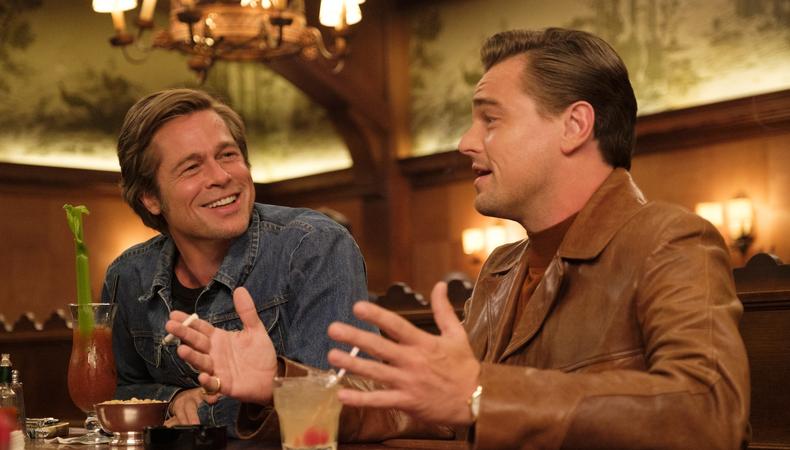 With this Year in Review, we at Backstage have picked through the weeds and found 2019's true gems of the best big- and small-screen ensemble work. And don't worry: We've got you covered with everything else you need to know this awards season right here.
Distributed by: Columbia Pictures
Directed by: Quentin Tarantino
Written by: Quentin Tarantino
Casting by: Victoria Thomas
Cast: Austin Butler, Bruce Dern, Leonardo DiCaprio, Dakota Fanning, Emile Hirsch, Timothy Olyphant, Al Pacino, Brad Pitt, Margaret Qualley, Margot Robbie
As the casting news for "Once Upon a Time in Hollywood," Quentin Tarantino's ninth feature film, began to trickle out in early 2018, headlines became a who's-who of Hollywood's past, present, and future. The film even began to seem overstuffed; would there be any scene left unchewed? Could two of the biggest leading men of the last 20 years make an alternate history of the grisly Manson family murders work? Tarantino and casting director Victoria Thomas pulled it off, as he somehow always manages to: "Once Upon a Time" is a master class from the idiosyncratic auteur, bolstered by a peerless ensemble.
Veteran actor on the Western movie circuit Rick Dalton (Leonardo DiCaprio) and his trusted stunt double Cliff Booth (Brad Pitt) are seeing their Hollywood careers come to a booze-soaked final act. Dalton has been relegated to heel roles on the television oater circuit, while Booth has found work without his longtime partner hard to come by. Scuzzy agent Marvin Schwarzs (an ever-enlarged Al Pacino) recommends that Dalton head abroad for work, but the fading star is reticent to leave the sun-soaked paradise of Tinseltown—especially now that his next-door neighbors are hotshot young director Roman Polanski (Rafał Zawierucha) and his rising star wife Sharon Tate (Margot Robbie). Meanwhile, the ominous winds of counterculture change are simmering. Jay Sebring (a boyish and economic Emile Hirsch), a frequent guest of the Polanskis, has a foreboding visit from Charles Manson (Damon Herriman) himself, foreshadowing this story's madcap finale.
READ: Quentin Tarantino's Go-to Cinematographer on How to Act on Camera
Our decades-long wait to see DiCaprio and Pitt in the same frame pays off immediately. The two have an unspoken, breezy chemistry in their scenes, with Pitt as straight man to DiCaprio's neurotic star. The action ambles through a variety of set pieces for the megastars to flex their chops, even in the film's bloody, bonkers finale (which also includes one of the more believable depictions of an acid trip onscreen). It's a joy to watch the two work their magic.
Robbie is doe-eyed and entrancing, carrying with her the unspoken dread of her grim fate. In one charming moment, the starlet goes to watch a matinee of her performance in "The Wrecking Crew," peeking around the crowd to gauge their response to her comedic bits in the film. As Tate's anxiety begins to subside, she finds herself laughing along, her smile crackling with the boundless promise of her burgeoning career.
When Booth is lured to the Manson Family compound by the enigmatic "Pussycat" (a confident Margaret Qualley), the film's cameos reach a fever pitch. Lena Dunham, Maya Hawke, and Dakota Fanning appear, each under the spell of their charismatic and maniacal leader. Booth insists on a meeting with the bedridden, blind George Spahn (Bruce Dern), assuaging his fear that the rancher had met an unsavory fate at the hands of the hippie clan. Dern is at his gravelly and ornery best in this brief albeit memorable turn.
Blink-and-you'll-miss-them appearances from Timothy Olyphant, Damian Lewis, Luke Perry, Clifton Collins Jr., Scoot McNairy, and Tarantino veteran Michael Madsen only deepen the delight of "Once Upon a Time in Hollywood." Each piece and player finds their way in that meandering, audacious Tarantino style. By the time the flamethrower is warmed up, you've already gotten your money's worth.
This story originally appeared in the Nov. 13 issue of Backstage Magazine. Subscribe here.
Want more? Stay in the loop with everything you need to know this awards season right here!