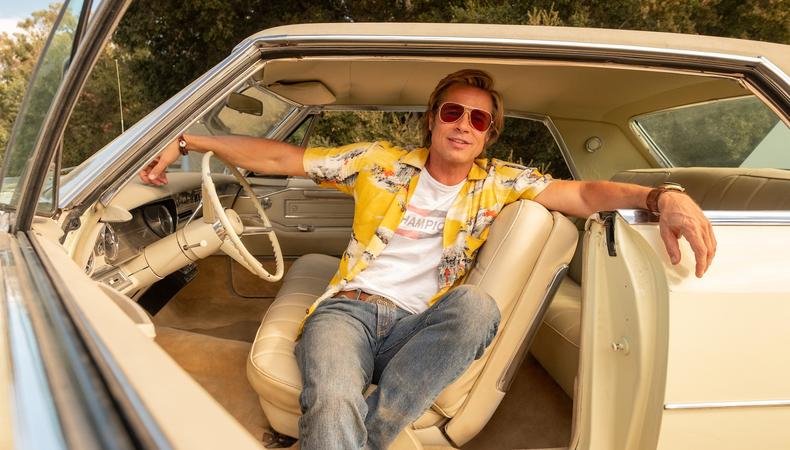 Robert Richardson has the kind of résumé most filmmakers can only dream of. The three-time Oscar-winning cinematographer has been a go-to collaborator for Martin Scorsese ("Hugo," "The Aviator"), Oliver Stone ("Platoon," "JFK"), and Quentin Tarantino ("Django Unchained," "The Hateful Eight"). He returns this summer with the latter auteur for his buzzy love letter to Tinseltown, "Once Upon a Time… in Hollywood." In conversation with Backstage, Richardson opens up about his process, his working relationship with actors like Leonardo DiCaprio and Brad Pitt, and the advice he has for other filmmakers looking to break into the field.
How can actors best collaborate with you while filming?
The best words of advice I have are to work with respect for all the crew on set, including all departments, as what we do is to support what they do. Actors are the front page of a film. It is my privilege as a cinematographer to capture their work to the best of my abilities. I believe an actor should befriend the cinematographer, costumer, production designer, makeup and hair—it is always in their interest to know that they will all look out for them. By befriending, I do not mean that we need to become close friends, but that we all realize that we are working toward the same end. The stronger the bonds, the greater the results.
Tell us a bit more about what your relationship with the actors is like on set. Does the kind of face time you get differ from project to project?
Absolutely. With each film, there's always a variance in what you're doing. For example, on this film, there were so many actors, so it's not always possible to have as much face time as I would like. With [actors like] Austin [Butler] and Dakota [Fanning], who are brand-new to me in terms of a working relationship, I immediately attempt to find bonds with each so that they trust what I'm doing with my work. I think that's vital. You have to take the time to work with them individually and get to know them, because you're put in places that are extremely private, and they have to believe in you. I have to instill that faith that I'm not going to in any way damage what they're about to go through or in any way damage what they want to put onto the screen. In fact, I'm going to enhance it as best as I can and support their work.
You've been doing this long enough to know and support the emotional work these actors are going to be doing in front of your camera.
If I'm not close to someone, that's fine, but I need to be on a level of respect for the craft that they're doing so they can do the best possible [work]. Especially [for] people who are just entering [the industry, it's about] not being intimidated by the machine that surrounds them, which is usually large, even on a small production. I think it's extraordinarily vital to take that intimidation away [and] make it a place where they can easily do their work.
READ: Think You Know How to Act in Film? Think Again
Do you see ways that the best of your actors calibrate their performance based on framing?
Certainly close-ups need to be calibrated in terms of performance, as they are magnified from a wide or medium [shot], but consistency is the key.
In "Once Upon a Time… in Hollywood," there are a lot of different visual styles used over its three-hour runtime. What research was required to get it right from a cinematography standpoint?
The research began with watching a vast number of films: "Butch Cassidy and the Sundance Kid," "The Exorcist," "Sorcerer," "The Great Escape," "Dirty Harry," "American Graffiti," "Alex in Wonderland," "The Deer Hunter," "The Furies," "Silence," the Man With No Name series, "Taxi Driver," "Bonnie and Clyde"—to name a few. [That] then expanded to a number of television series such as "Lancer," "Maverick," "Wanted: Dead or Alive," and on and on. With Quentin, he launched me years ago into spaghetti Westerns as we prepared for "Django Unchained," and those films reappeared on my monitor. But I looked more closely at the television series mentioned as well as the quality of the light and grain in the few films I listed.
How did your approach behind the camera for these homage pieces inform the actors' performances in front of the camera?
Superb question. I am unsure it did inform the actors. Perhaps the lighting of interiors would hint at what the visual style was heading toward, but mostly the actors knew from the shots that Quentin had designed where we were going, and of course [from] the costumes and the production design. And as with Leo and his [character's] early television career, the fact that we were capturing it in black and white and in a spherical format, as well as using a style of lighting that was high key, certainly took him to a place that he knew we were not utilizing modern aesthetics.
The film features a lot of long conversation set pieces. How does that languid style inform your approach behind the camera versus other projects you've worked on?
In the years I have been with Quentin, his dialogue rules. He is the word master. All elements, from production design to cinematography, support his script, including the actors. On other projects that I have worked on, the director controls where we all move—Marty works in a similar manner to Quentin in that both of them create a complete shot list. Every shot is given to me by them. With Marty, the entire script is shot-listed prior to shooting; with Quentin, a number of key shots are either listed in the script or told to me as we prep, and then on the day of shooting, a complete list of shots for the scene is handed to the assistant director and we tackle that. There is no magic formula. The same was true of Oliver. I love working with Quentin because he and his actors work very closely together in rehearsal and on the day. Quentin sets the mood. Some directors that I have worked with retreat to a monitor and watch the performances from the video village, but with Quentin, there is no video village; there is one monitor on the camera that he and the camera assistant will use, but, essentially, Quentin watches the actors from directly beside the camera. His attention to performance without video is what separates him from many others. No playback capabilities on his set.
READ: The 1 Thing Cinematographers Need From Actors
What advice do you have for other filmmakers looking to break into the field of cinematography?
The field of cinematography is becoming more competitive, as the tools are far more universal at this time. That is a positive. What I recommend is that constant practice with a camera, whether a phone or a reflex or a video camera or whatever, is vital. Carry a camera at all times and shoot constantly. Learn what composition pleases your eye, what light does to that which you shoot, and above all, study all films from all periods of time in the history of cinema. When you have viewed a film and feel you have experienced it as fully as possible, turn the sound off, start from the beginning and find where the film works and does not. Then, ask why. And if you are willing, watch the film again with commentary if it is available. Only through focus and patience can your skills mature. Trust your intuition. I also firmly believe that luck is necessary; intuition can help produce luck, but only you can act on your intuition. Build relationships with those who surround you above your level and at your level and below. These relationships will come back to help move you forward. And at all times, be humble.
Among those relationships are the actors. With repeat collaborators, do you develop a shorthand and common understanding?
I have worked with Leo on four films thus far and three with Brad. During that time, we have developed a relationship based upon respect. They know that I will always be there to best capture their work. [There's] a shorthand as far as that level of trust goes. They can look at me and if they see me with a smile or whatever, they will know how I felt about their performance. I build relationships with actors primarily due to my belief in what they do. As I have said before, actors are what turn the words into reality. That is a tremendous gift. I was fortunate on this film to work with a brilliant cast: Leo, Brad, Margot Robbie, Al Pacino, Dakota Fanning, Luke Perry, Damian Lewis, Kurt Russell, Timothy Olyphant, Tim Roth, Damon Herriman, Michael Madsen, Mike Moh, Austin Butler, Bruce Dern…. How fortunate can a man get?