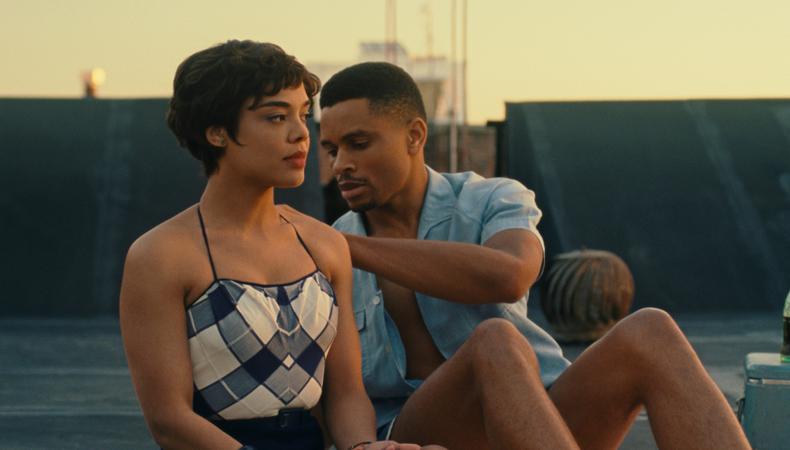 "Sylvie's Love," about a record store employee's summer fling with a saxophonist, is a romance that swings—and so, too, must its costumes. Thanks to Phoenix Mellow, who was given access to Karl Lagerfeld's archives to create the 1950s looks, every outfit is one you can just about hear. Starring Tessa Thompson and Nnamdi Asomugha, the Eugene Ashe feature hits Amazon Prime Video Dec. 25.
Music is hugely important in "Sylvie's Love." Was music influential in your designs?
In every aspect. I'm very immersive in costume design and make sure everything is very authentic, including all the undergarments. But even in the fitting room, we were playing jazz and soul music, to just get us into that [space]. I remember Nnamdi would come in with his sax and start playing. It just felt like the music was so much a part of it, and Eugene would share what he was thinking about for a scene. He was really thinking about the music right from the beginning when we met, and he really inspired us to use that in the characters.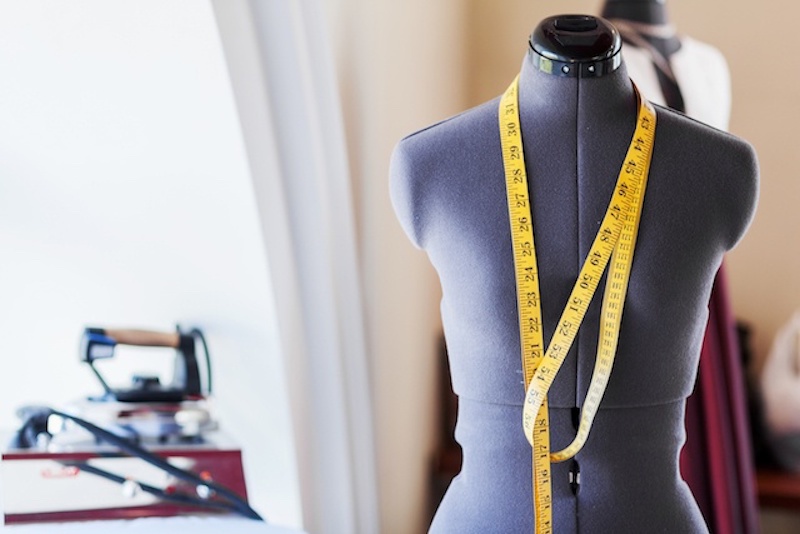 How to Become a Costume Designer
How do you work with actors to develop their characters through costume?
Working with the actors and finding their character is so important to me. I really think that starts with the costume. It's what their character was thinking in the morning when they picked it out. A lot of their psychology is subconsciously told in the costumes. I like to read how the actor is feeling, and I like to share all my inspiration and my mood boards and all the research I've been doing, and then talk to them about how they want to portray the character. In the costume fitting, we really find those pieces are how the character comes alive, and you can just see it click, when all of a sudden they have that piece. It's that color, and all of a sudden, it clicks. I'm very Method in my costume designing.
For ["Sylvie's Love"], I started with the authentic undergarments and built the body like a structure or like a sculpture. Tessa very much is [Method], too, making sure we had the right undergarments and the girdle—it just gives you a different posture. Also, the fit of the clothes helps. At first, [when] I fit Nnamdi—he's very, very tall. You give him a pleated pant, this big, baggy pant, and he's confused. But then all of a sudden, that just gives you a different walk. You just understand that you come from a different time period through the costumes.
What are those little costume details that help an actor "click" into their role?
It's all in the details, from the color that they choose to the outfit that they wear. It really goes with the psychology of: What is the era? How much money does this character make? Where are they shopping? Do they get it tailored? Are they a mother? Are they a musician? Are they a performer? There are so many questions that go into it that you don't think about when you're dressing yourself in the morning—but I'm thinking about it for this person. I am working as a collaborator with the actor and the script to get the perfect pieces and all the details that make them feel complete. I'm also thinking about what the actors have to perform in the script, and to make sure the clothes are going to be comfortable and also work properly.
More generally, how would you describe the role of the costume designer?
The role of the costume designer is a technical and creative role. We help the production by creating character from the script, [making them] come to life, and telling the story of the costumes and the clothes in the film. It's having a cohesive relationship with the actors and the script.
READ: How the 'Pen15' Costume Designer Turned
Its Stars Into Tweens
How did you come to costume design?
I went to school in New York for fashion design at FIT. I always wanted to be a fashion designer.I learned how to sew, and both my parents are artists, so I had lots of support growing up in the arts. But then when I was in New York, I just didn't really care about what was gonna sell next year at Target. I wanted to make original, new things. I just never felt like I could settle into one type of brand or era or look. When I realized that costume design was a career that somebody did, it just dawned on me. I didn't know that that was a career growing up. I wanted to do film and TV, so I moved to L.A., worked as a P.A., [and] worked as an intern while I was in school. From there, I got experience, joined the union, designed, assisted, [and] said yes to everything.
Do you have any advice for someone who wants to pursue costume design?
Get any experience you can. Say yes to all projects. Create your own portfolio in the beginning, and do your own projects. If you don't have direct contacts, make friends that make things and do those projects that are creative when you can, even if it's for zero dollars and it's just for your creativity, because you learn from every project. From every single project, you get more experience and more contacts, and you never know when, five years later, that person who was a P.A. that you were friends with is now a director and is asking you to design, because you tell everybody what you want to do. Get that experience; tell people what you want to do. I was a go-getter, and I told people I want to design, and I would show people my portfolio. You have to be proud of yourself and proud of your work and be creative and always try to put positive vibes out in the world.
This story originally appeared in the Dec. 17 issue of Backstage Magazine. Subscribe here.
Looking for remote work? Backstage has got you covered! Click here for auditions you can do from home!