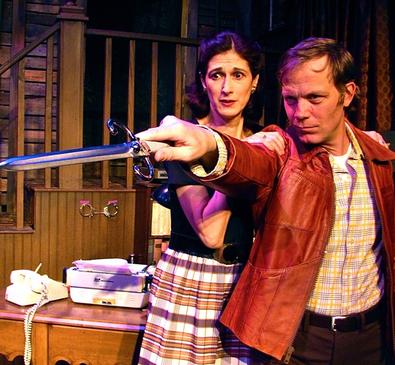 The L.A. Gay and Lesbian Center's fall production of "Deathtrap" won't go on, now that a creative dispute with playwright Ira Levin's estate has derailed the popular show.
"It was the best-selling show we've had in 14 years," producer Jon Imparato told Backstage.
The production had been set to resume a six-week run in the 50-seat Davidson/Valentini Theatre in September. The five-actor original cast had all signed on, and some had turned down work to continue doing the play, Imparato said.
Imparato's production differs from the play's original script in that it features a kiss between the two male leads, playwright Sidney Bruhl and protégé Clifford Anderson. The production also featured brief male nudity—the exposed buttocks of Burt Grinstead, who played Anderson.
Levin's estate initially contacted Imparato to complain about the nudity. Imparato responded in writing with an explanation of the theater's vision for the play.
"I was happy to take the nudity out," he said.
The estate responded to Imparato's message by requesting that he do the play exactly as written. When he told the estate that wasn't possible, it revoked the theater's performance rights.
The Levin estate did not respond to an emailed request for comment from Backstage.
Grinstead said the cast was disappointed: "It was something I invited people to. My own parents loved it." He did not blame the producers for the show's cancellation. "I don't think the production company could have done anything," he said.
The estate's restrictions on the production would have disappointed audience members, Imparato said. "It compromises our mission and our integrity," he said. "If they want to see a high school version of 'Deathtrap,' they can go to Pomona." He added, "It seems like censorship."
Bruhl and Anderson are implied to be lovers in Levin's play—they've conspired to get Bruhl's wife, Myra, out of the picture, after all—but that's not made explicit. Still, Imparato noted that the 1982 movie version of "Deathtrap," which starred Michael Caine and Christopher Reeve, contains a scene with the two men kissing.
"We're not making it unseemly," said Imparato, who also is the artistic director of the Gay and Lesbian Center's Lily Tomlin/Jane Wagner Cultural Arts Center. "I didn't change a single line in the play."
Imparato said he's holding out hope the Levin estate will change its mind, in part because the funds raised from the production benefit the center's programming for homeless youth.