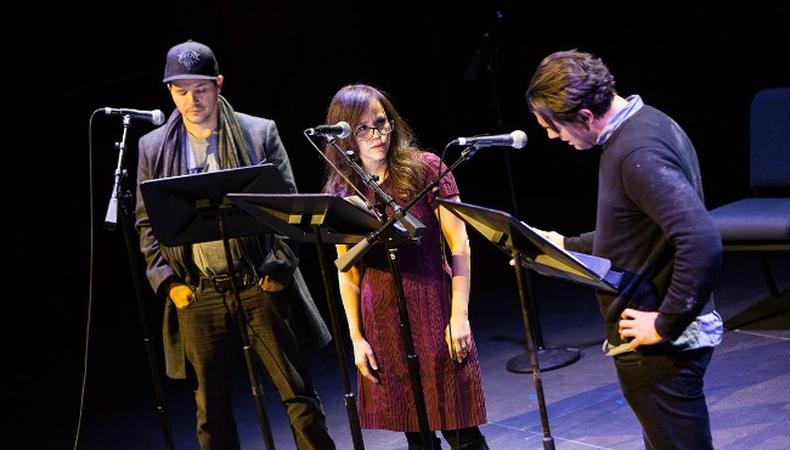 The era of podcasts and audio storytelling is upon us, and it's about time that theater got into the game.
Playing On Air, a series of one-act plays by accomplished playwrights read by some of the industry's top actors, was launched onto the airwaves in 2014 by theater producer Claudia Catania. As creator, artistic producer, and host of each episode, Catania was inspired during a reading of a short play, at which everyone was gathered informally in folding chairs.
"I had been to one too many readings where there's a cast of actors knocking one's socks off and thought, Wait a minute—why don't we bring the folding chairs to millions of people?" she told Backstage. Since audio podcasts can be distributed to a wide audience inexpensively, she reached out to a radio producer, then to writer Christopher Durang—the first of many artists who agreed to share their work on the air.
"The reason we got as far as we have is that playwrights want to extend their platform; they want to be heard," said Catania. "It's also an opportunity to play with people working at very high levels. If you're a great tennis player, it's really fun to play with other great tennis players."
Those high-level artists include writers ranging from David Ives to Lynn Nottage to Alexandra Gersten-Vassilaros. Among the series' many guest performers are Tony winners Audra McDonald, Tonya Pinkins, and Jane Krakowski, as well as Backstage cover stars Mamie Gummer, Michael Urie, and Bobby Cannavale. Episodes are often recorded before a live audience and feature fascinating postreading talkbacks with the artists involved.
"This is an opportunity for playwrights to have dream casts for short plays," said Catania. "It's a dream job for actors who might be very busy with commitments to flex their muscles for a few hours and give life to these shorts in a way they don't usually get to do."
One-act plays became Catania's focus in part because 15- to 30-minute episodes appeal to podcast listeners. "Because they're short, they have to capture you fast; they have to have a beginning-middle-knockout-punch-at-the-end, which suits the listening patterns of people on the go very well." Plus, outside of certain festivals and reading series, short-form playwriting is often overlooked in the theater community.
"There's this underexploited, undermined treasure that most playwrights have tucked away in their desks or on their computers but have never enjoyed the exposure they deserve," explained Catania, remembering something Actors Theatre of Louisville's Jon Jory wrote: " 'If you really want to know a playwright, read their short plays.' It's just them—boom!—on the page."
The sheer quality of Playing On Air's episodes make them required listening for working actors and other industry pros. As Catania said, "Practitioners need to see what their colleagues are doing, to get to know playwrights better and to hear their actual living voice and their literary voice, and to be inspired." To tune in, visit playingonair.org, or find it wherever you download your podcasts.
Like this post? Check out Backstage's In the Envelope!