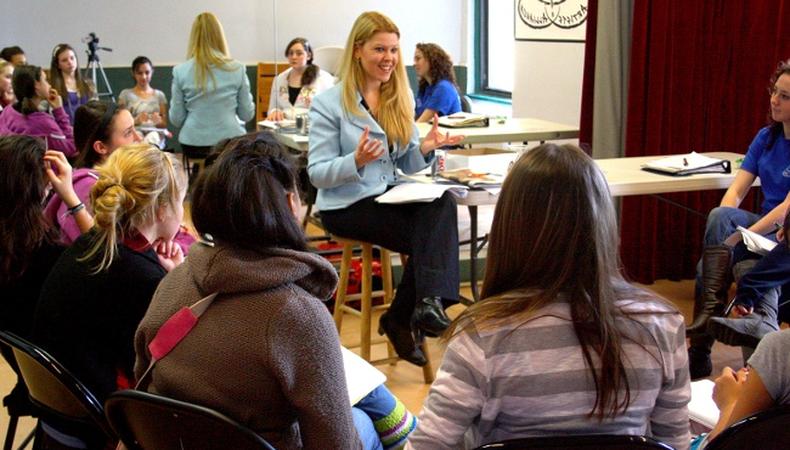 From choosing and practicing your repertoire to compiling application materials and teacher recommendation letters, applying to college drama programs is essentially a full-time job. Thinking about the process as such will help prepare students for the onslaught of deadlines—and stress—that usually accompany the first months of senior year.
"I have so many young people come to me three or four weeks before an audition needing to find a monologue, and that's way too late," said Jennifer Johns, founder and artistic director of Broadway Artists Alliance.
In fact, she added, the application process should start as early as possible. "In your junior year you should be researching colleges, going to see the musicals at the colleges you're considering, doing campus visits." This is in part because many colleges and conservatory programs now include a prescreening audition to ensure interested students are qualified—but also simply because the competition is fierce.
"I think sometimes getting into your dream musical theater school is almost more competitive than getting on Broadway," Johns told Backstage with a laugh. "In this era after 'Glee' and 'Smash,' this is something kids are realizing they can do as a profession. The schools are having more qualified applicants than ever."
So, how to prepare for the rigors of such a life-changing process? One technique is to get involved with a well-connected theater training school such as BAA. The NYC-based school offers college audition workshops designed to guide students over every potential hurdle leading up to those big days. A three-day seminar running Aug. 12–14 covers everything from specific colleges' requirements to financial aid to follow-up etiquette, and culminates in a mock audition.
"By the end of the three days they've got a solid list of schools they want to research further, as well as really great repertoire choices," said Johns of the workshop. Because BAA's network of faculty members includes so many award-winning theater artists, many of whom graduated from top schools, she can provide access to "the inside scoop of some things a young person overwhelmed might not necessarily consider." On the seminar's final day, participants are joined by alumni from a variety of different schools who offer specific pointers in a Q&A.
This also helps students hone in on which schools might be their best fit. Johns recommends sending out a dozen or more applications, as it's important to be realistic. "You can't only apply to two or three schools and expect wonderful results," she said. "Very often a kid will say, 'I want to go to Juilliard and that's all.' " Ultimately, the process is about considering where to spend four years of your life.
Johns also advised college auditioners to pick at least one uplifting monologue or ballad—"As humans we respond to that hope in a young person's eyes," she said—and to remember that an audition is an opportunity to give a miniperformance. "Sometimes young people think, So much is riding on this. But if they sit back and realize, I get to do what I love today, that's a joyful moment for everybody involved."
To learn more about BAA's audition prep workshops, visit broadwayartistsalliance.org.
Looking for new material for your next audition? Try "The Monologuer" for a customized search!