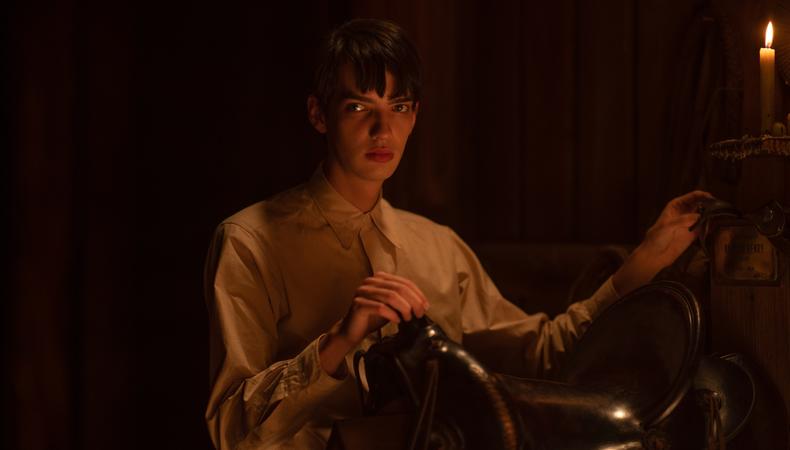 "The Power of the Dog" is the rare film that gets better upon a second viewing. As early as the opening lines of Jane Campion's acclaimed Western, Kodi Smit-McPhee's Peter Gordon foreshadows a slow-boil revelation and (spoiler alert!) the climactic death of Benedict Cumberbatch's cowboy, Phil Burbank.
"When my father passed, I wanted nothing more than my mother's happiness," Peter says over the Netflix feature's opening credits. "For what kind of man would I be if I did not help my mother—if I did not save her?"
Rose Gordon, played by Kirsten Dunst, is the mother in question. A widowed innkeeper, she shares an unbreakable bond with Peter; together, they've weathered the storm of life. But after she remarries a kind man named George Burbank (Jesse Plemons), her new brother-in-law Phil begins to psychologically torment and publicly humiliate her. Alcohol becomes her only comfort. But as Phil's relationship with Rose grows more hostile, the soft-spoken, effeminate Peter strikes up a surprisingly tender friendship with the herdsman—only to manipulate Phil into letting his guard down before poisoning him with anthrax. In the end, his mother is saved.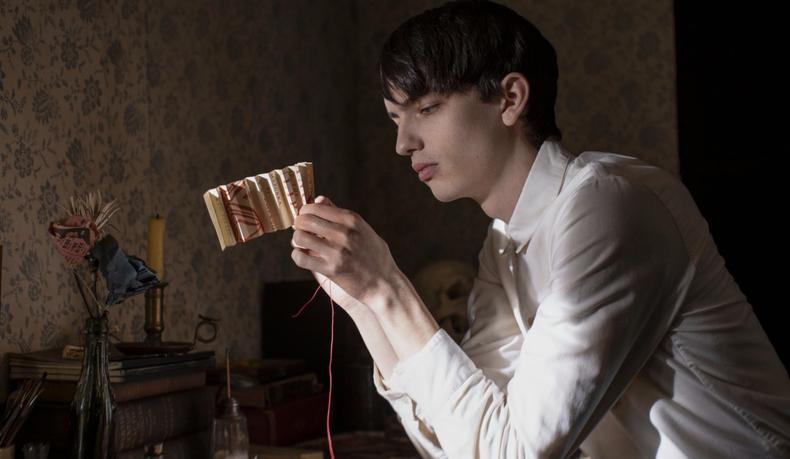 Kodi Smit-McPhee in "The Power of the Dog," Courtesy Netflix
"I have to say, when it was presented, I thought something went wrong inside myself while reading the script. I thought maybe I got tired or I missed a page or something, because it all traveled so quickly after such a long buildup of impending doom," Smit-McPhee says of Peter's simmering development into a killer. "I had to go back a few pages, and I was like, 'No, that totally just happened.' And then that made me go right back to the beginning."
Peter's final act recontextualizes looks and actions that Smit-McPhee first interpreted as admiration and brewing eroticism. In retrospect, those choices become menacing and psychosexual. The material required a dual performance that subtly laid the groundwork for the reveal without spoiling it. Now, the actor is nominated for most major acting awards this year, including a SAG and an Oscar.
"It was that challenge in and of itself that attracted me to portraying Peter," Smit-McPhee adds, crediting Campion with "poking and prodding" him out of his comfort zone throughout the early rehearsal process. The director helped the actor build Peter's "introspective world" and set his intention as a sort of "spy mission." Peter's friendship with Phil serves as a way to cross enemy lines in order to protect those he's loyal to.
"It was done tediously and carefully, but [it was] very well fleshed-out within the first two weeks," Smit-McPhee says of crafting the character. Then, "all of that needs to go out the window." He knew he couldn't play into a scene's intentional opacity, so he just zeroed in on the truth of his character's story day by day. As an actor, "you can't be thinking of it subjectively; you have to be objective."
The Peter we see onscreen is a marriage of Smit-McPhee's performance and the Oscar-nominated work of editor Peter Sciberras, who pieced the film together in postproduction to build up the plot's growing unease.
"It's kind of like the audience doesn't see Peter the same way that Phil doesn't see Peter and what he's capable of," Sciberras reflects. "So it was really exciting to be thinking about a second viewing while cutting the performance. There's a story going on that you're not quite aware of. It was really important that you could go back and see all the clues and realize that you weren't paying attention in the right way."
Sciberras points to the final scene between Phil and Peter as a particular highlight; what originally reads as homoerotic tension evolves into something horrific after the fact. Creating that uncertain tone, Sciberras says, is not a responsibility he takes lightly. He'll pore over a script, analyzing dialogue and direction in the same way an actor might to determine what cut best serves the material.
"You just hope you're making everyone look as good as they can," he says. "Sometimes you've got great things that you have to cut out, and you do feel a little bad about it for a moment, but it's the job. If it's for the greater good, and the film's better overall, you kind of go, 'Ah, that's a shame that we can't use that, but it's the right thing to do.' "
The fact that, as edited by Sciberras, there's room at all to interpret Peter's motives is the kind of ambiguity Smit-McPhee thrives on.
"That's the stuff I love," the actor says, crediting Campion, Sciberras, and the "Power of the Dog" crew with "inviting [viewers] in and knocking on the doors, and seeing the plausibility of every way this can go."
Ready to get started with Backstage? Become a subscriber here!