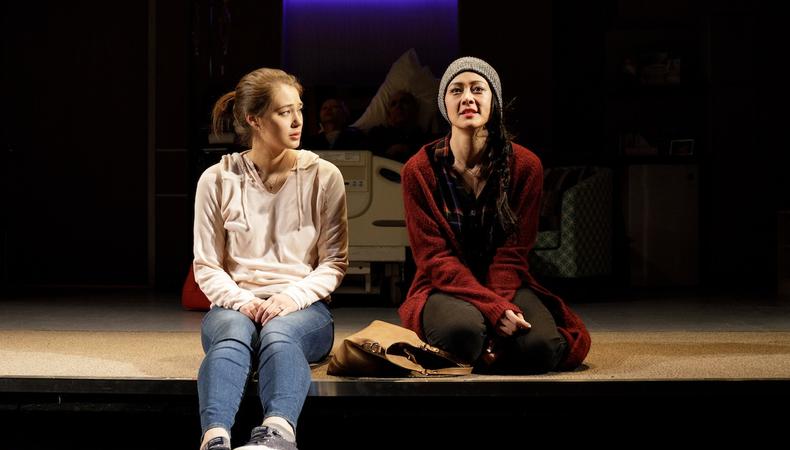 The following Career Dispatches essay was written by playwright Leah Nanako Winkler, who was this year's recipient of the Yale Drama Series prize and whose play, "God Said This" (pictured above), is running at Primary Stages through Feb. 15, 2019.
I am a playwright, and I cling to the love that surrounds me.
I try not to bask in my own insecurities because that is dismissive of the people who support me.
The world may say "no," but it's OK to carry a natural confidence, even if you're a woman. But I try not to be so obsessed with myself—that's dangerous. Or with critics—I've never been and never will be a perfect wispy darling.
But I'm obsessed with my audience.
I could die happy sitting in a dark theater with you, my throat tightening at the sound of your sobs, my heart vibrating by your laughter. I will love this feeling of strange intimacy for a lifetime.
I will wake you if you're snoring near me, but I enjoy that, too.
How lucky am I to have something I love so much?
So, I speak up when I need to for this thing that I love. And I use my voice because I have one. I write from a place of truth because it's pointless to lie. I try to reflect the world I see, even if it's not always represented.
That's not an agenda. It's just the humanity I know.
READ: How to Become a (Successful) Playwright
Again, I'm a playwright. And even at 33, some consider me young. This is good; I like being considered young. But because of this, some may say I'm trying to tell you too much. Show you too much. And maybe that's right. Because there are so, so many things I want to tell you about, and I want to show them loudly and messily and be full of life and wonder. Don't be afraid to do this. That's exactly what theater is for.
I love theater now the same way I did when I was a kid reciting the best female monologues of 1999 by myself in my room into a tape recorder to feel how playwrights' words sounded in my mouth. The words felt like a release, but it certainly wasn't in the realm of my possibility to actually become a playwright. I didn't even really know what Broadway was!
And then, by some sort of miracle, I found myself last night drinking wine at an opening night party for my second Off-Broadway show, "God Said This," surrounded by collaborators, friends, loved ones, agents and managers I used to only dream of representing me at an amazing restaurant that a generous institution rented out just to celebrate the play we created with a step and repeat and everything. All of my actors are dressed to the nines and hugging each other. They look so happy. My director and I are wearing matching outfits. The associate director who spearheaded my play into production is smiling ear to ear. The staff is celebrating.
I looked around this vast open space filled with people I love and flashed back to a moment 10 years ago. I was alone, cleaning candy off the floor of a self-produced festival show that performed to an audience of six. It's a stark contrast, but I know even then that I would do it again and again. I would tell my younger self that those moments were just as important as the one I had the privilege of basking in now because I worked my ass off—and even if it doesn't feel like it, anything can be a hidden building block. I'd also say that you're going to be OK. It might be slower for you, but it's OK. It's gonna suck sometimes, but you're lucky, remember? Look at the love around you in any space you're in.
At the same time, don't let yourself be underestimated or taken advantage of, and don't feel like you have to deal with intolerance or jerks of any kind. It's just not worth it. And don't suffer fools, but also don't forget that sometimes the fool can be you. A good collaborator will tell you, and you'll know they're right.
And most of all, have gratitude for wherever you're at in your career.
Say thank you to your director, who stays late steaming curtains even if it's not her job; the lighting designer who makes jokes that are actually funny when everyone is tired and waiting for late set pieces to arrive; the stage manager who brings cookies to tech; the assistant stage manager who shows up early from Queens to the Cherry Lane Theatre every single show day with a smile on her face; the costume designer who can turn back time and make you cry with one amazing yellow dress; and your actors—your wonderful actors who work so hard and make their voices and bodies so vulnerable every night. Thank them for feeling your words in their mouths now. They help you better understand whatever you thought you conjured up in your head, whether you know it or not.
And say thank you to every person who championed your script or honored you or gave you a prize or a check or a couch or a meal or a drink. Thank your friends. Thank the veteran mentor who called to check in. She doesn't have to do that. Nobody has to do anything. Ever. And it all means something forever.
And most of all, say thank you to the stranger who has come to every reading, 10-minute play, workshop, and full-length since 2006. To the person who hugged you with tears in their eyes because their parent was sick, their sister is sick, they lost their mom, their daughter, they're going through it now. Thank you for telling me—I'll never forget it. We're not alone.
Thank the friend who said your show was so visceral emotionally that her body reacted and she shit her pants, and that made you laugh so hard you almost shit yours. Thank the mixed-race student at the talkback who timidly asked questions about your shared identity; the Asian-American girl who thanked you for visibility and rich characters; the audience member who cried start to finish at the image of a Japanese mom in a hospital bed since we've only been watching white people fight illness on stage for so long. And thank the countless people who come up to tell you what your play reminded them of in their own unpredictable lives. Thank them.
It takes a lot of courage to face each other in this world. And weirdly, the theater is a safe space to step into each other's light. Don't deflect these moments. Say thank you.