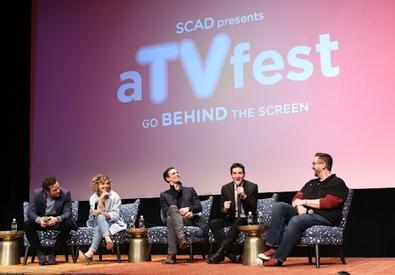 At a recent casting panel during Atlanta's fourth annual aTVfest at Savannah College of Art and Design (SCAD), some of the top casting directors from Georgia, New York City, and Los Angeles doled out the advice for attendees—and working actors everywhere. Here are five of the most important takeaways from their valuable advice.
Nail your self-taped audition:
NYC casting director Maribeth Fox of Laura Rosenthal Casting had plenty to say about actors' self-taped auditions. She recommended setting up your shot with a background by savagepaper.com (gray is industry standard), a Canon R500 camera on HQ setting—which creates video suitable for the web—and a lightbox. Also, don't slate shooting until the last minute; casting director Sheila Jaffe ("The Fighter") insisted, "Just get to it!" All of the casting directors echoed the importance of a natural reader—someone not in character. And above all else...know how to hold your phone. Black bars on the side of your video look unprofessional and will get a submission that may be shown to Steven Spielberg or J.J. Abrams deleted!
Network as much as possible:
Panelists suggested being involved twice a week in an acting class to keeping your acting chops fresh in some way. They also encouraged actors to perform in showcases since they are oftentimes invited. Don't use your guest passes to invite friends and family—this is for industry networking! Fox encouraged everyone to befriend positive people in the acting communities and to believe what she called "lore about casting directors." If you enter the audition room with a negative impression or fear of a casting director, you won't give your best read and it will ultimately hurt you.
Say yes to extra work:
Atlanta CD Mark Fincannon stated, "If you can spend the day next to Zoe Saldana and Chris Pratt, do it! Don't put it on your résumé. But remember you need as much set experience as you can get." All the casting directors on the panel advised actors not to include more than three extra credits on a résumé, and to eliminate them all together once you start acquiring speaking roles.
Audition like a professional:
SCAD casting coordinator Andra Reeve-Rabb told the audience that students at the Savannah and Atlanta campuses are taught that auditioning is an art form in and of itself. Sheila Jaffe, who most recently cast Tim Blake Nelson's "Z," warned actors about making excuses and not trying to be friends with casting professionals. Likening the role of CDs to human resources personnel, Sheila said, "This is a job interview. Be professional." Fox warned, "If you make a mistake in your reading, don't beat yourself up for it. Hating yourself shows up on camera. Start again with confidence and show that you are able to maintain control." The panelists agreed that while they endorse technology, the audition room is not the place to show yours off. They advised utilizing paper sides versus an iPad or smartphone, so as to not distract the CD.
Decide where to hone your craft:
The answer to the question "NYC, L.A., or Atlanta?" differed among each of the aTVfest panelists. Fincannon said an advantage of the Atlanta market is that people look like people, versus the "pretty" demographic of L.A.-based actors, which can be very appealing to directors. Actors based outside NYC, take note: The panelists from NYC encouraged regional performers to make trips to the Big Apple. Instead of occupying their time doing "touristy" things, they should see what a week looks like in the life of a struggling actor!
Inspired by this post? Check out our audition listings!