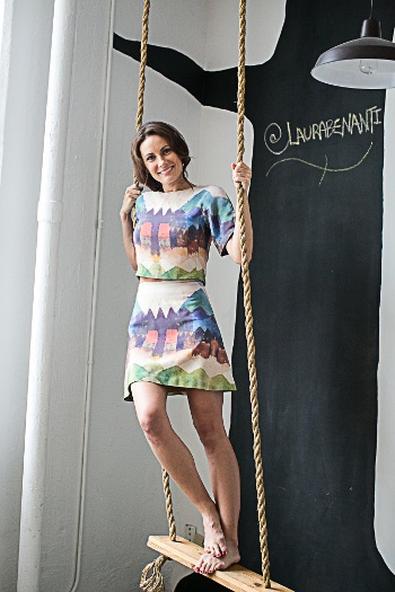 Backstage talks with the Tony-winning star (and Twitter standout) about her role on "Nashville" and how she faces embarrassing moments in the audition room.
Tell us about your new role on "Nashville."
My character's name is Sadie Stone and she's a singer-songwriter who's recently had a breakout album and a hit single. Her record deal is up and so she's forced to make some decisions as to where she should go next. She develops a friendship with Rayna Jaymes, Connie Britton's character, and [Rayna] takes my character under her wing a bit. What I really love about Sadie is that thus far, there have been no romantic entanglements; it's been primarily about her career and figuring out who she is postdivorce with this new attention being placed on her.
What's one thing you wish you knew before you started acting?
Honestly, I started so young that I think my sort of guilelessness, my naiveté, worked to my advantage because I was only myself. Then after a couple of years of working professionally, but being only 20 years old, I started to feel like I needed to be something else, so I spent a few years trying on different personas; I wish I had known that that is just harmful. What people respond to is authenticity and you being uniquely who you are and not trying to be someone else. So it took me a minute to come back to myself.
Which of your performances has left a lasting mark on you?
I would say "Gypsy." I think there was something about that character that I just really connected to. It stayed with me, definitely.
What is your best or worst audition horror story?
I recently had a horrible audition: I went in for this TV show that I really, really, really wanted, and sometimes when I get nervous, I can't access my emotions. I sort of shut down like a tiny robot, and I just could not tap into myself. And I finished and it was terrible and I called my agent, like, "They have to let me come back!" And she said, "OK, they'll see you again tomorrow." So I had to spend all night long just trying not to beat myself up, and then go back in the next day with the shame and embarrassment of knowing that they thought I was a bad actor based on that audition. I didn't get the job, but it was a triumph for me because it took a lot of courage.
What was your worst survival job?
I'm gonna sound like a real jackass here, my friend: I've never really had one since I started working so young, but my last job when I was 17 years old, before I was on Broadway, was at a place where I had to shovel manure into bags and then bring said bags to people's cars. As an actor now, I sort of shovel a different type of manure at times, which is, like, other people's opinions of me and whatnot, but at least it's not actual poop; it's just a different kind of dirty!
When did you know you wanted to be an actor?
Since I can remember. I mean, there's literally not a time where I don't remember being, like, "Well of course I'm going to do this for a living!" To me there was nothing else I ever wanted to do, except be an organic farmer, which is a lot dirtier, and I was like, Eh, never mind—I think I'll just be an actor.
Who do you have an acting crush on?
Connie Britton. Oh, and Edie Falco! I have acting crushes on both of those gals. And also Celia Keenan-Bolger. I also have a huge acting crush on Celia Keenan-Bolger.
What's been your most challenging role?
Mrs. Givings in "In the Next Room (or the Vibrator Play)," 'cause I was in so much pain during that show. It was right before I learned I had to have a second spinal surgery, and I was wearing this corset. And I was doing a straight play where I feel like people are secretly being like, "I hate this. She's a musical theater person—she doesn't know what she's doing!" Which is not true and of course all in my mind, and that type of insecurity is its own form of weird narcissism. But that, to me, was the hardest. It ended up being a wonderful experience, but the physical pain combined with my costume just made staying present really difficult.
How do you typically prepare for a role?
[For auditions] I do a lot of Carl Jung Dream Work; I have a whole thing that I do before I go to sleep. I like to know the lines; I don't like to have to look at my sides. For a role, I do a lot of research. If it's based on a real person, whatever that person happens to do for a living, I look into that and then I try to align my own subconscious with the subconscious of the character through a particular method of Jungian Dream Work that I learned from my teacher in Los Angeles, Kim Gillingham. I also work with a coach in New York whose name is Elizabeth Browning, and she helps me get into my body. I can self-protect and she helps me to break down those walls that I sometimes create.
How did you get your Equity and/or SAG-AFTRA card?
I got my Equity card through Paper Mill Playhouse. When I was 16 years old, I won their very first Rising Star Award for playing Dolly Levi from "Hello Dolly!" at my high school, and then they brought me on. First I did "Jane Eyre" the play there, not the musical, and that's how I got my Equity card. When Binder Casting called Paper Mill Playhouse to see if they could recommend anyone for the role of Liesl in the 1997 revival of "The Sound of Music," Paper Mill recommended me. I ended up understudying the role of Maria and then a year later, at the age of 19, I took over the role of Maria opposite Richard Chamberlain. My SAG card I got from doing a movie with Antonio Banderas called "Take the Lead." I did a lot of clapping and a lot of "Look at those kids dance!"; and I was doing that at the same time I was doing this TV show for FX called "Starved."
Inspired by this post? Check out our audition listings!