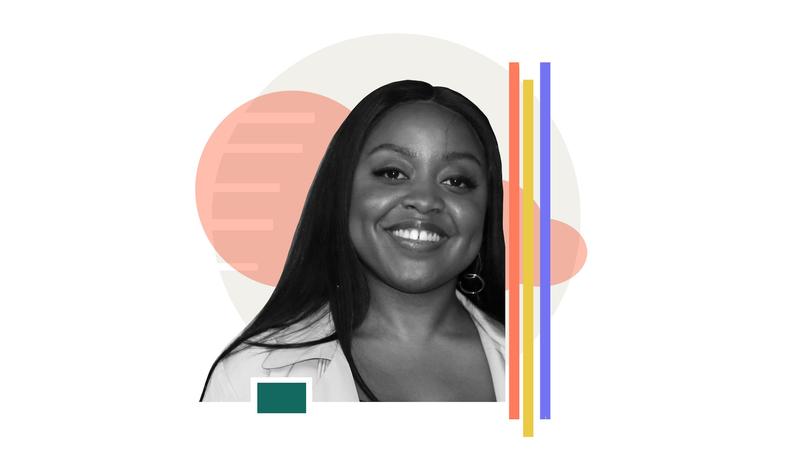 Quinta Brunson has conquered the internet—she's created content for Buzzfeed, and she's even become a meme. She's done streaming work—catch her on the first season of HBO's "A Black Lady Sketch Show." Now, she's making a splash into one of her earliest loves: the 22-minute sitcom. "Abbott Elementary," ABC's Philly-set mockumentary created by and starring Brunson, is a rare gem that has become a network darling. Well before getting her SAG card, Brunson devoted herself to comedy like a scholar; and now, it's paid off.
What is one comedy performance every actor should see?
Marilyn Monroe in "Gentlemen Prefer Blondes." She does some of the best comedic acting in that. She plays on her own sexuality and her own public perception so well. It feels like high art that's not regarded that way because of the public perception of her. It's a movie I watch over and over again. As a young girl, it made me respect her. I was like, Oh, she is fully aware of her position.
You're not shy about your love of sitcoms. Is there one in particular you'd say is an inspiration?
"Newhart." Bob is so dry, and that helped define me. There are all these characters around him, and some things are completely stupid. Larry, Darryl, and Darryl—there are three brothers, and two are named Darryl. That's so dumb! But he was so real and grounded.
How did you get your SAG-AFTRA card?
I was forced. I did a pilot for the CW, and afterward, someone was like, "Hey, you're not in SAG?" And they were like, "Um, you have to get in SAG now." So that was how I got it, because I was in the middle of filming this pilot. Justin [Halpern] and Patrick [Schumacker] were the producers of that pilot, and they're now my co-producers on "Abbott."
What's the most rewarding aspect of stepping into your own work?
I feel so fulfilled. One of my favorite things now is being able to be in this position so I can help other people shine. My coworkers have often said to me, "Thanks for seeing me. Thanks for seeing what I can do." When people feel like they have the opportunity to make better work because of "Abbott," that makes me want to pursue more later on. I want to continue to do that.
What advice would you give aspiring actor-creators?
Pay attention to craft. There's a lot of shit out there on TikTok, Instagram, and YouTube—quick ways to the top. But a healthy knowledge of the craft you're pursuing is so valuable, even if you're super talented. You can be so talented, but knowing the history of the thing—going back and studying Buster Keaton or Charlie Chaplin and following every avenue of comedy—is so helpful in making work that will last.