As a student, Quinta Brunson was hardly a perfectionist. Sure, she liked to get A's, but she was fine with a B every now and then. She was no stranger to the gifted program, but she had no qualms with testing the limits of how often she could skip class.
That's not to say she wasn't ambitious, and even relentless—especially when it came to the things she loved. Take "Napoleon Dynamite," the 2004 indie film that Brunson now considers a defining inspiration on her path to comedy. She loved it so much that she petitioned her school to screen it on a movie day. The school said no, so she petitioned again. The second time, they caved.
Brunson's persistence comes through on the pilot of her ABC show "Abbott Elementary," which she created and stars on. Early in the series, her character, second grade teacher Janine Teagues, tries to get a new rug for her classroom in the wake of a bladder-related incident involving one of her students. The rug, Janine explains to the mockumentary cameras following her and her colleagues around, is more than decor: It's "like a huge Xanax for kids to sit on." Janine, in her optimism, first tries to secure the rug through the severely underfunded Philadelphia School District. But that plan backfires, thanks in part to the school's delightfully inept, social media–savvy principal (Janelle James).
In the end, Janine gets her rug—with help from fellow teacher Melissa Schemmenti (Lisa Ann Walter), whose questionable connections prove, if suspect, useful ("I know a guy" quickly becomes her catchphrase).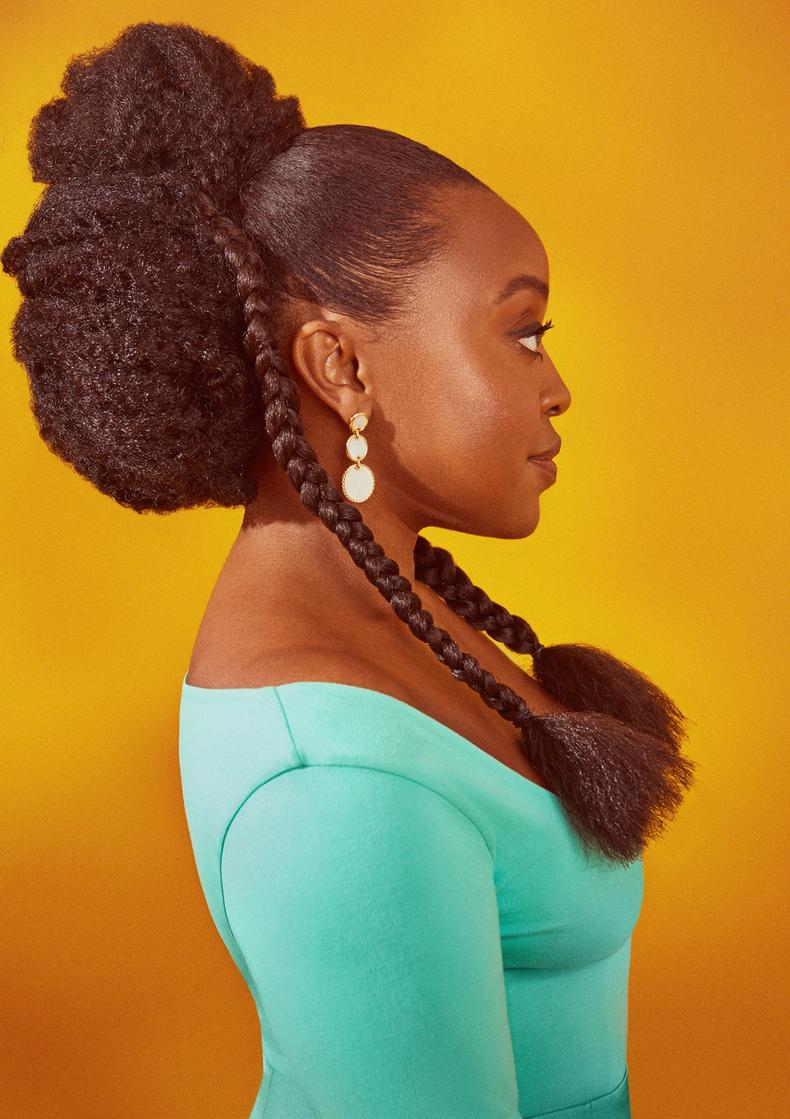 That first plotline (and many others to follow) was inspired by Brunson's mother, a longtime teacher. "Every year, I would see my mom needing a rug. If she didn't have a rug, she felt she couldn't start the year off," Brunson recalls. "I thought that was particular to my mother, but it wound up being particular to most teachers in America."
"I just saw so much," she says. That earth-shattering feeling you had as a kid when you saw your teacher out in the real world buying groceries, getting gas, or doing other normal, human things? Brunson never felt that. "I don't think I ever really had that veil; I always look at teachers and see whole people."
That nuanced perspective has registered with teachers, students, and everyone in between. "Abbott Elementary" was an immediate critical and audience darling; earlier this month, it scored seven Emmy nominations, including outstanding comedy series and both a lead actress and writing nod for Brunson herself. IndieWire called the show "hilariously sharp," while the New York Times described it as "gifted and talented." The series' ratings quadrupled in the 35 days after it premiered—an unprecedented achievement for an ABC comedy. The network announced the show's renewal a month before the Season 1 finale.
RELATED: Join Season 2 of 'Abbott Elementary'
Brunson gets teachers, because she grew up with them. She also gets comedy, because she grew up with comedy. Before her "Napoleon Dynamite" phase, Brunson says, there was her Disney Channel "Even Stevens" and "That's So Raven" era. "The Fresh Prince of Bel-Air" and "The King of Queens" were up there, too. "We were also a big Nick at Nite house," she says, which explains shoutouts to "The Brady Bunch," "The Mary Tyler Moore Show," "The Bob Newhart Show," and "Taxi" on her long list of her favorites. Once "The Office" and "Parks and Recreation" came around in the aughts, a workplace mockumentary seed was planted in Brunson's mind.
When the idea for "Abbott Elementary" came to her, she pictured it as a 22-minute mockumentary-style sitcom. "I hadn't yet seen a predominantly Black cast in that kind of format," she says. "I realized that no one had gotten to it yet. I'm sure someone may have pitched it at some point, but it didn't make it all the way—and I thought that was really exciting." Reflecting the demographics of West Philadelphia, where Brunson grew up, the fictional school's faculty, staff, and student body are predominantly Black and brown.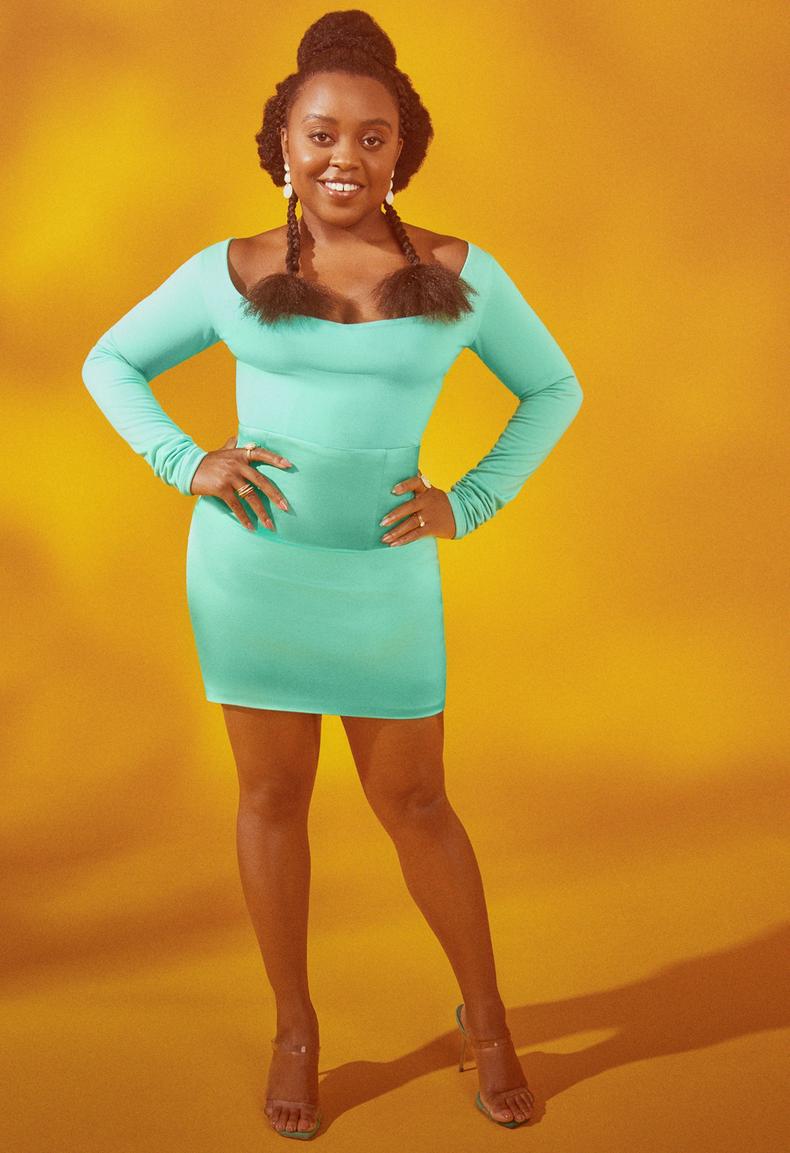 Finding the right platform for the series was critical, and that meant having the backing of a network rather than a streaming service. "I need the commercial breaks," Brunson says, "because 22 minutes is very different from 30 minutes. People don't think that, but it is. Those eight extra minutes can almost undo the good that 22 minutes does."
For audiences, a network like ABC also offers the promise of entertainment that's for all ages. "More than anything, I wanted families to be able to watch it together," she says. Much of the show's humor revolves around generational disparities—not just between teachers and students, but between faculty members. Janine is one of only a few young teachers to last multiple years at the school, which doesn't go unnoticed by her more seasoned, world-weary peers.
"I've always had mass appeal," Brunson says. "Throw me anywhere." And with "Abbott," she is, in fact, thrown everywhere: in front of the camera, in the writers' room, and in network meetings, for starters.
Onscreen, Brunson's self-affirmed mass appeal anchors an ensemble cast that spans generations and backgrounds; Brunson sings their praises like a morning attendance roll call. As school principal Ava Coleman, James, who primarily worked in standup prior to "Abbott," is "pure, raw, unadulterated funny." Stage and sitcom stalwart Sheryl Lee Ralph brings a disciplined energy to veteran teacher Barbara Howard: "She is so in control of every movement…. It makes me step up my game." "Crossbones" and "Looking" alum Chris Perfetti plays Janine's fellow newbie and confidant Jacob Hill; "The boy is so good," Brunson says, calling him "one of the best actors I've had the privilege to be around." Walter, who plays the wisecracking and well-connected Melissa, "considers herself a standup," Brunson says, "but she's killed it as a movie actress for years. She is the ultimate side character, and somehow, she's redefining what that looks like." And in Tyler James Williams, who plays substitute-turned–full-timer Gregory Eddie, Brunson sees a fellow devotee of the 22-minute comedy: "I hope, down the line, he's respected for being a master of the sitcom—to be a kid [on 'Everybody Hates Chris'] and do it so well, and now as an adult."
Brunson stops herself there. "I say all of that to say that my cast has really inspired me. I love acting with each of them in scenes when we're together. And writing for them is a ball. They're too strong, sometimes."
While working on the first season, Brunson and her team learned to cater to the ensemble's strengths. The writers quickly picked up on Ralph's penchant for solid diction, for instance. (As a guest judge on "RuPaul's Drag Race," Ralph once told a contestant to "put a cork in it," literally, as a tactic to improve her enunciation.) Soon enough, the writers made a game of incorporating certain words into Barbara's dialogue just to hear Ralph pronounce them with her signature intonation.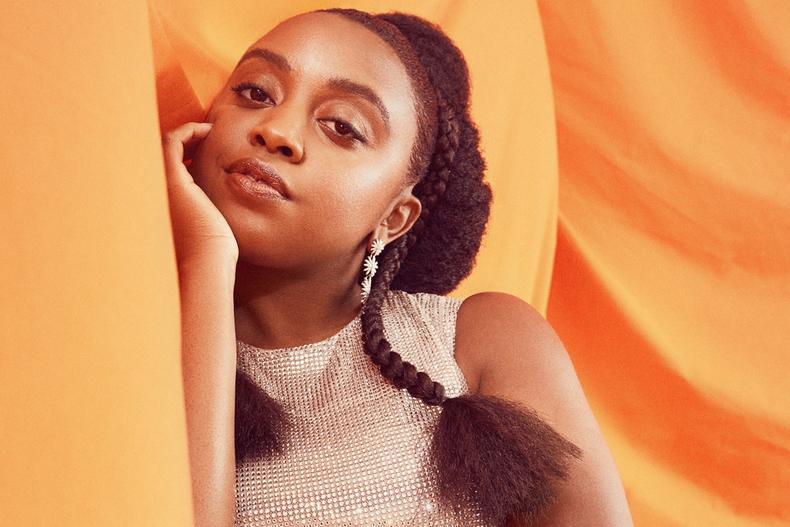 Whether it's showing off a performer's phonetic mastery, giving a standup comedian the opportunity to play a full-fledged character, or bringing a child actor back into the spotlight as an adult, Brunson enjoys encouraging others to take pride in their own work. "People don't want to go into sitcoms to die, to give their one-liners and not grow," she says. "I think it's why people get really bored, because it feels so repetitive."
That's by design; repetition is, in part, what makes network sitcoms comfort viewing. We'll laugh at a cold open; we'll learn of a new conflict; a B (and maybe C) plot will give us some quality time with beloved supporting characters; the protagonist will overcome the conflict; we'll laugh at a tag; the characters will do it all over again. "But when people feel like they have the opportunity to make better work because of 'Abbott,' I didn't plan for that," Brunson says. "That makes me want to pursue more later on."
She may not have expected to find such gratification as an artist, but success didn't necessarily come as a surprise—nor should it have. Prior to bringing "Abbott Elementary" to ABC, Brunson's self-produced Instagram series "The Girl Who's Never Been on a Nice Date" went viral and made her a meme. She continued making digital videos as a producer, development partner, and onscreen talent at BuzzFeed. Work on premium cable followed with the first season of HBO's "A Black Lady Sketch Show." And don't forget that before all that, she was already able to convince the powers-that-be to trust her taste in comedy. See: "Napoleon Dynamite."
"It's not lost on me how prepared I feel for network television," Brunson says. All those experiences have brought her full circle to the specific medium she grew up with. Being on the other side of the screen is a monumental step in both her career and her life as a network sitcom aficionado. Still, the experience doesn't come without its setbacks.
"There are way more people to answer to," she says. "Going from the internet, where you just post whatever you want on Twitter and a million people see it," to a corporate hierarchy with an endless succession of executives to impress wasn't a surprise, but it was an adjustment. "Like, who is the real Bowser?" she asks in true millennial fashion.
Fortunately, unlike video game bosses, Brunson's Bowsers have made their support clear—no final-level melee required. Their faith in her paved the way for her to have faith in her own product. But sometimes, she admits, it's too much. "At times, it's just like, 'Let me cook! Let me just get it out to the people,' " she says.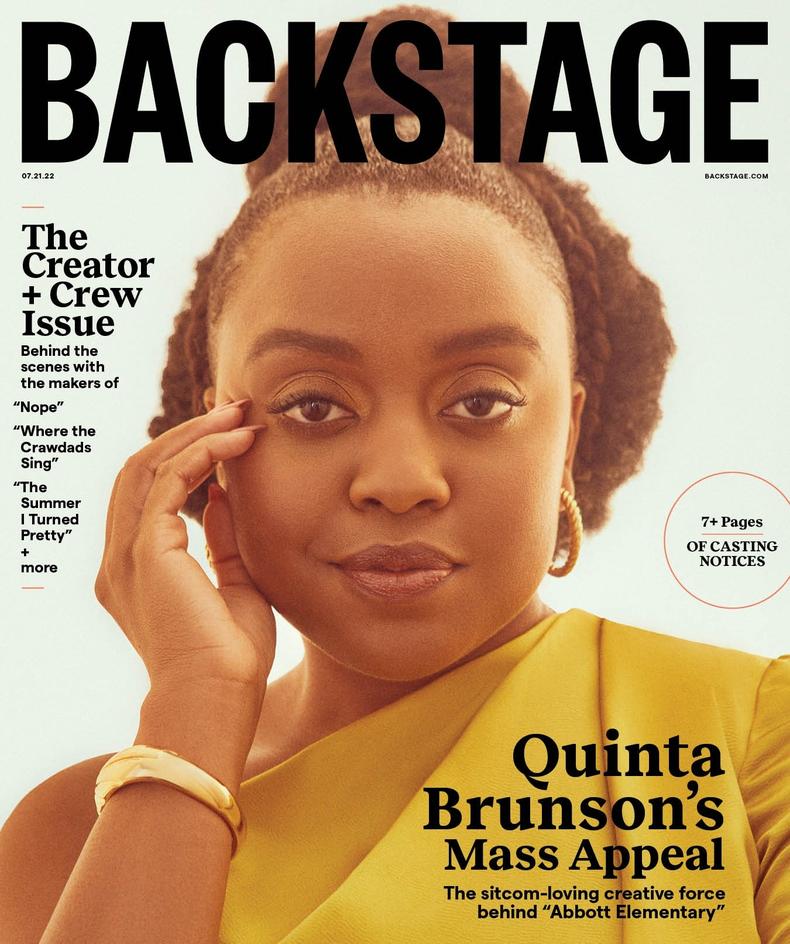 This trust—the network's and her own—is a boon as "Abbott Elementary" enters its sophomore season. It keeps Brunson grounded and free from the pressure that comes with following up a mega-successful debut. That's the plan, at least. During preproduction on Season 2, Brunson reminded the writers that when they wrote and shot the first season, they did so before the show had a single viewer. "With that," she says, "I took away that we know what we're doing. We know these characters and we know these stories. We did all that before the world looked at it."
Moving forward, Brunson says audiences can expect "Abbott" to have larger story arcs and more world-building while staying true to its episodic nature. She hasn't lost sight of the goal she's had from the beginning: to "redefine what a workplace comedy can look like."
As for the future? "I feel like I know how it ends," she teases. "But who knows? Network television may not exist in five years. But I still hope there's something preserved—a space where everyone can trust."
This story originally appeared in the July 21 issue of Backstage Magazine.
Photographed by Emily Assiran in NYC on 5/16. Hair by Moira Frazier. Make-up by Renee Loiz. Styling by Bryon Javar. Cover designed by Ian Robinson.