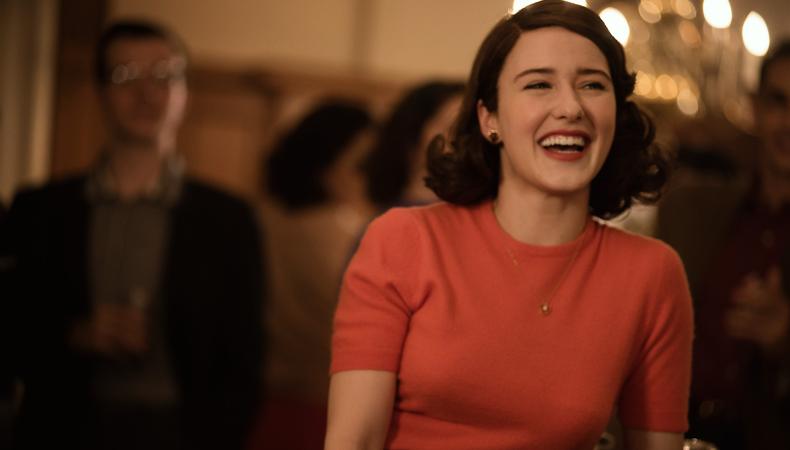 The following Backstage Live was compiled in part by Backstage readers just like you! Follow us on Twitter (@Backstage) and Instagram (@backstagecast) to stay in the loop on upcoming interviews and to submit questions live on camera.
Over the past three seasons, Rachel Brosnahan has become synonymous with "The Marvelous Mrs. Maisel" and her 2018 Emmy-winning performance as Miriam "Midge" Maisel, for which she has recently been nominated for her third Primetime Emmy Award for lead actress in a comedy series. However, for Brosnahan, the role has required a process of continually redefining what she thinks is possible, an approach that has also led to the creation of her own production company to help reciprocate the leaps of faith she believes have been taken on her throughout her career. Brosnahan sat down with Backstage as part of our ongoing Slate programming to talk about how she pushes herself as a performer and producer and how she is staying engaged creatively until "Mrs. Maisel" is able to resume shooting. Watch the full video below!
Fear can be a crucial motivator.
"The biggest challenge to overcome [on 'Mrs. Maisel'] has been my own fear, which by the same token is also a gift. I'm utterly fucking terrified every single time I step on set for this show, and I think that's the dream, I think I'm living it! I had never done comedy, this world felt so far away and as Midge has had to become a better comedian, I live in complete fear that there will reach a point where I can't keep up. And that keeps me motivated and excited and forces me to continue to take risks in my performance and to put any kind of ego aside and keep growing and learning."
Creatives find ways to continue making art, no matter the circumstances.
"When you are a creative person, it's impossible not to stay creative in some way. It's the thing that feeds us, it's the thing that keeps us energized and helps us move through what is and has been for our country, our world, a really challenging time. I launched a production company in January, and so I've been busy on the producing and development side, which has been a new challenge and has been really fun—and unexpectedly, I've had a lot of time to read new scripts and new voices and new artists over the last couple of months."
Producing allows Brosnahan to foster a culture of reciprocal artistic risk-taking.
"I've been realizing over the last couple of years, I felt like as I was talking about 'Maisel,' I was talking a lot about how this was a role that I never felt like was for me. I have not largely been considered in my own life a very funny person up until this point and I'd never done comedy and it felt like something that was really far away. I said the same thing about 'House of Cards,' back then that was a real leap for me. I realized that I'm on the receiving end of a lot of people taking leaps of faith, a lot of people saying 'yes' when I didn't necessarily have anything to back up the idea that I could do this or that I could deliver, and I'm so grateful for those people who took those chances. But I think as a producer that's something that I would like to pay forward. To be able to be a company that says 'yes' to different talented artists who just need someone to crack open the door a little bit."
READ: COVID-19 Resources for Actors, Creators + Performing Artists
Support systems can help combat imposter syndrome and self-doubt.
"I think I'm learning through talking to people who have been doing this for a lot longer than I have that that voice never really goes away. It's just about continuing to confront it in every moment, and I have found that the way to do that is to keep doing things that feel impossible because I suppose the bar for myself is then very low and I have no choice but to leap over it. If it feels like something that is impossibly far away, I have no choice but to just jump, to dive head-first into it. But also, I think having the grounding support system is so, so important. And that could be a number of people, whether it's friends or family or a rep that you really trust or a therapist that you really trust. Those people that when you turn all of this stuff off and you are alone with yourself or in your space that you can turn to to say, "I'm having kind of a weird time with this right now and I need to work this out." Having some kind of support system is so important."
Finding ways to give back and create community are crucial now and always.
"One of the things that I love and I know so many people love about New York, in particular, is that no matter what else is going on there is this feeling that we are all neighbors in New York City, and the Broadway community wanted to be able to give back to our neighbors who were in need. Covenant House helps young people overcoming homelessness and provides them with vital support and services. And so the Broadway community arranged this event, called a Sleep Out, where they would spend a night on the street in front of the Covenant House raising money and awareness about the organization and for them to keep doing the amazing work that they do. And that event continued year after year. This year on August 24, we will be sleeping out virtually, so however that's possible in the space of your own home…. I know that times are obviously incredibly tough for so many and this Covenant House community has been particularly hit hard by this moment."
Looking for remote work? Backstage has got you covered! Click here for auditions you can do from home!